345 N. Milwaukee Avenue
Introduction
From cars to bars, both business types have occupied this property for over a century. In 1913, the foundation of this building was laid with the construction of a garage building that housed many different garage and automobile businesses. In 1924 the Main Garage opened for business here and successfully serviced automobiles in Libertyville for over a decade. New car dealers and repair shops came and went at 345 N. Milwaukee Avenue until the early 1960s when the Independent Register newspaper occupied the building. The building became office space for Edward D. Jones investment in 1988 and in 2014 Mickey Finn's moved from one block north and opened at this location thus expanding its parking, restaurant and party room space.
Images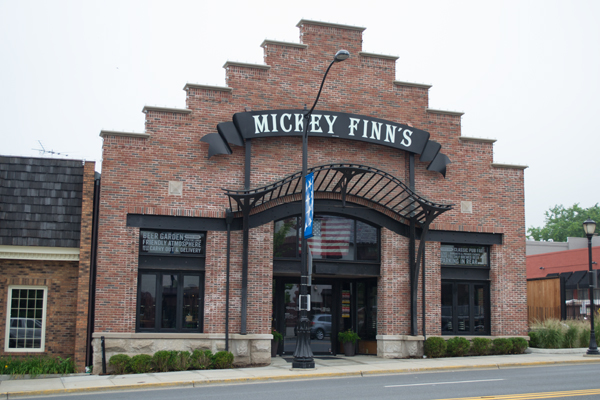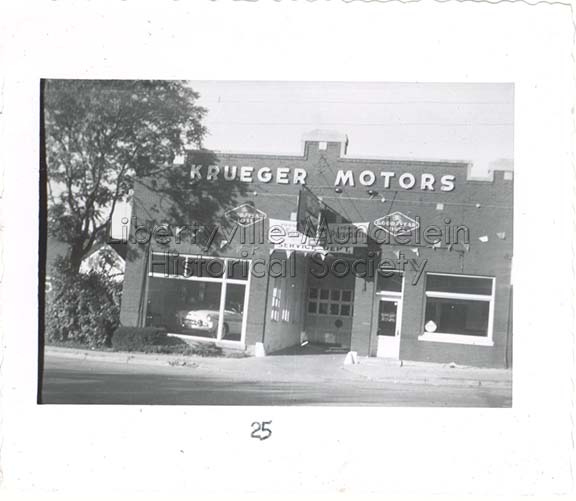 Independent Register, circa 1974-1976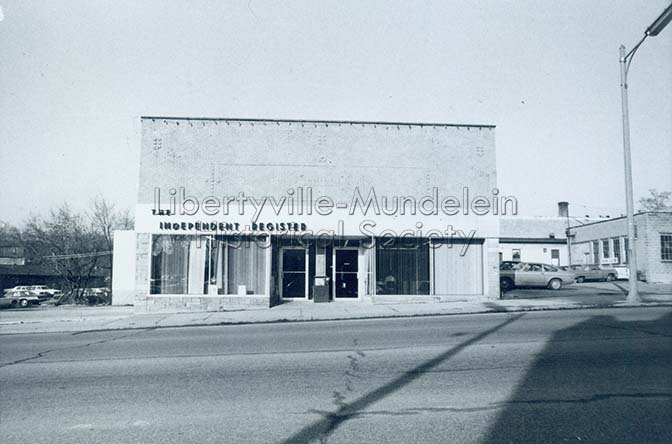 Independent Register, circa 1974-1976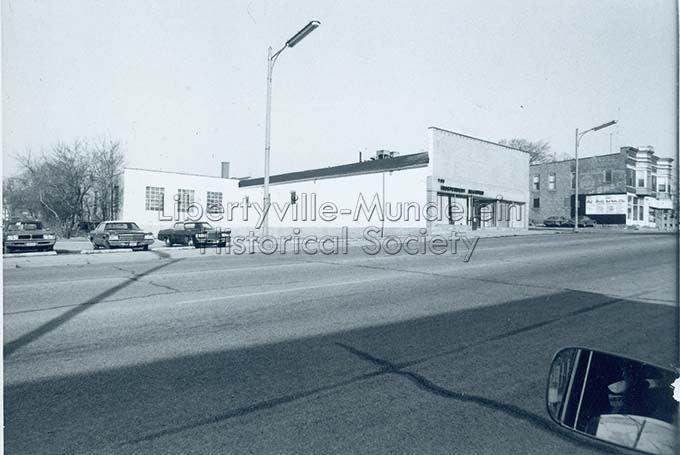 Backstory and Context
Earliest sources indicate a paint shop was on this spot in 1907. In 1913 Frank Just, newspaper publisher, stepped away from the newspaper business and built a garage here for his Just Motor Co. Just built a connecting building around 1916, giving the business its unusual L shape with street frontage on both Milwaukee Ave. and at 111/115 Church Street.
In 1915 Just returned to publishing and sold his garage business to A. C. Ree, although Just apparently retained ownership of the building. In 1924 Mr. Ree moved his automobile garage business to 325 N. Milwaukee Ave. That same year Charles M. Bernard, who had been working for his brother J. N. Bernard at the Libertyville Garage located farther north on Milwaukee Avenue, bought the building at 345 N. Milwaukee Ave., moved in and opened his own business, the Main Garage.
The Main Garage serviced and repaired cars here for the next 12 years, until 1936. Other automobile businesses later operated from this building: L&M Auto Co (1937-1941), Ed Sawusch Motor Sales (1942 – 1945), Fred Miller Motors (1946 – 1954), and Krueger Motors (1955 – 1957). Krueger Motors merged with Fred Miller Motors at the beginning of 1958 and moved a few blocks south.
The Independent Register transferred operations to this building in mid-1960. The local weekly paper had served the community under various names since the late 1800s and had been located in the Church St. facing part of the L-shaped building since 1930. The paper continued to be published through the end of 1987 when it was taken over by the daily News Sun. Shortly after, Edward D. Jones & Co., an investment firm, took over the space.
In 2012, Brian Grano bought the property to house his popular brewpub, Mickey Finn's Brewery. Mickey Finn's had outgrown its home at 412 N. Milwaukee Ave., a space Grano had leased. After Grano bought the property, he made major renovations to the building including a redesigned a facade, and reopened in 2014.
Sources
"Business listings." Independent Register January 7th 1971.
"The Community Handclasp." Independent Register October 21st 1926. .
"It's a deal (photo caption)." Independent Register December 23rd 1954. .8.
Kambick, Rick. "Larger, modern Mickey Finn's reopens." Libertyville Review May 1st 2014. .31.
Smith, Katlyn. "Mickey Finn' Owner: "I'm ready for a new place"." Libertyvile Review May 23rd 2013. .31.
Zawislak, Mick. ""Mickey Finn's to get bigger"." Daily Herald August 2nd 2002. .
Roszkowski, John. "Mickey Finn's to move to new location." Libertyville Review August 2nd 2002. .9.
Nichols, Ada L. "Milwaukee Avenue Fifty Years Ago," ca. 1958.
MilwaukeeAveN345, Historic Libertyville. Accessed August 26th 2020.
http://www.historiclibertyville.com/index.php?project=yes&showonlyp=yes&c=3&p=729
Sanborn Maps--1907, 1912 (Sheet 2), 1924 (Sheet 5), 1933 (Sheet 5), 1948 (Sheet 5)
Libertyville Telephone Books, 1904 - 1959, IDAIllinois, http://www.idaillinois.org/cdm/search/collection/cookmemo11/searchterm/telephone%20directory/field/all/mode/all/conn/and/order/title/ad/asc
"C M Bernard Moves to New Building Wednesday." Independent Register January 6th 1924. .
"Concrete Foundation for the Just Motor Co's Garage." Lake County Independent January 17th 1913. .
"Just Opens New Garage." Independent Register May 30th 1913. .
Libertyville/Waukegan City Directory. 1922.
"Prominent Garage Man Married on Saturday." Independent Register November 5th 1915. .
"Register Served Since 1892." Independent Register June 26th 1986. .
"Two Local Business Houses Change Hands This Week." Libertyville Independent November 1st 1923. .
"We've Made a Few Moves." Independent Register October 26th 1967. .
Image Sources
Village of Libertyville. HistoricLibertyville.com.

Libertyville-Mundelein Historical Society. Cizek Collection.

Libertyville-Mundelein Historical Society. Libertyville Township Assessor collection.

Libertyville-Mundelein Historical Society. Libertyville Township Assessor collection.

Additional Information