339 N. Milwaukee Avenue - Heritage Court
Introduction
Tucked away between PNC and Mickey Finn's, this little office complex has been serving the community for four decades, but the history of the property extends back over a century. In the early 1900s, the 300 block of Milwaukee Avenue was residential. Later in the 20th century, this spot held a greenhouse and the Libertyville Floral Company. They were in turn torn down for a parking lot for nearby car dealers. In 1980, the current 339 N. Milwaukee Avenue was constructed as the two-story commercial/office strip mall that we see today, with a sideways orientation that maximizes parking space. Marvin Johnson was the architect and the builder was Ken Olson & Assoc. Peter Tosto's insurance agency has occupied the building since its construction.
Images
339 N. Milwaukee Avenue, Heritage Court, circa 2016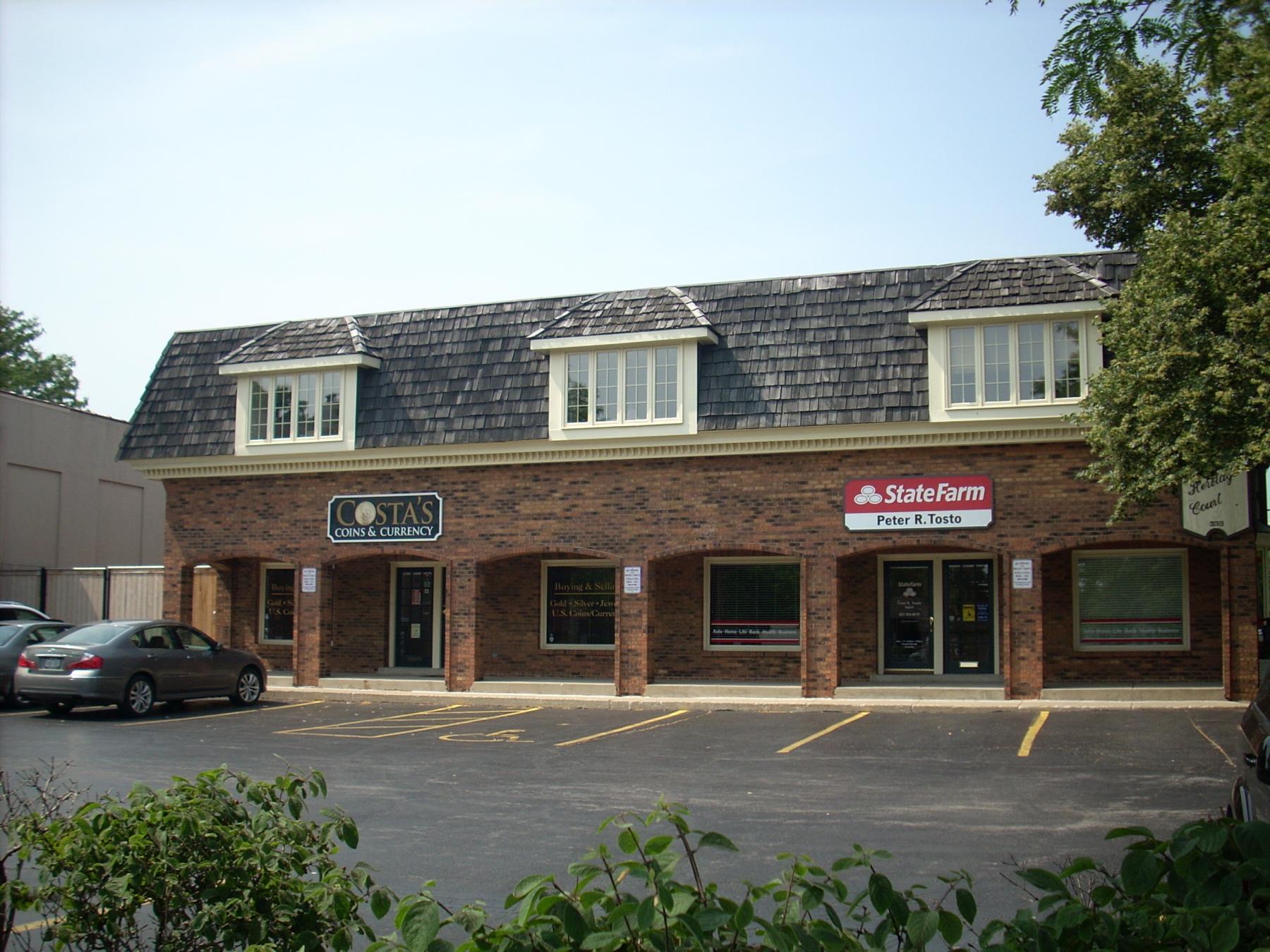 339 N. Milwaukee Avenue, Libertyville Floral, 1955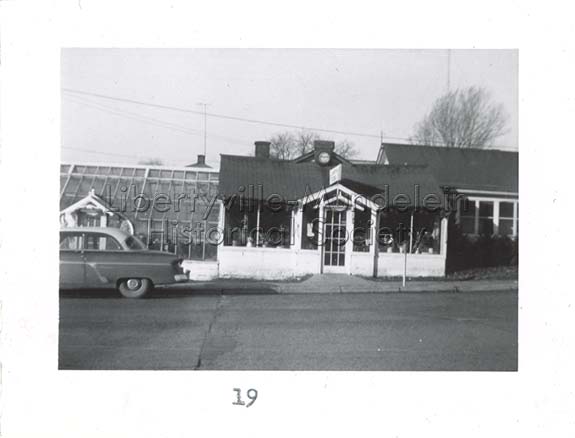 Backstory and Context
Fred and Salome Sandman lived at this address in the early 1900s. Fred, an immigrant born in Hanover, Germany, was a Civil War veteran. He fought with the 113th Illinois Volunteer Infantry. After the war he made his living in several ways - as a drayman (delivery man using a horse and wagon), a gardener, and in his later years, a basket weaver. Fred died in 1915 and Salome lived until 1934.
Emil Mesenbrink was an enterprising young man who loved to grow flowers. He moved to Libertyville in 1920 with his wife Lydia and operated a greenhouse and floral business, the Libertyville Floral Company, for 37 years. The business was located on First Street until the late 1930s when Mesenbrink moved it to 339 N. Milwaukee. Mesenbrink was well-loved by the community and was voted Libertyville's "Man of the Year" in 1952. Before his retirement in 1957, Mesenbrink took the floral business into partnership with Russell and Phyllis Proctor. The Proctors disassembled the greenhouse and moved it to 411 S. Milwaukee Avenue.
Mesenbrink then leased his the former greenhouse property to John Hanlon who wanted more parking space for his automobile business, Hanlon Motor Company, which was located at 325 N. Milwaukee Avenue. The 339 N. Milwaukee Avenue property continued to serve as parking through the 1960s and 1970s for the Sessler Ford and then Clifford Chrysler Plymouth dealers which succeeded the Hanlon dealership in this spot. 
In 1980 the Heritage Court office/retail strip mall was constructed and has been home to Peter Tosto State Farm insurance as well as real estate agents, lawyers, and small retail businesses in the intervening years.
Sources
"Fred Sandman Died Wednesday Afternoon." Lake County Independent and Waukegan Weekly Sun April 9th 1915. .
Lake County, Illinois Maps Online. Accessed September 4th 2020. https://maps.lakecountyil.gov/mapsonline/.
Libertyville Telephone Books. online and print editions, selected volumes, http://www.idaillinois.org/cdm/search/collection/cookmemo11/searchterm/telephone%20directory/field/all/mode/all/conn/and/order/title/ad/asc
MilwaukeAveN339, Historic Libertyville. Accessed September 4th 2020. http://historiclibertyville.com/index.php?project=yes&showonlyp=yes&c=3&p=724.
Nichols, Adah. Milwaukee Avenue Fifty Years Ago (1908). Edition 876. Volume Libertyville Mundelein Historical Society. 1958.
"Obituary (Emil Mesenbrink)." Independent Register September 28th 1961. .6M.
"Obituary (Fred Sandman)." Independent Register April 16th 1915. .2.
"Proctors Become Florists." Independent Register September 19th 1957. .1.
Sanborn Maps—1907, 1912 (Sheet 2), 1924 (Sheet 5), 1933 (Sheet 5), 1948 (Sheet 5)
Image Sources
Village of Libertyville. HistoricLibertyville.com

Libertyville-Mundelein Historical Society. Cizek Collection.

Additional Information