121 E. Maple Avenue - St. Joseph Catholic Church
Introduction
The first Catholic Church in Libertyville was established in 1886, under the name of St. Peter and Paul. Located on N. First Street, it suffered total destruction by fire in 1904. A new brick church was constructed on East Maple Avenue at a cost of $15,000 and named St. Joseph Catholic Church upon its dedication on July 2, 1905. Over the following decades, a rectory and school were added. The current sanctuary was built in 1966 to serve the growing population and the 1905 church was torn down.
Images
St. Joseph Catholic Church, circa 2016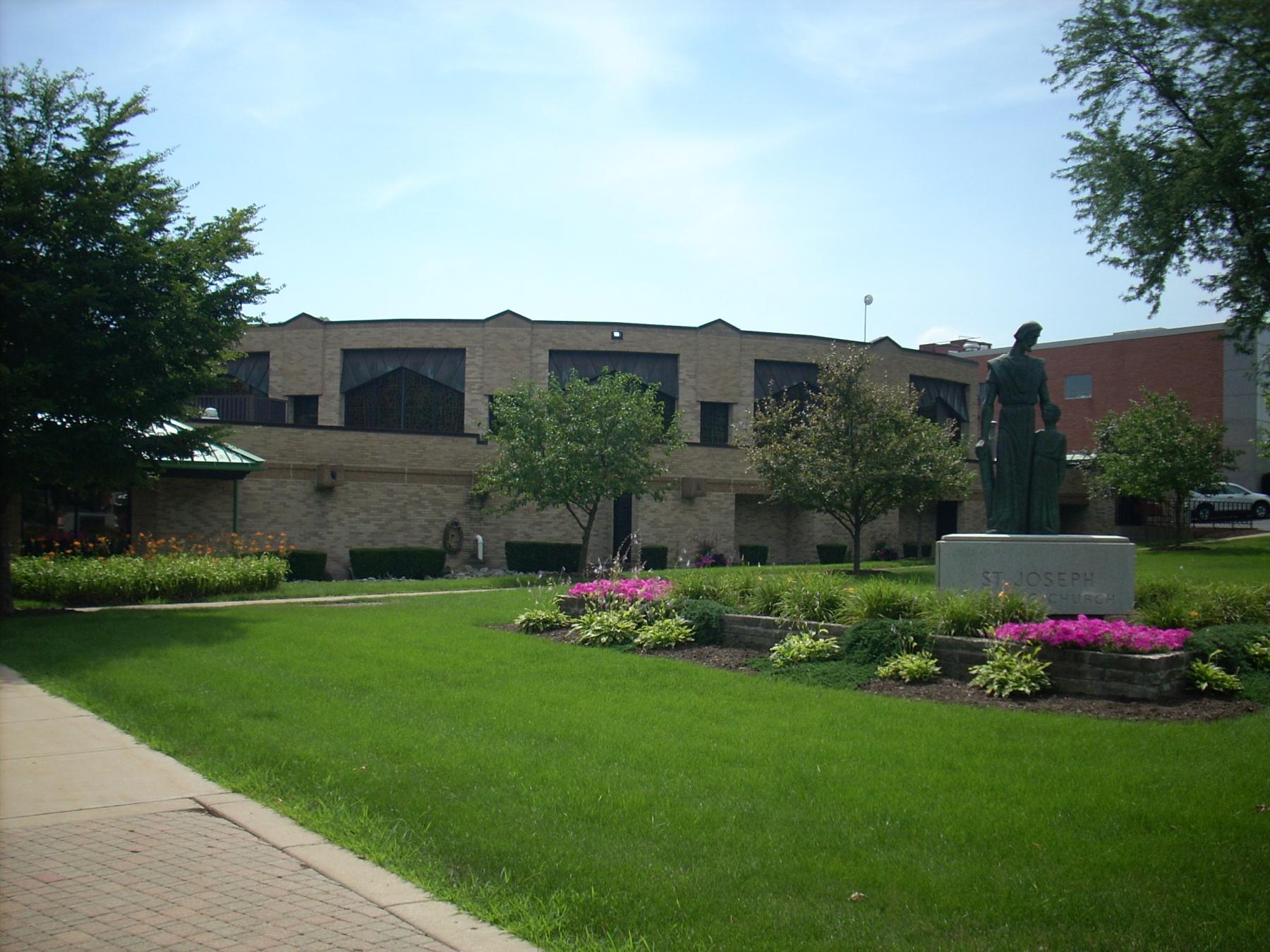 St. Joseph Church, looking west along Maple Avenue, 1915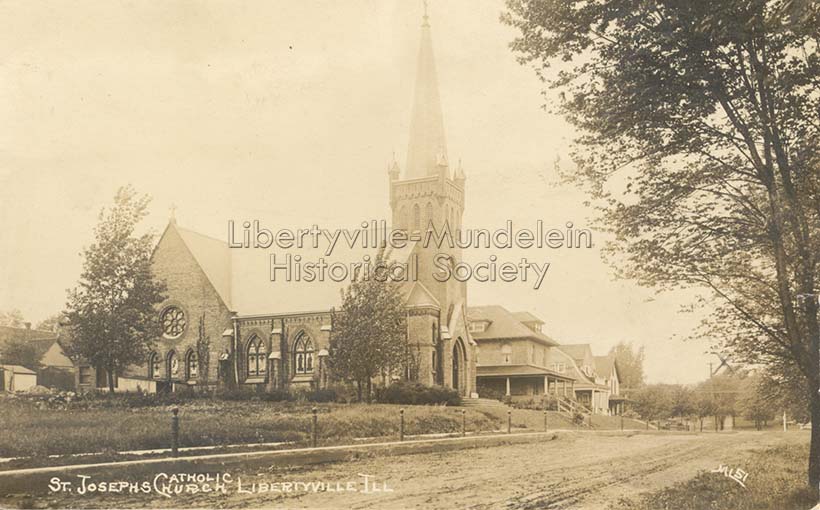 St. Joseph Church and School, after 1923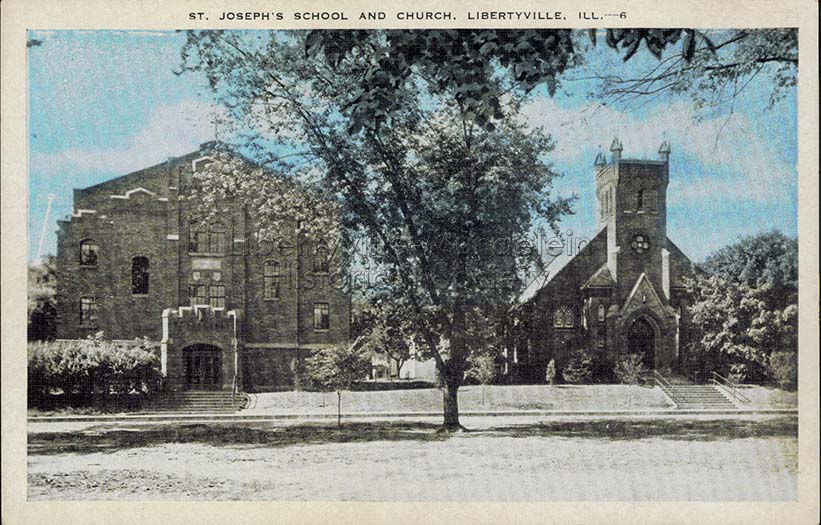 Original St. Joseph Church building being demolished, 1965-66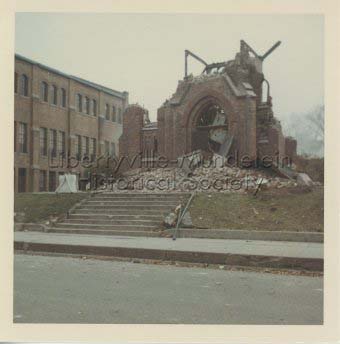 St. Joseph Church, circa 1974-1976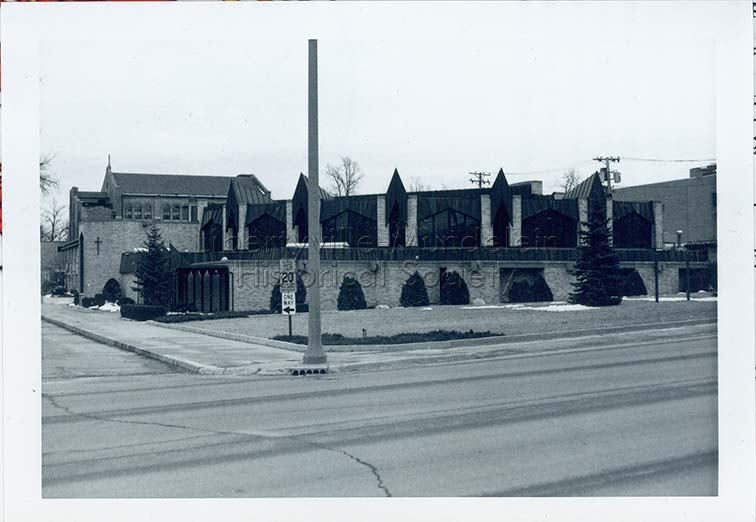 Backstory and Context
As the population of Libertyville grew through the late 1800s, the need for a Catholic parish in Libertyville to serve the growing community arose. Father Charles Halin was sent from Chicago to start a mission in town. After originally meeting in the Town Hall, the St. Peter and Paul Catholic Church was built in 1888 on N. First Street. On June 19, 1904, the frame church was destroyed by fire.
Luckily the church was insured and a new brick church was built on East Maple Avenue, opposite Central Park (now Sunrise Rotary Park). This church was dedicated July 2, 1905 as St. Joseph Catholic Church. Seventy-five families worshiped in this church, which had a capacity for three hundred.
In 1910, a rectory was built at 121 E. Maple Avenue, followed by a parish school in 1926, erected at 131 E. Maple. The home at 217 Park Place was purchased that same year as a convent for a group of nuns from the Sisters of Mercy, who served as the school's first teachers for 150 students.
Fr. Edward Loughry led the church beginning in 1931 and served through the next three decades. Debt on the school was retired quickly, in spite of the depression. After WWII, the church population grew rapidly, creating the need for additional pastors, one of whom was Fr Harry Koenig. School numbers grew to 300 pupils creating the need for additional classroom space. Fr Loughry launched another pledge drive which netted $263,000 to fund the new school. Due to the illness of Fr Loughry, Fr Koenig, now Monsignor, returned to oversee the school's construction, which was completed in 1959 with 498 students enrolled.
By the early 1960's the church building was bursting at the seams, serving eleven masses for 4,000 people. Once again, Msgr. Koenig guided the construction of the new, modern church that you see today. Completed in 1966, the Neo-Expressionist, semi-circular structure seats up to 1,000 people, none farther than thirteen pews back from the sanctuary. The original peaked metal roofs above between the larger stained glass windows were removed at some point after the mid-1970s.
Today, St. Joseph Catholic Church serves over 15,000 parishioners in Libertyville and the surrounding areas.
Sources
"100th Anniversary Celebration Our Parish Family: Living in God's Spirit," St. Joseph Parish, Cook Memorial Public Library Local History Files.
Blaser, Linda, "St. Joseph's history begins with the Des Plaines River," Pioneer Press, February 24, 2005, pp. 10-12.
"Crowd Witnesses Ceremony," Lake County Independent, November 4, 1904, p. 5.
Mullery, Virginia, "St. Joseph Parish marks centennial," The Chicago Catholic, September 6, 1985.
"Saints Peter and Paul's Church," The News Sun, May 12, 1993, Section D, Special Souvenir Edition reprint of the Lake County Independent, September 25, 1903.
The Parish Profile, December, 1966.
MapleAveE121. HistoricLibertyville.com. Accessed August 31, 2020.
Image Sources
Village of Libertyville. HistoricLibertyville.com.

Libertyville-Mundelein Historical Society

Libertyville-Mundelein Historical Society

Courtesy of Mrs. Brady

Libertyville-Mundelein Historical Society. Libertyville Township Assessor collection.

Additional Information