406 - 410 N. Milwaukee Avenue - C. H. Kaiser Building
Introduction
The C. H. Kaiser building was commissioned by Libertyville business man Charles Kaiser in 1904 and became a desirable location, housing numerous businesses of over the years. Two storefronts downstairs became three in the 1920s and 30s, while the second floor was a mix of residences and office space. Some tenants came and went quickly, others became downtown fixtures, such as Ray Furniture and Paint, North Shore Gas Company, Libertyville Tailors and Cleaners, Jordan Shoes, and Parkside Liquors. Upstairs, dentist Dr. Golding, chiropractor J. H. Heslin, doctor Fredrick H. Martin and dentist Stuart Matthews rotated through. More recently the street level storefronts have housed resale shop Treasures 'n' Trash, Neville - Sargent, Leggy Bird Designs, and currently, 847 Running and B. Bungalow.
Images
406-410 N. Milwaukee Avenue, circa 2016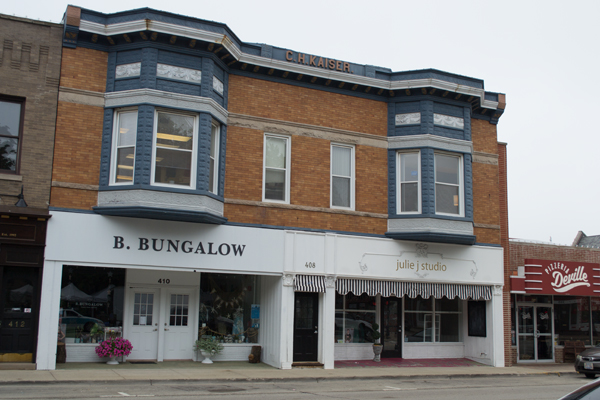 Looking north on Milwaukee Avenue from Church Street, 1913-1923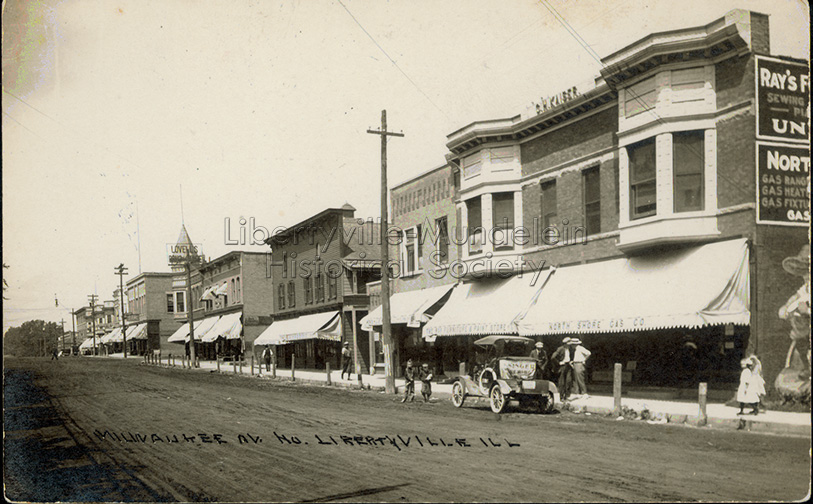 Looking north on Milwaukee Avenue from Church Street, after 1923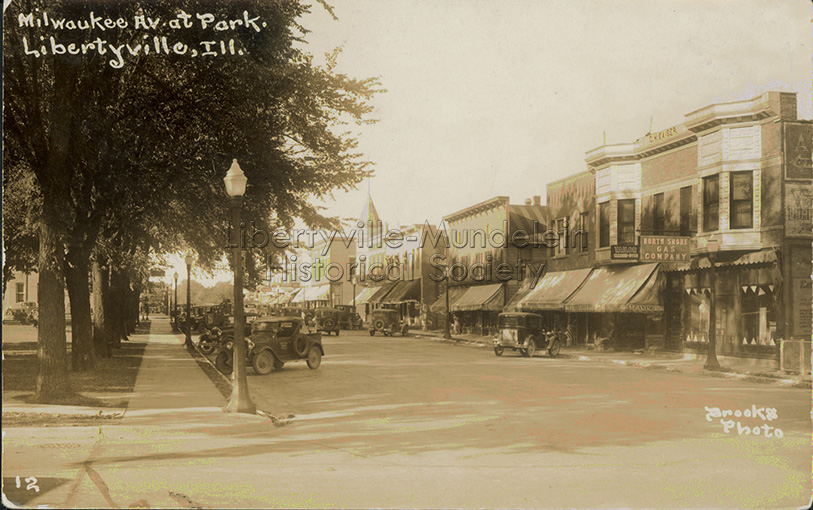 The C.H. Kaiser Building, 1956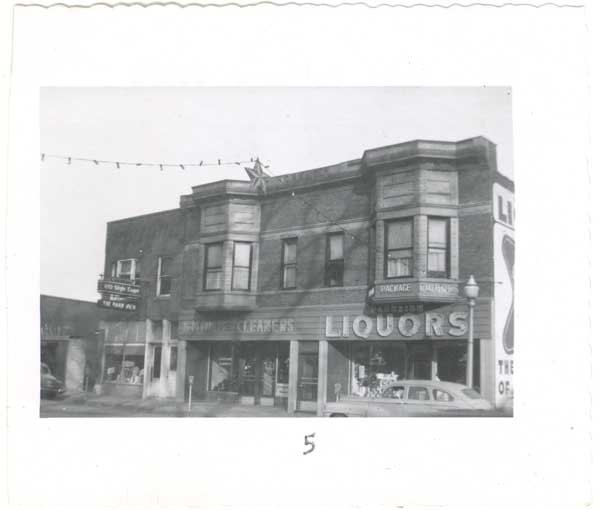 The C.H. Kaiser Building, 1960s
Parkside Liquors, circa 1974-1976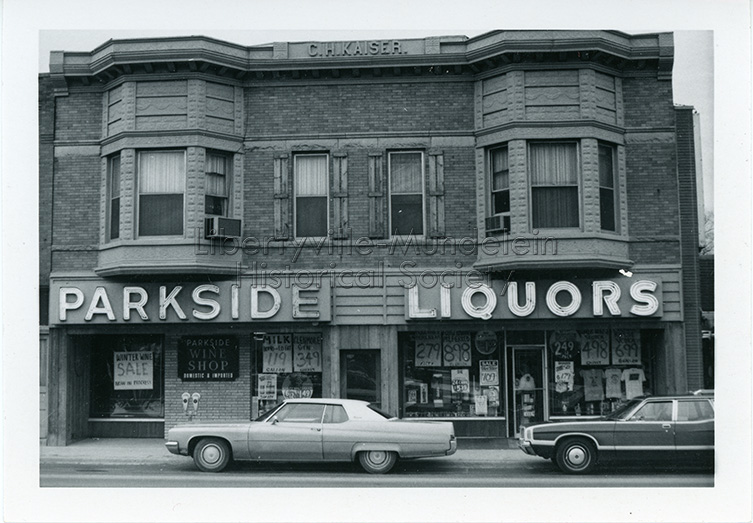 Backstory and Context
Charles H. Kaiser moved to Libertyville in 1886 and owned and operated a harness shop in the 500 block on the west side of Milwaukee Ave. for over forty years. He was a well known resident and very involved with the community, serving as a village trustee in the early 1900s. In 1904 he constructed the two story brick building at 406-410 N. Milwaukee Ave. on a lot obtained from Henry S. Hurlbutt.
In addition to its symmetrical facade, one of the building's most notable historic features is the use of "Meskers" to decorate it's facade. These sheet metal cornices, entablatures and other exterior decorations were prefabricated offsite and shipped to the builder being cheaper and sturdier than wood or terracotta. The Kaiser building's Meskers had been covered by years of paint when they were identified by the Illinois Historic Preservation Agency in 2005.
With a good downtown location the building has had no trouble filling it's spaces, proving a lucrative investment for Kaiser until his death in 1935. Over the past 110 plus years the building has accumulated quite a history of Libertyville businesses. A few of them with the most longevity are highlighted here.
One of the earliest businesses to occupy the storefront at 408 N. Milwaukee Ave. was Young and Lynch Bros Furniture and Undertakers which opened on May 19, 1908. In 1911 Paul G. Ray, who had furniture business in Diamond Lake, bought Young and Lynch Bros. and combined the operations into one business. He also continued the undertaking business. The move proved successful, and by 1919 more space was needed so Ray Furniture and Paint expanded into the building next door, 412 N. Milwaukee Ave., known as the Hanby Building. In 1923 the business moved down the street to what is today 535 N. Milwaukee Avenue.
John Cichy moved his tailoring business into the space in 1923 offering "a suit for every physique and pocketbook" according to a March 1923 ad. On October 10, 1924 the shop suffered a loss of $2,500 dollars when two men, backing a truck up to the rear of the building, robbed the shop of 58 suits and 11 overcoats among other merchandise. Two men connected with the theft were later apprehended in Chicago and some of the merchandise recovered. The store was able to weather the loss and stay in business, eventually changing it's name to Libertyville Cleaners and Tailors. Cichy passed away in 1941 and the business continued operating under new management until about 1955.
Between 1924 and 1929 an east-west wall was erected down the center of the north side storefront, creating two very narrow stores. Jordan Shoes, a family run business, occupied the northern most store and Libertyville Cleaners and Tailors the other. Charles Jordan, a native of Palermo, Sicily, settled in Libertyville in 1914 and opened his shoe store and repair shop in 1916. Jordan ran the business until he retired in 1958 at which time photographs of downtown Libertyville seem to show the cleaners once again occupying both sections.
In 1997 Cynthia Chicca owned the Kaiser Building, running the quirky resale shop Treasures 'n' Trash. Primarily known for it's Halloween accessories, the store offered a mix of antiques and collectibles. Chicca operated the business in Libertyville for sixteen years before retiring to the dismay of many Halloween enthusiasts who referred to her as "the Halloween Lady." Businesses such as Julie J. Studio and the current B. Bungalow followed.
At 406 N. Milwaukee Avenue on the southern side of the Kaiser Building, several quick in-and-out tenants, including John Crocker Restaurant and Albert W. Lichtfeld Plumbing and Heating, preceded the North Shore Gas Company. Moving in shortly before 1910, the fuel supplier remained at the location for almost forty years. It maintained offices while the store was used as a showroom for gas stoves and other household fixtures, the styles and technology changing with the times. North Shore Gas moved out around 1947 and Geary and Cooper, later Kenneth Cooper, Electrical Supply took the storefront from 1947 to 1955 before moving to 119 Cook Ave.
In 1956 Parkside Liquor, perhaps one of the better known twentieth century businesses to be in the Kaiser Building, opened, offering retail sale of beer, wine, liquor and other beverages. Parkside expanded in the 1970s, uniting all three ground floor storefronts into one large store. Parkside remained at the location until the early 1990s.
Neville – Sargent, a framing and décor business that got its start in Evanston, moved into the still united ground floor storefronts in 1994, using the space partly as an art gallery. Later the store shifted to just the southern store front while the north side was occupied by Treasures 'n ' Trash. Although Neville-Sargent owners Jane and Don Neville said they loved the Libertyville location, in 2009 the slow economy meant it was time to downsize—both physically and operationally. Deciding to focus solely on the framing and print side Neville-Sargent relocated to Millburn. The space was then occupied by several recent businesses in succession: Leggy Bird Designs, Julie J. Studio, Beachwaver Co., Diamondaire, Runners Edge and today's occupant 847 Running.
Sources
Leszczewicz , Heather. "Neville-Sargent moves out of Libertyville." Trib Local - Libertyville November 2nd 2009.
Grom, Korrina . "Treasures & Trash Closing its Doors." Libertyville Patch (Libertyville) March 15th 2013.
"Captain" Paul Ray Marks 30th Year as Merchant." Independent Register January 23rd 1941.
"Paul G. Ray Firm to Celebrate 20th Anniversary with Open House." Independent Register January 1931.12.
"Libertyville Briefs." Lake County Independent January 20th 1911. Sunday ed.5.
"Paul G. Ray Buys Furniture Store Bldg.." Libertyville Independent (Libertyville) March 25th 1926. Business sec.
"Albert W. Litchtfeld Advertisement." Lake County Independent February 2nd 1906.4.
"Short and Personal - Lynch Bros." Lake County Independent and Waukegan Weekly May 15th 1908. Sunday ed.5.
"Young and Lynch Bros. Advertisement." Lake County Independent and Waukegan Weekley May 22nd 1908. Sunda ed.4.
"John Cichy Advertisement." Lake County Register June 6th 1923.4.
"Libertyville - Charles H. Kaiser." Lake County Independent September 25th 1903. Special Souvenir Edition ed.14.
Libertyville Telephone Directories, 1905-1959.
Boyd, Murell "Bud". A Stroll Around Downtown Part III, Growing Up in Libertyville in the Thirties and Forties. Accessed September 8th 2020. http://vitacollections.ca/cmpldnewsindex/300/exhibit/1.
Pilossoph, Jackie. "Leggy Bird Designs flies to Lake Bluff." Chicago Tribune September 23rd 2015. , Suburbs sec.
Cook Memorial Library, Local History Clippings File.
Libertyville-Mundelein Historical Society. Libertyville History, Illinois Digital Archives. Accessed September 8th 2020. http://www.idaillinois.org/digital/collection/cookmemo11/search/.
Street View, Google Maps. Accessed September 14th 2020. https://www.google.com/maps/place/410+N+Milwaukee+Ave,+Libertyville,+IL+60048/
Image Sources
Village of Libertyville. HistoricLibertyville.com

Libertyville-Mundelein Historical Society

Libertyville-Mundelein Historical Society

Libertyville-Mundelein Historical Society. Cizek Collection.

Libertyville-Mundelein Historical Society.

Libertyville-Mundelein Historical Society. Libertyville Township Assessor collection.

Additional Information