Hollywood Theater
Introduction
Leavenworth's Hollywood Theater exemplified the Art Deco style with its vertical square columns and geometric designs on the front facade, above the marquee. The two-and-a-half story concrete building was constructed in 1937 and 1938 on the corner of Delaware and S 5th streets. Hollywood Theater was listed in the Register of Kansas Historic Places in 1984 and the National Register of Historic Places in 1990. The City of Leavenworth owns the building, which currently shows movies and hosts a local theatrical group's live performances in the building now known as the Leavenworth Performing Arts Center.
Images
2001 photo of main (south) and side (east) facades of Hollywood Theater by Brad Finch (KSHS)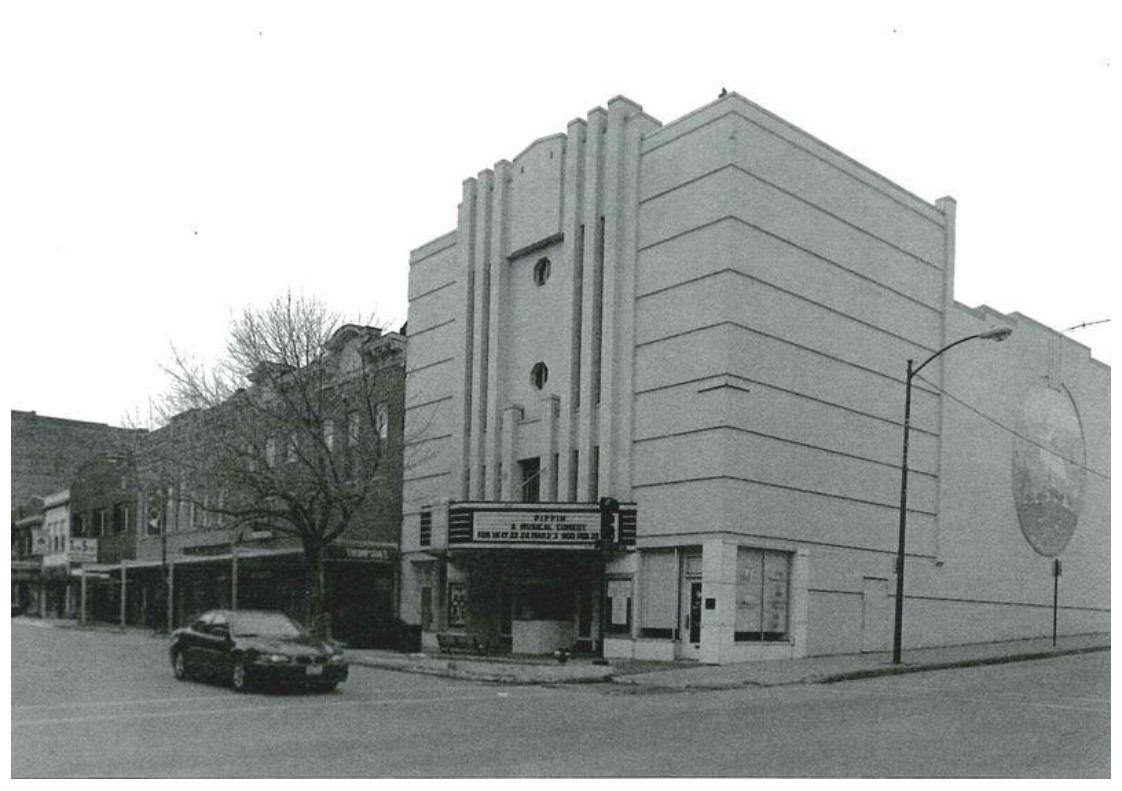 Dubinsky Brothers Stock Co. newspaper ad for performance in Columbia, Missouri in 1921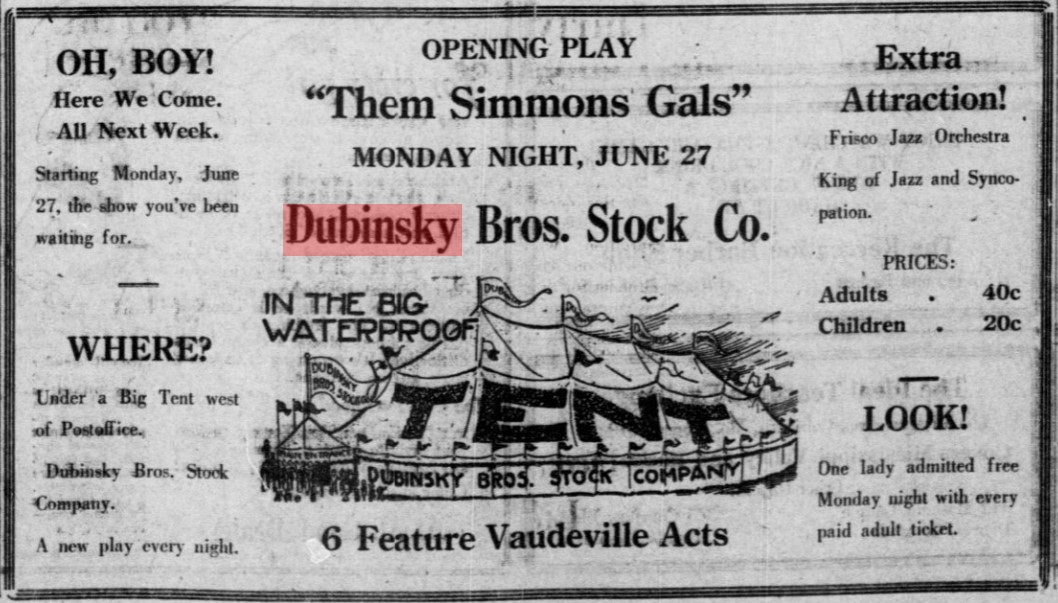 Dubinsky Brothers Stock Company press release for theatrical troupe in 1922 Columbia, Missouri Newspaper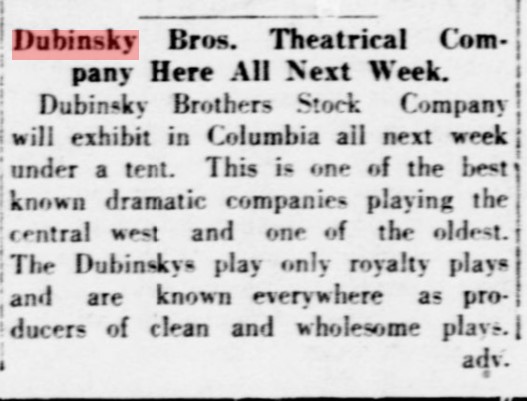 Backstory and Context
Edward Dubinsky acquired the lots costing over $10,000 in 1936 where the Hollywood Theater would be built. He and his younger brothers, Irvin and Bill, operated the theater as The Dubinsky Brothers from 1938 to 1947. Formerly a theatrical troupe under the name Dubinsky Brothers Stock Company, Edward and his brothers Maurice and Barney toured the central U.S. beginning in 1906. In the 1920s the Dubinskys decided to concentrate on the motion pictures industry. They bought the Regent Theater in Kansas City, Missouri and began buying other theaters in the Midwest. The brothers owned 40 theaters in Kansas and Missouri by 1932. Maurice Dubinsky died in 1929. Barney was seriously injured in a 1936 car accident and retired from the movie theater business; he died in 1948.
Opening night of the new theater was July 23, 1938 when the feature film "Little Miss Broadway" starring Shirley Temple and Jimmy Durante played to two sold-out crowds of 1,040. Viewers paid 35 or 25 cents and the seating was segregated by race. Edward Dubinsky changed his surname to Durwood and was still leading the company when he died in 1960; his son, Stan, took over the business. Durwood Theaters, Inc. stopped showing movies at Hollywood Theater in the 1970s and the structure was donated to the city in 1977. Stan Durwood eventually formed the AMC Entertainment company, a leading company in American movie theaters.
The Hollywood Theater building has become the Leavenworth Performing Arts Center and again shows movie on its single screen to audiences up to 1,000 viewers; some of the old front seats were removed to enlarge the stage for live performances. The building also is the home to a theater group, River City Community Players (RCCP). The RCCP began operating in 1977 under founder Verneil Searles as part of the city's Parks and Recreation Department. Two of the RCCP's annual shows are musicals and two are non-musicals; two youth productions and an annual Christmas show take place each year. The group's first performance in June 1977 was a play written by the founder and called "Then, Now, and Wow."
Sources
Cinema Treasures, LLC. Leavenworth Performing Arts Center, Movie Theaters, US, Kansas, Leavenworth. January 1st 2020. Accessed July 22nd 2020. http://cinematreasures.org/theaters/17634.
Coleman, Daniel. The Dubinsky Brothers, Kansas City Public Library, The Pendergast Years. Accessed August 4th 2020. https://pendergastkc.org/article/biography/dubinsky-brothers.
Hagedorn-Krass, Martha. NRHP Nomination of Hollywood Theater. National Register. Washington, DC. National Park Service, 1990.
Loughlin, Amanda. 103-3020-00150 Hollywood Theater, 500 Delaware St, Kansas Historic Resources Inventory. Accessed July 22nd 2020. https://khri.kansasgis.org/index.cfm?in=103-3020-00150.
River City Community Players. RCCP History, River City Community Players - About Us. June 1st 2020. Accessed August 2nd 2020. http://www.rccplv.com/about-1.
River City Community Players. RCCP Past Seasons Of The RCCP, River City Community Players - About Us. June 1st 2020. Accessed August 2nd 2020. http://www.rccplv.com/pastseasons.
Image Sources
https://khri.kansasgis.org/index.cfm?in=103-3020-00150

The Columbia Evening Missourian, June 24th 1921, Last edition, Columbia, Missouri, p. 5

The Columbia Evening Missourian, September 2nd 1922, Last edition, Columbia, Missouri, p. 2

Additional Information