A.J. Angell House
Introduction
Completed in 1885, the A.J. Angell House a two-and-one-half story brick mansion with a basement constructed in the Queen Anne style. A wing attached to the west facade served as a servants' quarters and kitchen. The owner, a native New Yorker with a successful lumber business in Leavenworth, died soon after the house was finished. Widow Mary J. Angell and her three daughters continued to live in the mansion with her new husband Amos Fenn and a stepsister. Amos and Mary J. both died in 1913. Angell descendants owned and occupied the house until 1975. The Angell House and its carriage house was added to the National Register of Historic Places in 1977 as a fine example of Victorian architecture.
Images
Undated historic photograph of the A.J. Angell House (KSHS)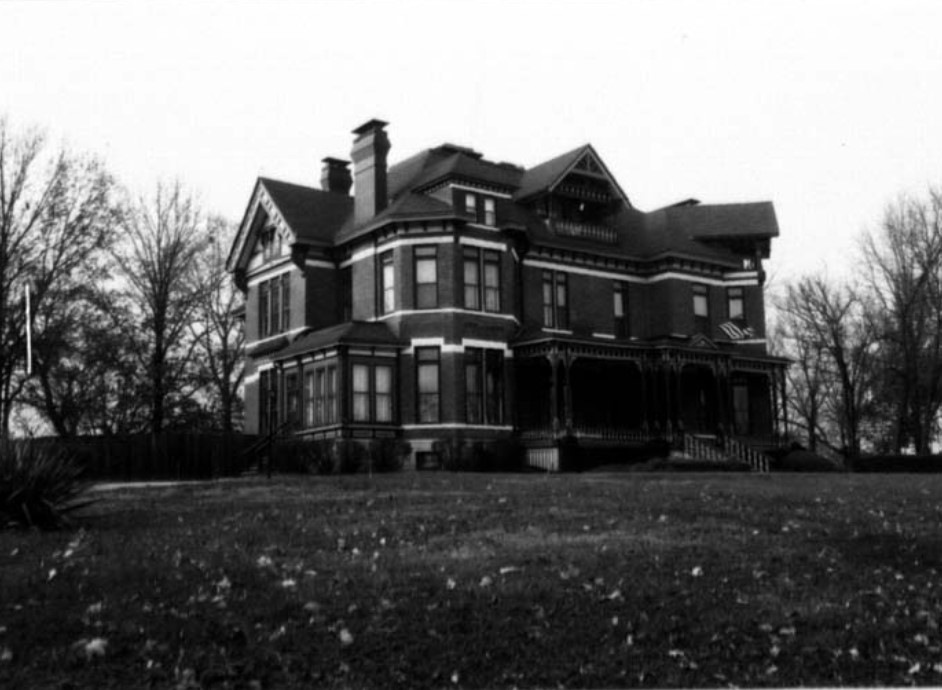 Backstory and Context
A.J. Angell moved to Kansas in 1857 and worked as a surveyor. He established a lumber business in 1870 that proved to be very successful. He entered into a business partnership with one of his clerks, Frank G. Markart, in 1883 to form A.J. Angell and Co. After A.J. Angell died in June of 1885, his widow (Mary J. George) continued to hold her late husband's interest in the business. The lumber yard was located on a half block at 603 Cherokee Street and was still in operation in 1899 with Mr. Markart as the manager.
Before constructing the mansion on S Broadway, A.J. Angell and his family resided in Leavenworth at 767 Ottawa Street. In 1880, the 47-year-old lumber dealer shared his home with his wife, Mary (40, a Pennsylvania native); daughters Annie G. (9), Mary L. (7), and Josephine M. (4); and a white servant, Nellie McGuire (20). By 1900, the widowed Mary J. (age 61) was remarried and still living in the mansion with her three daughters; her husband, Amos Fenn (65); and one of his children, Pearl (28). Mr. Fenn was born in England and emigrated to America in 1851; he worked at or owned a planing mill. His first wife, Naomi Hickham, died in 1883 in Leavenworth. By 1910, Mr. Fenn was retired and still living in the mansion with his wife, Mary J.; a boarder named Joseann Marais (25, married for 5 years, South Carolina native) and her son, Samuel George (2, born in South Carolina); and a servant from the Phillipines, Iosi Herrera (female, 21). Both Mary J. and Amos died within two months of each other in early 1913 while in San Antonio, Texas. Both were buried in Leavenworth County in Mount Muncie Cemetery in Lansing. The mansion was vacant from 1913 to 1918. A married daughter, Annie, moved into the house in 1918 with her husband, Frank Daniel Webster, an Army officer at Fort Leavenworth. The home had been vandalized when unoccupied and items had been stolen; the Websters renovated and changed gas to electricity power. The Websters purchased the interests of the other two Angell sisters and the mansion stayed in the Webster family until 1975.
The Angell House is massive, covering an area of about 75 by 52 feet. The main doorway is sheltered by an elevated porch that extends across the main (east) facade. Another noteworthy feature is a wide cornice supported by closely spaced single wood brackets. Two walkout balconies above the cornice line are sheltered by dormers accented in the Stick style. Inside are an entry hall, three parlors, a library, kitchen, five bedrooms plus two servants' bedrooms and an upstairs sitting room. The original two and a half bathrooms have been expanded to five. The third floor space may have been a ballroom. By the late 1970s, only one original wall covering remained: the wall paper in the front entry hall. Not surprisingly given the original owner, the home features many details finished in wood and parquet flooring of walnut, maple and oak.
The mansion formerly stood on a lot of 7.5 acres, but 2 acres were confiscated for back taxes owed in the 1940s. The original carriage house lies to the northwest of the house; the ground floor of the masonry building served as a tack room and stable but has been converted into a garage for three horseless carriages. The second story of the carriage house contained a three room apartment and a hay loft.
The Angell House underwent more renovations in the 1970s: five chimneys were rebuilt to their original height, exterior woodwork was repaired, the original iron decorative fence along Broadway was found and reinstalled, the hipped roof and gutters were replaced, utilities were replaced, plaster was repaired, stained glass windows were repaired, and two fireplaces were reconverted to woodburning.
Sources
Chapman Publishing Company. Portrait and Biographical Record of Leavenworth, Douglas and Franklin Counties, Kansas: Containing Portraits, Biographies and Genealogies of Well Known Citizens of the Past and Present. Chapman Publishing Company, 1899.
Kansas Historical Society staff. 103-3020-00016 Angell, A.J., House, 714 S Broadway, Accessed July 22nd 2020. https://khri.kansasgis.org/index.cfm?in=103-3020-00016.
Pankratz, Richard. Wyma, Cornelia. NRHP Nomination of Angell House. National Register. Washington, DC. National Park Service, 1977.
Sunshine. Amos Alexander Fenn (1834-1913) Memorial 43975872, Find A Grave. November 5th 2009. Accessed July 23rd 2020. https://www.findagrave.com/memorial/43975872/amos-alexander-fenn.
US Census. Household of A.J. Angell at 767 Ottawa St., Leavenworth, KS, Enumeration District 160, dwelling 399, family 607. Washington, DC. United States Government, 1880.
US Census. Household of Amos N. Fenn at 716 Broadway, Leavenworth, KS, Third Ward, dwelling 246, family 251. Washington, DC. United States Government, 1900.
US Census. Household of Amos Fenn at 714 Broadway, Leavenworth, KS, Third Ward, family 10. Washington, DC. United States Government, 1910.
Image Sources
https://khri.kansasgis.org/index.cfm?in=103-3020-00016

Additional Information