Parrott Ropewalk and Montrose Park Historical Marker
Introduction
This historical marker designates the location of Richard Parrott's ropewalk at the turn of the nineteenth century at his property, called Elderslie. Ropewalks were long covered pathways used in the manufacture of rope for ship rigging. The process required a long, straight track for the turning of strands of hemp, and so ropewalks were essential to the establishment of ports and maritime commerce. For this reason, the British army burned the ropewalk in 1813 when they occupied Washington during the War of 1812. After the property changed hands several times, its new owners renamed it Montrose. The path of the ropewalk became a drive on the estate. In 1911, the property became Montrose Park, and the ropewalk remains as a path. In 1933, the National Park Service assumed responsibility for the park.
Images
Ropewalk marker at Montrose Park, 2013, by Allen C. Browne on HMDB.org (reproduced under Fair Use)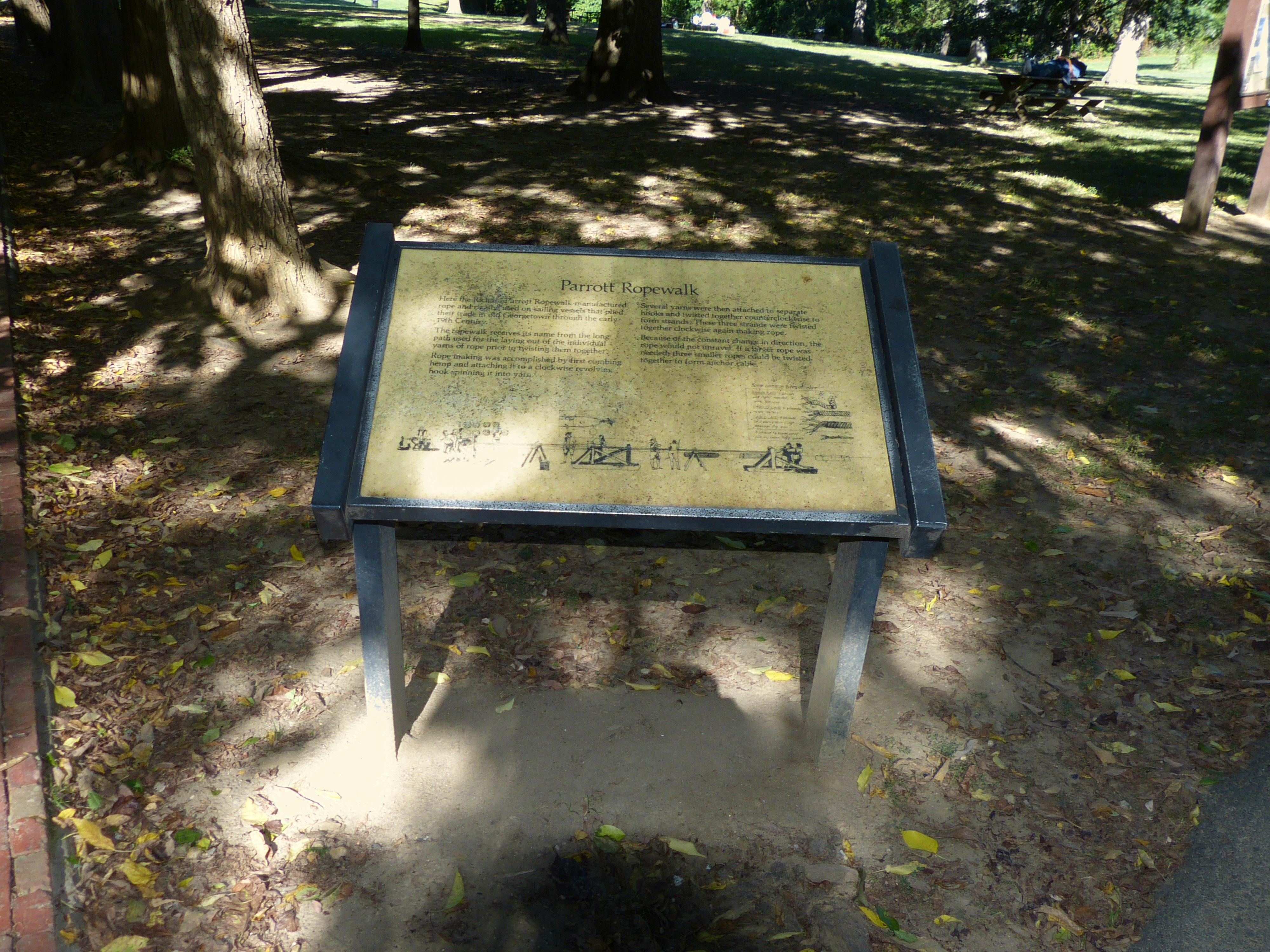 Backstory and Context
Richard Parrott, owner of a wool and cotton mill on Rock Creek, built a ropewalk and an estate at this site between 1804 and 1813. The ropewalk constructed rope for ships. The manufacture of rope required a long, straight track for the twisting and spinning of hemp strands into rope that would not unravel when cut. Parrott called the property, with its Federal-style mansion, Elderslie. The area was also known to residents as Parrott's Woods.
After Parrott's death in 1822, Clement Smith acquired Elderslie. Fifteen years later, in 1837, it became the property of Mary McEwan Boyce and then her husband Captain Boyce. They renamed the estate Montrose.
The property deteriorated, leading to Sarah Rittenhouse lobbying for the establishment of a park at the site. In 1911 the property became Montrose Park, designed by George Burnap and Horace Peaslee under supervision by the Commission on the Fine Arts and notable landscape architect Frederick Law Olmstead. Two decades later, the National Park Service took over the maintenance of the park.
Sources
Browne, Allen C. Parrott Ropewalk, Historical Marker Database. June 12th 2019. Accessed August 7th 2020. https://www.hmdb.org/m.asp?m=68712.
Friends of Montrose Park. Ropewalk, Accessed August 7th 2020. https://www.montroseparkdc.org/ropewalk.
Image Sources
https://www.hmdb.org/PhotoFullSize.asp?PhotoID=254654

Additional Information