Chicago, Milwaukee and St. Paul Passenger Depot
Introduction
The historic Chicago, Milwaukee and St. Paul Passenger Depot is one of the most prominent landmarks in Great Falls. The Chicago, Milwaukee and St. Paul Railroad, which was also commonly referred to as the Milwaukee Road, built this depot in 1915. The building's most distinguishing feature is the tower, which reaches a height of 135 feet and is visible from a great distance. When it was built, railroad officials regarded the building as the finest depot on its railroad line between Chicago and Spokane. The creation of this stately passenger train station also helped the city's status as a key regional center. The economy and population grew in the city and the surrounding area as a result of the rail line and depot. In terms of design, the depot is a good example of Mission Revival architecture, and the tower features the Milwaukee Road's trademark on all four sides. The depot is now used as an office building.
Images
The Chicago, Milwaukee and St. Paul Passenger Depot was erected in 1915. It is one of most recognized landmarks in Great Falls.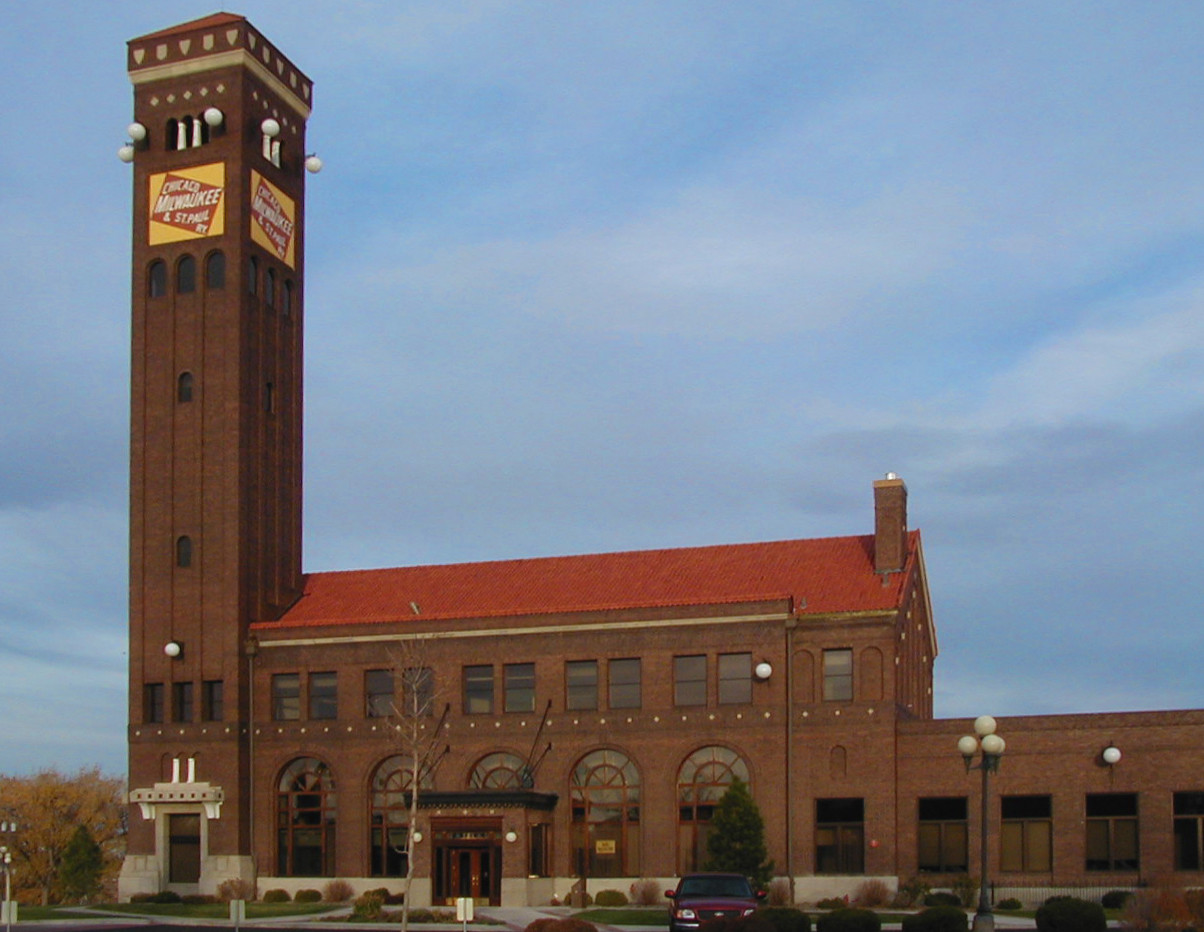 Backstory and Context
The Milwaukee Road was founded in the late 1840s and grew steadily in the subsequent decades. It the last of the great railroads to cross Montana, which it did by 1909. As noted above, the depot helped transform the city into a major economic hub in central Montana, and it attracted large numbers of homesteaders to the central plains of the state. However, after the First World War, Montana suffered under four years of drought which caused a severe agricultural depression. Many homesteaders lost their farms and left. As such, the depot's most historically important years were between 1915 and 1925. The depot continued to operate as a passenger station until the 1950s. It sat vacant for 15 years before being renovated into mall. It became an office building in the 1980s and remains so today. It was added to the National Register of Historic Places in 1988.
Sources
The Montana National Register Sign Program. "Chicago, Milwaukee and St. Paul Depot." Montana Historical Society - Digital Vault, accessed July 30, 2020, http://digitalvault.mhs.mt.gov/items/show/20118.
Wells, Karen A. "Chicago, Milwaukee and St. Paul Passenger Depot." National Park Service - National Register of Historic Places Nomination Form. October 13, 1988. https://npgallery.nps.gov/GetAsset/3418e597-9b24-4437-9ff3-daa3c235f5c2.
Image Sources
Loren T. Vine, via Wikimedia Commons: https://commons.wikimedia.org/wiki/File:Milwaukee_Road_Station_(Great_Falls)_2002-05.jpg

Additional Information