The Basque Center
Introduction
The Basque Center, originally built in 1949, is a Basque built and owned space dedicated to fostering and preserving Basque culture. Throughout the year, this space is used by the local Basque community for a variety of social events and educational classes designed to inform the surrounding population about Basque culture. This space functions to maintain traditional Basque culture and provide a social space for the preservation of Basque heritage.
Images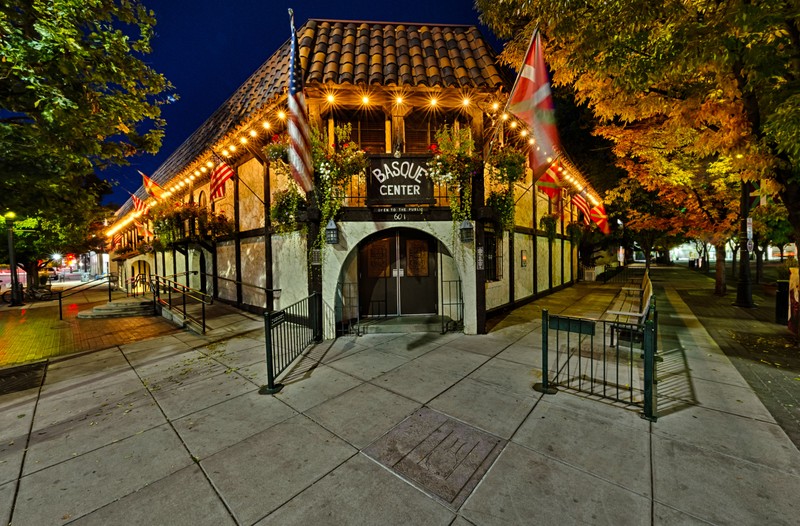 Backstory and Context
Established alongside many other Basque buildings on Grove St., the Basque center was built in 1949 by Euzkaldunak, Inc., a group of basques who had founded the organization within that same year. The empty lot was purchased with the vision for the Basque Center in mind as a gathering place for the local community. At the time, the primary social center was at the 607 Cyrus Jabobs-Uberuaga boarding house whose primary use was as housing for Basque immigrants who came to the United States to herd livestock. As the number of Basques in Boise increased, the need for a place where the sole function was to host Basque cultural gatherings was apparent. As a result, the Basque Center was constructed near the Uberuaga house as a community oriented space.
As a place designated to foster and house Basque culture, the community renovated the building in 1972 to outwardly reflect traditional styles of architecture and design from the Basque country. This decision was driven by Basque pride and identity in the United States and as a way to openly display Basque culture and heritage in the rapidly changing city. In addition to the red tile roofing, wooden accents, and iron gates, the Basque flag was and continues to be displayed on the front of the Basque Center as a symbol of the community.
Today the Basque Center continues to fill the role of a social space by hosting various educational classes, traditional game tournaments such as Mus, weddings, and other large cultural festivals and gatherings. It acts as the central hub for Boise's Euzkaldunak Club which organizes large Basque festivals including San Inazio and a variety of charity events. The large space is managed by the local Basque community and even contains a bar and a large open room that is available for public rent and use by the community.
Sources
Mackey, Meggan Laxalt. Lekuak: The Basque Places of Boise, Idaho. Reno, Nevada. Center for Basque Studies Press, 2018.
About: The Basque Center, Euzkaldunak. Accessed June 18th 2020. https://www.basquecenter.com/about/.
Image Sources
Basque Museum & Cultural Center

Additional Information