Home of Bert Rich
Introduction
Constructed in 1915 by Bert Rich, this home serves as a reminder of the Great Exodus that saw over 20,000 African Americans arrive in Kansas in 1879 and 1880. Rich arrived in Emporia with his family and would later build the largest African-American-owned construction firm in Kansas. Rich's company had over 100 employees at its peak and the firm built many structures in Emporia that still stand today. Rich built an addition to his home, which was essential to providing housing opportunities for African Americans who attended Kansas State Teachers College (known today as Emporia State University). The home originally stood at 1202 Sylvan-close to the Emporia State campus. The home was moved to its current location around 1960 and divided into apartments.
Images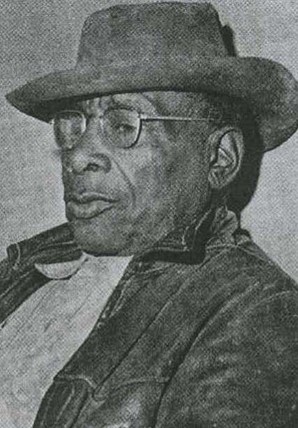 The home is now on the corner of Union Avenue and East 7th

Backstory and Context
Bert Rich, born in Kentucky in 1878, moved with his family to Emporia as a small child in 1880. This move to Kansas coincided with the "The Great Exodus" or "Exoduster" movement between 1879 and 1881, a coordinated and planned migration that saw more than 20,000 African Americans leave the American South to start new lives in Kansas and adjacent states. Rich's uncle became one of Emporia's early entrepreneurs, owning two restaurants and railroad tracks. Bert Rich followed in his uncle's footsteps, becoming the most prominent African American contractor west of the Mississippi River, employing more than 100 men. Local construction projects included Lake Wooster, many of the stone structures at Peter Pan Park, the Sunken Garden at Emporia State University, and rebuilding the Santa Fe railroad road beds between Emporia and Kansas City. Rich also owned a circus, which he used to entertain people in and around Emporia. Rich noted that he wanted to show that Black men could do more in life than do manual labor. 
Rich built this historic home in 1915, which he later expanded in order to house Black students at Emporia State University. The college president, Thomas W. Butcher, had suggested to Rich that he accommodate African American college students. So, Bert responded by adding a second story comprised of six rooms and a bath. 
Clinton Henning later purchased the home and moved it to 626 Union. Henning converted the house into a small multi-residence building comprised of four apartment units; the first renters moved into the building in 1962. 
Sources
"Black Emporia: Stringtown. 1202 Sylvan – Home of Bert Rich." Emporia State University. Accessed April 21, 2022. https://www.emporia.edu/libraries-archives/special-collections-archives/access/special-collections/black-emporia-interpretations-and-connections-collection/black-emporia-stringtown/. 
"Exodusters: African American Migration to the Great Plains." Digital Public Library of America. Accessed April 21, 2023. https://dp.la/primary-source-sets/exodusters-african-american-migration-to-the-great-plains.
Woods, Casey. "Honoring our History." Emporia Main Street (blog). February 10, 2017. https://emporiamainstreet.com/honoring-our-history/.
Image Sources
Emporia State University: https://www.emporia.edu/libraries-archives/special-collections-archives/access/special-collections/black-emporia-interpretations-and-connections-collection/black-emporia-stringtown/

Google Maps

Additional Information