Cross House
Introduction
The Cross House at the corner of Union Street and Sixth Avenue, is in the midst of an ambitious renovation project by its new owner since 2014 to take the house back to its original state from 1894. Ross MacTaggart uses old photos and evidence from buried layers of the house itself to bring back older finishes and replicate missing elements like one of the roof finials. The Cross House was designed by a local architect, Charles W. Squires, who contributed designs for thousands of Kansas buildings over decades of work. The Cross House was added to the National Register of Historic Places in 2011. It is significant for its association with several people and a fraternity, and for its Victorian Queen Anne architectural style.
Images
West elevation of Cross House in 2010 photograph by Sarah Martin (KSHS)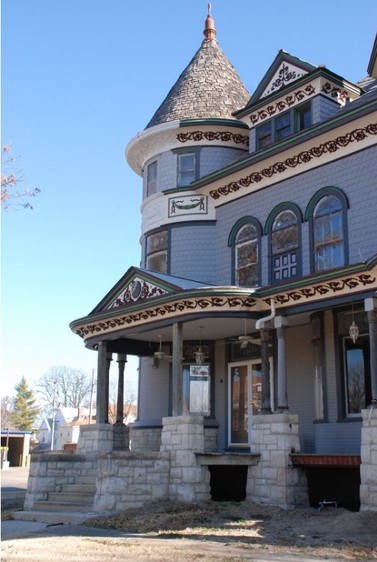 West elevation and southwest corner of Cross House in 2010 photograph by Sarah Martin (KSHS)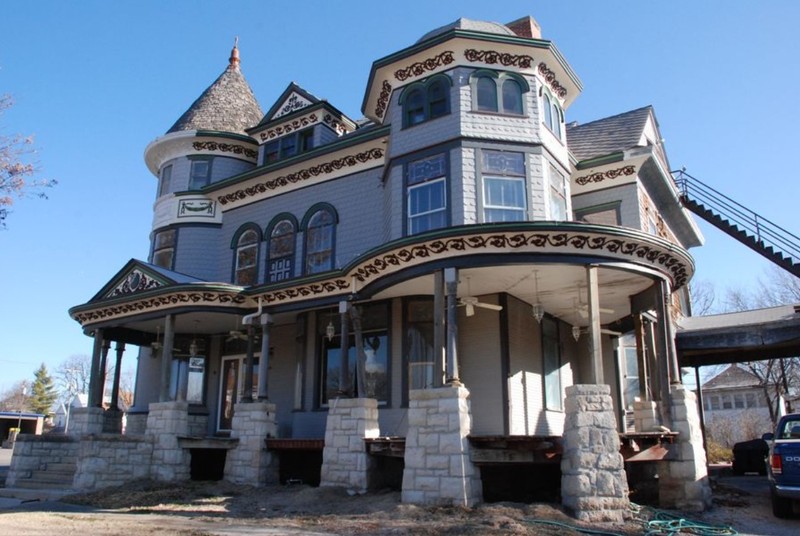 Telephone booth in Cross House near north entry in 2010 photograph for NRHP nomination (Martin)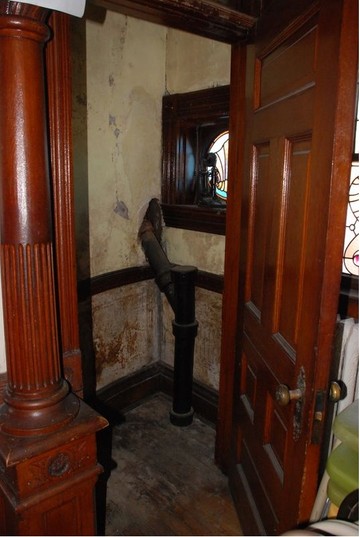 North and west facades of Cross House in circa 1900 photograph (KSHS, KHRI database)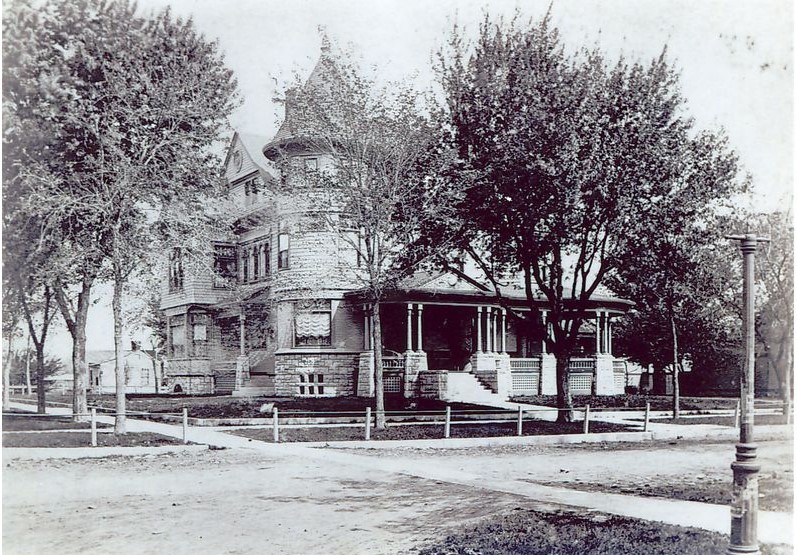 Backstory and Context
The Cross House was built for Colonel Harrison Cory ("H.C.") Cross, a banker and Civil War veteran. Sadly, Cross died soon after the house was completed. Examining his estate revealed some irregularities in the bank operations, leading to the eventual collapse of the bank he had founded with four others, the First National Bank. His son, Charles, tried to deal with the massive debt and scandal but ended up committing suicide in 1898. H.C.'s widow, Susan, continued to live in the home with a granddaughter until her death in 1902; the house was deeded to the bank due to H.C.'s debts.
The house's style is Queen Anne Free Classic featuring decorative stained glass transoms, round and polygonal towers, and shingles curved into recessed windows. The Cross House renovations by the new owner, Ross MacTaggart, also involve upgrading the Victorian structure's heating/cooling, wiring, and plumbing. To help the neighbors enjoy his handiwork, he has backlit the original and replacement stained glass windows. One discovery was a system of tubing in the walls used like an intercom. Steel I-beams were placed to support areas that were sagging in the 8,900 square foot home.
The architect of the Cross House, Charles W. Squires, tended to incorporate quirky elements into his house designs. MacTaggart has learned to recognize these unexpected, impish exaggerated features and writes about the architect in his blog that details his never-ending quest to restore the 1894 home. Squires' own home that he designed for his young family in 1895 was just a block away from the Cross House, so he seems to have appreciated the neighborhood (the Squires House, at 613 Union Street, also is a Clio entry, and several other buildings on the Union Street block are Squires designs). MacTaggart estimates there might be 30 Squires houses in a four-block area surrounding the Cross House, some known and some educated guesses.
The Cross House has served many purposes over its 125+ years. The home was purchased in 1909 by Dr. William Meffert for use as a private sanitarium. The house was Phi Sigma Epsilon's first frat house in the U.S., from 1912 to 1918; the fraternity formed in Emporia and is now Phi Sigma Kappa. In the 1920s, the Cross House went from being Kelly Boarding House to the Elms Tea Room to the Mouse Palace Hotel (named for Scott Mouse). Chi Omega sorority and several other sororities and fraternities occupied the house into the 1960s, followed by a succession of private owners. MacTaggart plans to move into the house once renovations are done.
Sources
Anonymous. "Cross House named to NRHP." Emporia Gazette (Emporia, KS) August 19th 2011.
Loughlin, Amanda. 11-1660-00012 Cross, H. C. & Susan, House, 526 Union St, Emporia, Kansas Historic Resources Inventory. Accessed July 1st 2020.
https://khri.kansasgis.org/details.cfm?in=111-1660-00012.
MacTaggart, Ross. Restoring the Cross house, Restoring Ross blog. June 30th 2020. Accessed July 1st 2020. https://restoringross.com/category/cross-house#list.
Murphy, Jesse. "Cross House restoration receives Heritage grant." Emporia Gazette (Emporia, KS) February 15th 2015.
Robinson, John. "What once was." Emporia Gazette (Emporia, KS) December 3rd 2016. Top Story sec.
Rodak, Robert. Martin, Sarah. Emig, Rachel A. NRHP Nomination for Cross, Colonel H. C. and Susan, House. National Register. Washington, DC. National Park Service, 2011.
Image Sources
https://khri.kansasgis.org/details.cfm?in=111-1660-00012

https://khri.kansasgis.org/details.cfm?in=111-1660-00012

https://khri.kansasgis.org/details.cfm?in=111-1660-00012

https://khri.kansasgis.org/details.cfm?in=111-1660-00012

Additional Information