Back to Exchange Street
Introduction
Walk one block north on Walnut Street and out of the Irvine Park District back to Exchange Street, which is where you began your walk. There are only three more stops on the tour: the Alexander Ramsey House at 265 Exchange Street; the Forepaugh House at 276 Exchange Street, and a brief stop at the corner of Exchange and Sherman Streets
Images
265 South Exchange Street_1998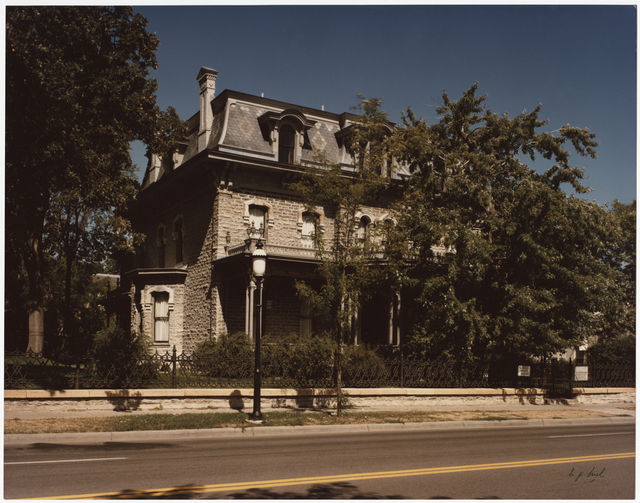 South side of 265 South Exchange Street_1962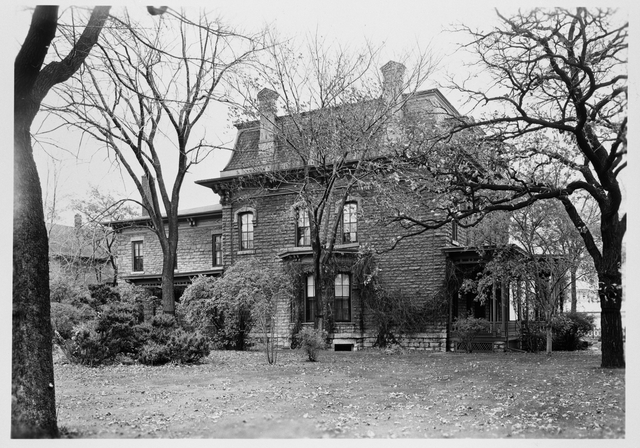 276 South Exchange Street_1972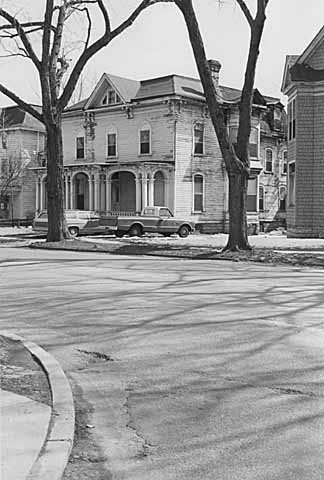 North side of 276 South Exchange Street_1979
(LOST) The German Athenaeum_1885_corner of Exchange and Sherman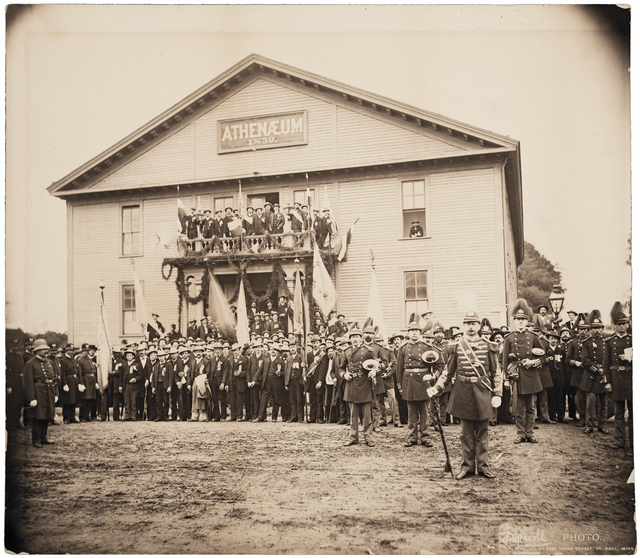 Backstory and Context
As you leave Irvine Park notice how the noise level around you immediately rises. That is because Irvine Park is below the grade of Exchange Street and because of the features mentioned earlier: the density of houses that buffer sound in the park, and the parking restrictions and limited traffic access that keep it relatively car-free. Here on Exchange Street you can hear the city.
265 South Exchange Street (1872) NOTE: this entry addressed Alexander Ramsey's role in the expulsion of the Dakota people from their Minnesota homelands.
This is the French Empire Style mansion of Alexander Ramsey, the first governor of the settler territory of Minnesota and the second governor of the American state of Minnesota. Ramsey made his fortune by using his political position to push for treaty negotiations with both Dakota and Ojibwe bands and then to purchase, speculate on and sell the ceded land the US netted as a result. He played a significant role in the forced removal of the Dakota people from their Minnesota homelands, calling for their "extermination" or expulsion on the floor of the state legislature in 1862. He also used his power to found the Minnesota Historical Society, which was bequeathed this house by Ramsey's granddaughters in 1964.
276 South Exchange Street (1870) Home of the recently-shuttered Forepaugh's restaurant, this mansion was built by dry goods dealer Joseph Forepaugh who made such a fortune in federal contracts to supply US troops during the American Civil War, he was able to retire at the age of 34.
296-298 South Exchange Street (1911) Why does this house face away from Exchange Street? Because it was built facing a section of Sherman Street that no longer exists. In classic St. Paul fashion, it retained its Sherman Street address into the 2000s despite the demolition of this block of Sherman.
It stands on the former location of the German Athenaeum (see photo). German immigrants constructed the Athenaeum (1859) to serve as a cultural center where they hosted performances of German plays, opera, and music, along with a German literary society. Although it burned down in the 1880s, the Athenaeum was an early herald of St. Paul's eventual identity as a majority-German city and the West End as the center of German immigration, commerce, language and culture until the early 20th century.
If you want to learn more about St. Paul's immigrant past, including its German history, take the Minnesota Historical Society's West End History Walk which is also hosted on theclio.com
Sources
Becker, Jayne. Alexander Ramsey (1815-1903), MNopedia. September 17th 2018. Accessed July 13th 2020. https://www.mnopedia.org/person/ramsey-alexander-1815-1903.
Millett, Larry. The AIA Guide to the Twin Cities (MNHS Press, 2007).
Minnesota Historical Society. The US-Dakota War of 1862. Accessed July 13th, 2020. https://www.usdakotawar.org/
Rothfuss, Herman. The Early German Theater in Minnesota. Minnesota History Magazine. June 1st 1951. 100 - 105.
Image Sources
www.mnhs.org

www.mnhs.org

www.mnhs.org

www.mnhs.org

www.mnhs.org

Additional Information