Bascom Lamar Lunsford Historical Marker
Introduction
Bascom Lamar Lunsford was an attorney and a folklorist who became the leading performer and promoter of traditional Appalachian folk music during the early 20th century. Lunsford was born near this marker March 21, 1882, and lived in Mars Hill and the surrounding areas of Western North Carolina until his death in 1973. Known as the "Minstrel of Appalachia", Lunsford performed and promoted Southern Appalachian across the Unites States of America for several decades. His legacy is preserved in the National Archives and in films, recordings, and festivals. Mars Hill University in Madison County houses the Bascom Lamar Lunsford Ballad Collection in its Southern Appalachian Archives Collection. Lunsford's instruments are also on display at the school, and the school hosts an annual festival named for him each October.
Images
The Bascom Lamar Lunsford historical marker on the campus of Mars Hill University.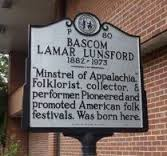 Learn more with this acclaimed biography by Loyal Jones-click the link below for more information about this book.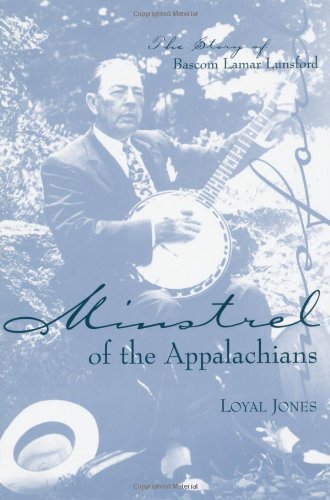 Backstory and Context
Bascom Lamar Lunsford was born in Mars Hill, North Carolina near the campus of Mars Hill University on March 21, 1882. His father, a schoolteacher, gave him a fiddle at an early age. Lunsford's mother sang ballads and religious songs. Later, Lunsford's brother bought a banjo which Lunsford quickly learned and began playing at local square-dances, weddings, and school functions.
After enrolling at Rutherford College, Lunsford began teaching in his native Madison County. He later attended Trinity College, which later became Duke University, and passed the North Carolina bar in 1913. It was when Lunsford worked as a fruit tree salesman, however, that he began learning songs from the customers he met on isolated farms, reawakening his interest in music, and in the old songs in particular.
He began collecting songs and later gave lectures and recitals on folk music. He made his first recordings in 1924 on wax cylinders. It was on February 5, 1928, in Ashland, Kentucky, that Lunsford made some of his best-known recordings at a session for Brunswick Records. One song recorded at this session was Lunsford's own composition, "Old Mountain Dew," which later became the jingle for the Mountain Dew soft drink. Lunsford sold the song to the Mountain Dew company for train fare home.
Lunsford was active in Democratic Party politics in his native Western North Carolina. He managed the campaign for Congressman Zebulon Weaver in his bid for North Carolina's tenth congressional district. From 1931 to 1934 he was a reading clerk of the North Carolina House of Representatives. Charles Seeger employed him in the mid-30s to promote singers in "Skyline Farms", as part of President Roosevelt's "New Deal". President Roosevelt invited Lunsford to the White House in 1939 to Perform for King George VI of Great Britain.
In 1927, the city of Asheville was planning a Rhododendron Festival to encourage tourism. They asked Lunsford to invite local musician and dancers to what would eventually become the Mountain Dance and Folk Festival. Still held annually, it is recognized as the first event to be labeled a "folk festival." Lunsford performed there for almost 40 years, until he suffered a stroke in 1965. Lunsford died on 4 September 1973, after several years of declining health.
Sources
http://digitalheritage.org/2010/08/bascom-lamar-lunsford/ http://www.folkways.si.edu/bascom-lamar-lunsford/ballads-banjo-tunes-and-sacred-songs-of-western-north-carolina/old-time-sacred/music/album/smithsonian http://theanthologyofamericanfolkmusic.blogspot.co.uk/2010/04/dry-bones-bascom-lamar-lunsford.html Minstrel of the Appalachians: An Interpretative Biography of Bascom Lamar Lunsford, John Angus McLeod, 1970. It Used To Be: The Memoirs of Bascom Lamar Lunsford, Bascom Lamar Lunsford and Mildred Frances Thomas, 1975
Additional Information