Fruit Loop
Introduction
This was a active cruising area starting in the mid 40s through to the mid 90s. If it was a busy night the loop might continue on Portland. The was one apartment building, long gone that was called Vaseline Alley. You know this desert climate can be hell on your lips, I'll assume this alley had well moisturized lips. Also, popular were house parties. Since being discovered as a memeber of the LGBTQ community could be disatsterous. The filter of a house party was a welcomed respite away from prying eyes. Though sometime even those were raided.
Images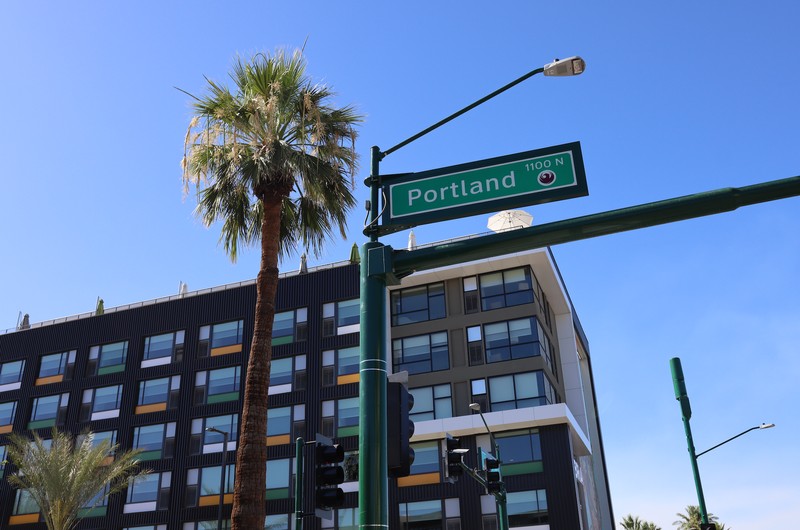 Backstory and Context
June is known as LGBTQ+ Pride month to commemorate the Stonewall Rebellion back in 1969. Though, not the first LGBTQ uprising, it's recognized as the start of the LGBTQ Civil Right Movement. These events were brought about because the marginalized LGBTQ Community had grown tired of harassment. Arizona was not exempt from this activity.
LGBT+ history is under-documented in Arizona archives and libraries. We are actively trying to change that by encouraging the documentation and preservation of documents, narratives and other items that tell the state's LGBT+ history. 
Portland St was Northern boundary of a area affectionately known as the Fruit Loop. The blocks around were a well known hangout for gay men to find other gay men. The route was Roosevelt St, alley West of First St, Portland, and 3rd St.
Additional Information