Aurand-Dills Barn
Introduction
This large raised barn has been in Martha Dills family for more than a century. Primarily hand-hewn, the barn is notable for its impressive stone foundations (quarried nearby). Access to the barn is limited due to significant structural damage. The future of this beloved barn is uncertain, and illustrates the challenges faced by many owners when trying to preserve a historic structure.
Images
Hancock Historical Museum, Barn Tour Collection, 2015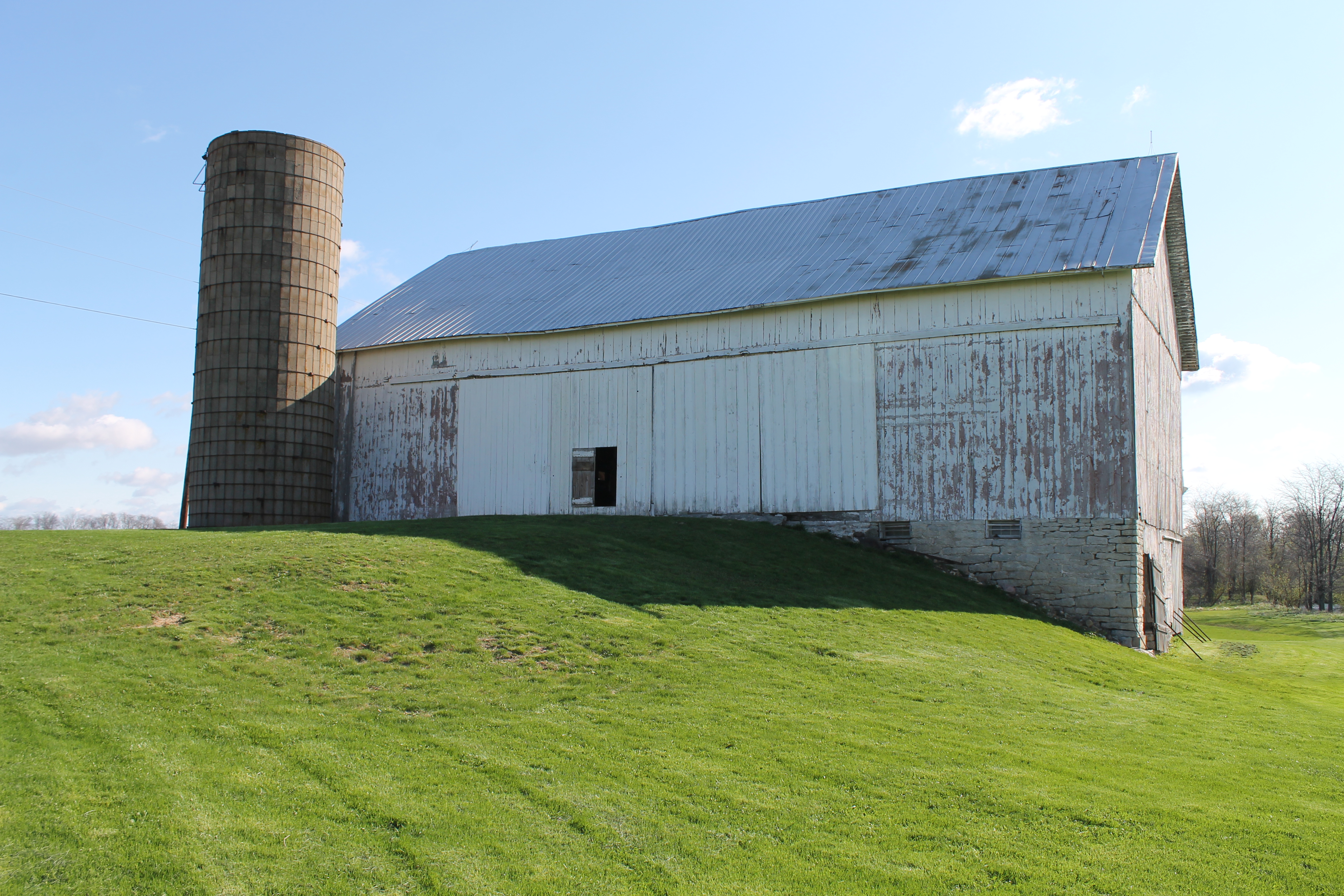 Backstory and Context
Ronald and Martha Ellen Dills purchased this property in Liberty Township in 1994. It has been in Martha's family for more than a century. Martha's grandfather, Otis Moorhead, purchased the farm in 1902 for $20,000 from Jonathan Aurand. According to the 1916-1921 rural directory, Mr. Moorhead owned 238 acres, six horses and twenty0five cows. He raised short horn cows, sheep and pigs. On his many acres, Mr. Moorhead grew oats, corn, and wheat.
This property was originally settled in 1829 by John Bobanmyer. Joanathan Aurand purchased the farm in 1865 for $5,500. Aurand Cemetery lies just north of the barn, across State Route 12. The raised barn likely dates to the 1870's. Most of the structure is hand-hewn, however the bark that is visible on some of the tie beams indicates that the builders were having to use second period forests in the area and were beginning to run out of very large timber. The original threshing floor is visible, as are the original wood shake shingles (under the metal roof). The barn was constructed to store hay. Six louvered windows dot the north wall.
The stone foundation is of particular interest. It is possible that the stone was quarried at a nearby Moorhead property on Township Road 139. Later additions to the barn have compromised the original structure and contributed to its current state. One summer beam in the basement of the barn is badly deteriorated.
The Dills are currently investigating whether or not it is viable to preserve the barn. While guests are not able to walk through the barn, the exterior detail and substantial stone foundation are remarkable features. The barn is illustrative of a dilemma that many farmers and landowners face: weighing the historical significance of this impressive structure with the realities of cost and functionality.
Sources
Hancock Historical Museum, Barn Tour Collection, 2015