Columbia Club
Introduction
The Columbia Club was built in 1924 by supporters of the Republican Party. The club dates its origins back to 1888, when Indianapolis Republicans formed a group to support the presidential campaign of local attorney and politician Benjamin Harrison. Harrison had been an officer in the Civil War and had also been selected by the Indiana State legislature to represent Indiana in the United States Senate prior to the modern practice where voters directly elect their Senators. Harrison's presidential campaign was a success. The Columbia Club also experienced success, quickly becoming one of the leading social clubs in the city. The building was added to the National Register of Historic Places in 1983.
Images
This 10-story limestone building was completed in 1924 for the Columbia Club, a private social and political club affiliated with the Republican Party.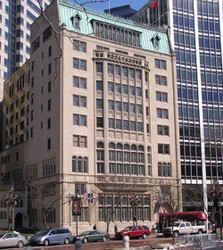 The Gothic Revival Columbia Club building features a six-story oriel window.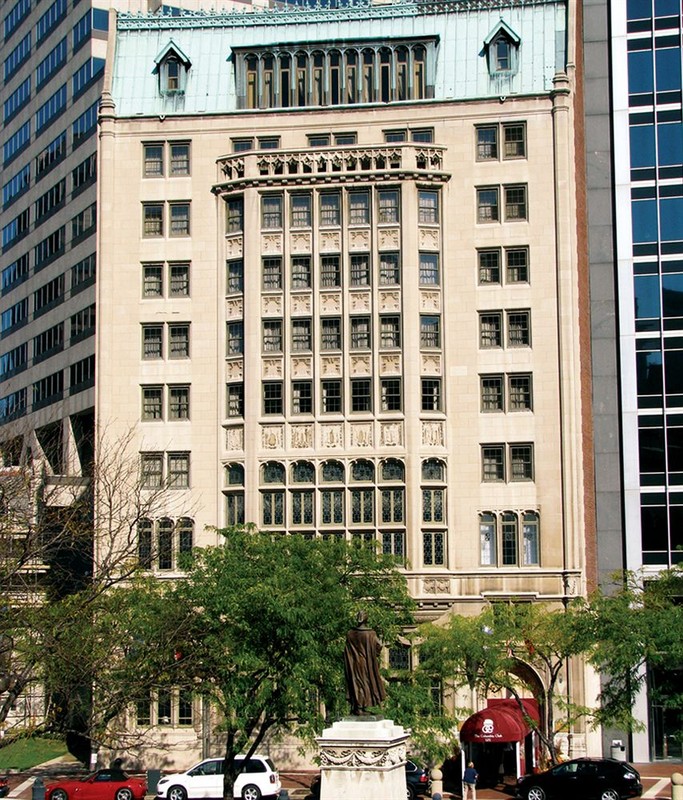 This building served as the Columbia Club's home from 1898 to 1924.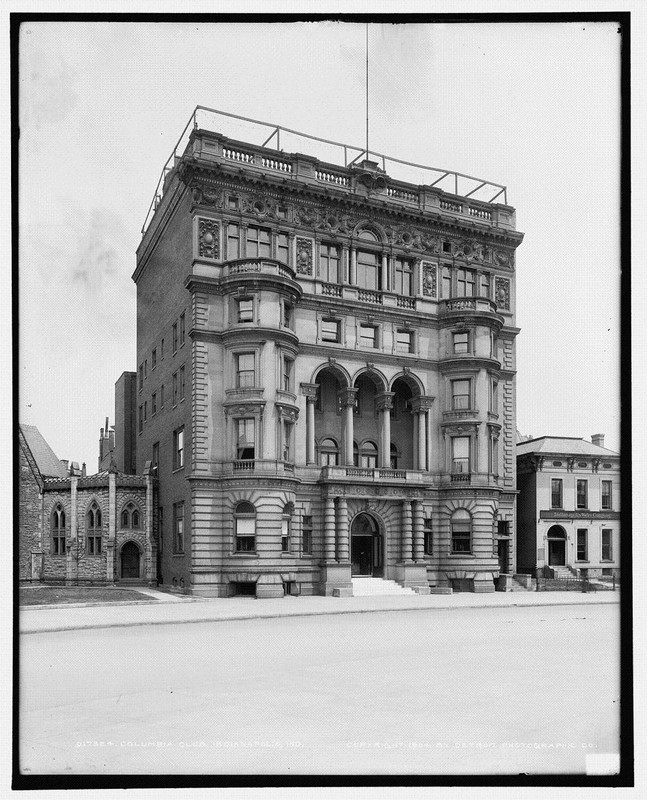 The Columbia Club's grand first floor lobby is furnished with floor-to-ceiling walnut paneling.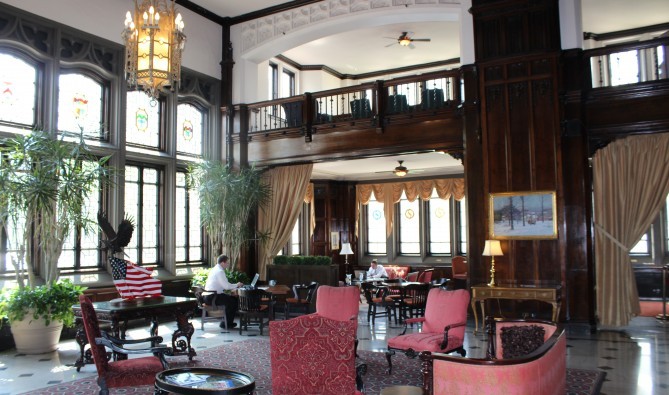 One of the restaurants located within the Columbia Club building.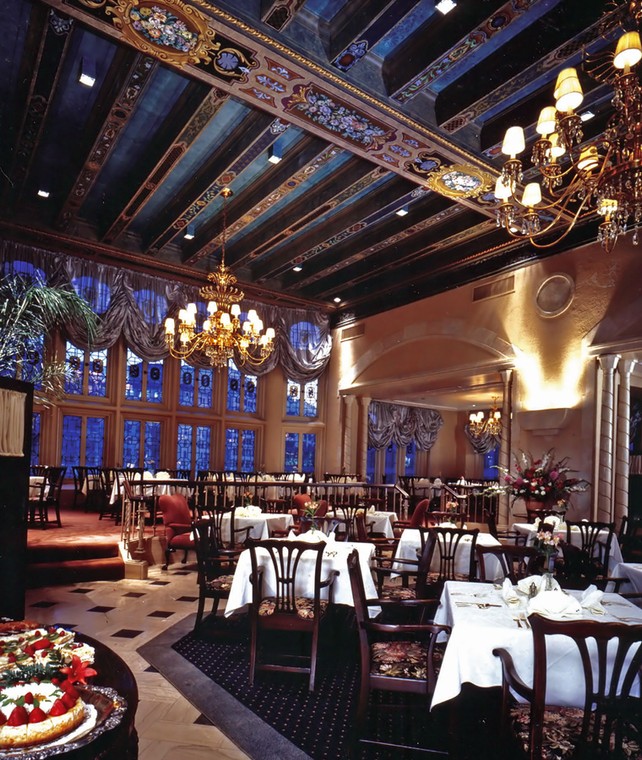 A happy couple is joined in matrimony at the Columbia Club.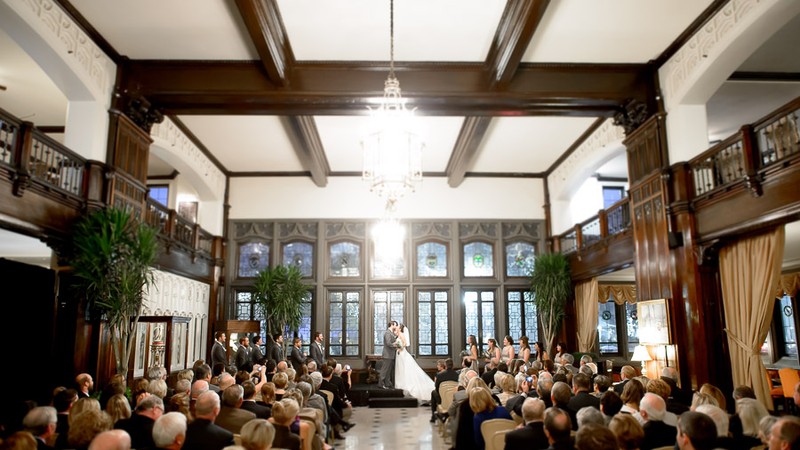 Backstory and Context
The Columbia Club, when it was incorporated in 1889 by a group of prominent local Republicans was originally known as the Harrison Marching Society. Its initial certificate of incorporation stated that the club was "…organized for literary and scientific purposes for the advancement of political economy and politico-legal historical criticism from the standpoint of the Republican party." After Benjamin Harrison was sworn in, the club acquired its first home at its present location in 1889 and changed its name to the Columbia Club. It has since been one of Indiana's most important social and political clubs and has been associated with the GOP for over 200 years. However, while in 1900 the club required its members to be registered Republicans, that stipulation has since been waived.
The current home of the Columbia Club, which was completed in 1925, is its third at its current location. The first was razed for a new structure in 1898, while the club's second home was later demolished for the current structure in 1924. The building that currently houses the Columbia Club was designed by the well-known Indianapolis architectural firm of Rubush and Hunter. The firm designed a 10-story structure of Indiana oolitic limestone with a Gothic Revival style. Its most prominent architectural feature is its six-story oriel window that contains leaded glass casement windows. It also features bas-relief limestone panel sculptures executed by artist Alexander Sangernebo.
The club, which didn't accept women until 1979, has hosted every Republican president, starting with President Harrison, either while they were in office or while they were the party's nominee. Other Republican officials to have visited the Columbia Club include Vice Presidents Charles Fairbanks and Charles Evans Hughes and Senators Albert Beveridge, Robert Taft, Everett Dirkson, and Barry Goldwater. Non-politicians to have spent time at the club include aviators Charles Lindbergh and Amelia Earhart, and General John "Blackjack" Pershing.
The club is also home to a large collection of artwork from the Hoosier Group, a collection of Indiana impressionist painters that worked in the late 19th and early 20th centuries, to include the works of T. C. Steele. It also has memorabilia from Benjamin Harrison's presidential campaign and pieces of Lincoln family china.
Today, the Columbia Club contains four restaurants and lounges, a fitness center, meeting and conference rooms, a business center, a billiards room, a library, barber shop and an ornate first-floor Grand Lobby. It offers its members varied special events and is available for rental as an event venue. The building and club is only accessible to members and their guests.
Sources
Gadski, Mary Ellen and James Glass. "National Register of Historic Places -- Nomination Form. United States Department of the Interior/National Park Service. August, 1982. Accessed February 13, 2017. https://secure.in.gov/apps/dnr/shaard/r/1eab2/N/Columbia_Club_Marion_CO_Nom.pdf
Walsh, John. "Brief History of the Columbia Club." Indiana History. February, 2006. Accessed February 13, 2017. http://www.indianahistory.org/our-services/books-publications/hbr/columnbia-club.pdf
Hillman, Jim and John Murphy. Indianapolis Social Clubs. Arcadia Publishing, 2009. Acessed February 13, 2017. https://books.google.com/books?id=KmLrxgDY1gwC&lpg=PA25&dq=columnbia%20club%20indianapolis&pg=PA25#v=...
Additional Information