Eldridge Hotel, Former Site of the Free State Hotel
Introduction
The Eldridge Hotel stands on the site of the former Free State Hotel. One of the first buildings in Lawrence, the Free State hotel served as a place for the city's early settlers. The original hotel was built in 1855 by the New England Emigrant Aid Society. The hotel's name reflected the politics of its founders; during the time period known as Bleeding Kansas, members of the New England Emigrant Aid Society opposed the extension of slavery into the territory. In 1856, pro-slavery partisans attacked Lawrence and burned the original Free State Hotel to the ground. Colonel Shalor Eldridge rebuilt and expanded the Free State Hotel, which stood until another attack on the city-once again by Southern Partisans. The 1863 attack on Lawrence by William Quantrill and his raiders included the murder of more than 150 people-the worst episode of domestic terrorism until the attacks on Oklahoma City. After the raid, Colonel Eldridge once again rebuilt the hotel. As Kansas had entered the Union as a Free State, and as the Civil War was coming to an end, he renamed his establishment Hotel Eldridge.
Images
The Eldridge shortly after the Civil War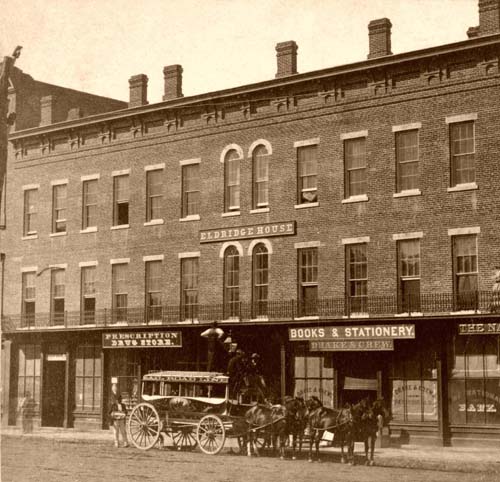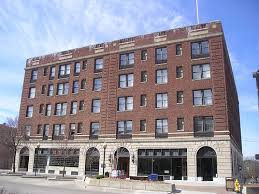 Backstory and Context
The third hotel build at this location-the Eldridge Hotel-was a leading Lawrence institution, as well as one of the finest in the state through the early 1900s. By the 1920s, however, the historic hotel lacked modern amenities and was beginning to show its age. In response, Lawrence businessmen under the leadership of Billy Hutson worked to construct a modern hotel at this location. The 4th hotel built at this location, the new Eldridge Hotel survived the lean years of the Great Depression but was once again in danger as consumer tastes shifted away from downtown luxury hotels in the late 1950s and 1960s.

The rise of inexpensive "motor lodges" proved more destructive to the hotel than Quantrill's raiders, and the Eldridge Hotel appeared to be gone forever when it closed its doors for the last time. According to the hotel website, this full-service establishment had never been closed before and a lock had to be made for it's front door. The building was converted to apartments, housing graduate students and others through the mid-1980s.
Fortunately for those in downtown Lawrence, and the future of the hotel, the city of Lawrence continued to invest heavily in its downtown. The city also avoided the trend of creating shopping malls-a decision that allowed Lawrence's downtown to thrive while other downtowns throughout the nation stagnated in the 1970s and 1980s. With the city's continued support of the downtown area, Lawrence business leaders saw the potential of creating a hotel as unique as its own downtown. In response, area developers purchased the historic building and brought the Eldridge Hotel back to life.
Sources
"History of the Eldridge Hotel." Eldridge Hotel. Accessed June 10, 2014. http://eldridgehotel.com/our-story.


Additional Information