Lincoln Parish Museum
Introduction
The museum is located in the Kidd-Davis House which dates to 1885, one year after the founding of Ruston. In that year, Leroy Madison Kidd, a merchant from the neighboring town of Vernon in Jackson Parish, moved his business to the recently established railroad town of Ruston. He bought an entire block from Robert E. Russ, city founder and namesake of Ruston. Kidd then sold the property to Charles H. Harris, who started construction of a house in 1886. Either during construction or soon after, Harris sold the property and the new house to Captain Milton B. Kidd, brother and business partner of the original owner of the lot. The Kidd family occupied the house until 1921 when it was sold to the Robert Wesley Davis family. The museum interior has been restored to its turn of the 20th century appearance. Exhibits featuring local history occupy the upper floor.
Images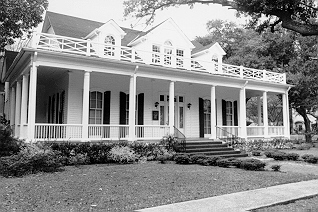 Backstory and Context
...............................................