Frostop Drive-In
Introduction
Frostop Drive-In has been in the Huntington area since 1959. When Rupert McGinnis and William Warnock first opened their drive-in, it was part of the Frostop chain, which was founded in Springfield, Ohio in 1926. Known for its creamy root beer, cheeseburgers, and hot dogs, Frostop quickly became a favorite local eatery for many Huntington residents. Although the Frostop franchise went out of business during the early 1980's, the Huntington drive-in continued to operate. After McGinnis passed away in 1980, the drive-in was taken over by his wife until her death in 1996, and then by their two daughters, Marilyn Murdock and Bing Murphy, who still own and operate Frostop today. With its giant spinning root beer mug and classic menu items, the drive-in remains a beloved Huntington landmark that celebrated its sixtieth anniversary in 2019.
Images
Frostop building design before the giant mug was introduced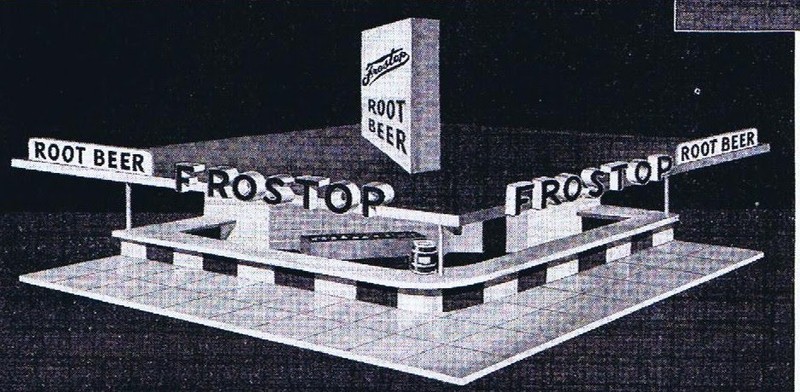 An early Frostop, circa 1940s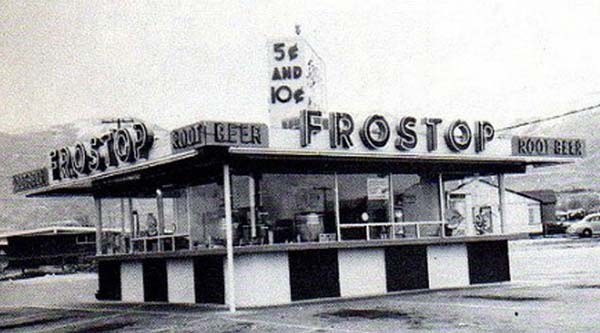 Frostop design with the giant mug, patented in 1954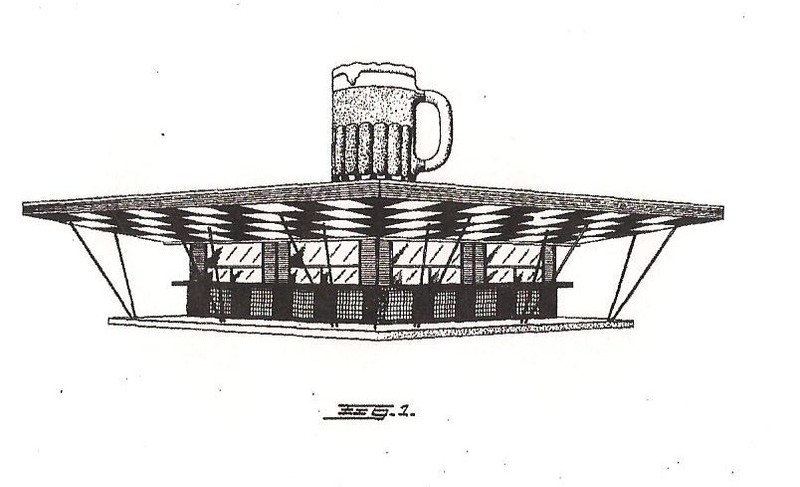 The giant Frostop mug was first seen in Jefferson, LA in 1954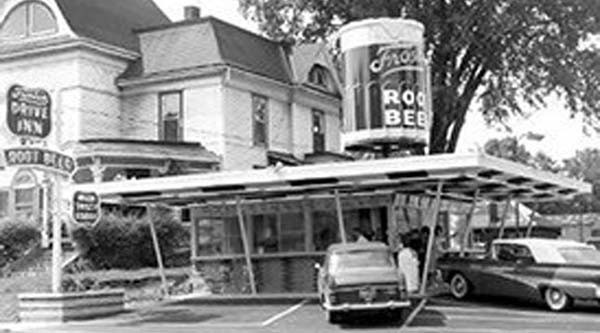 Ad for the Frostop franchise

Four vintage Frostop locations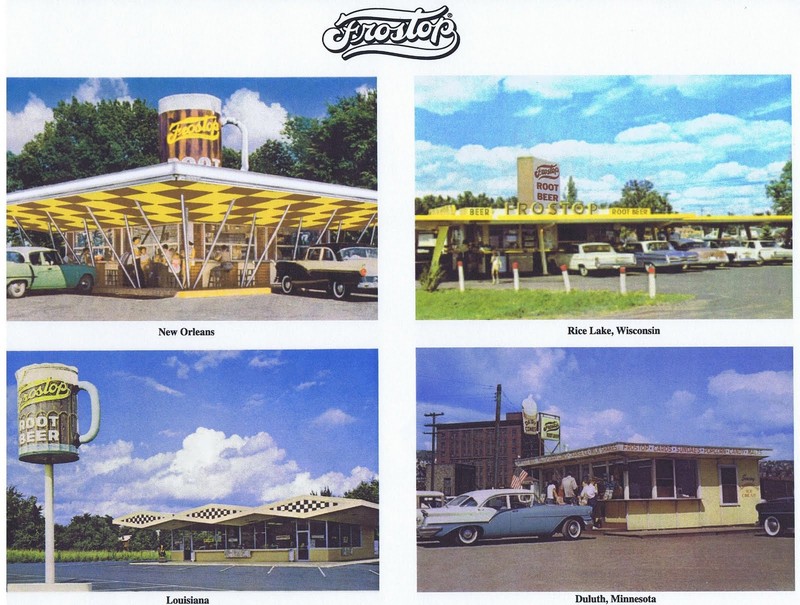 This is Frostop Drive-In. The root beer on top is its logo.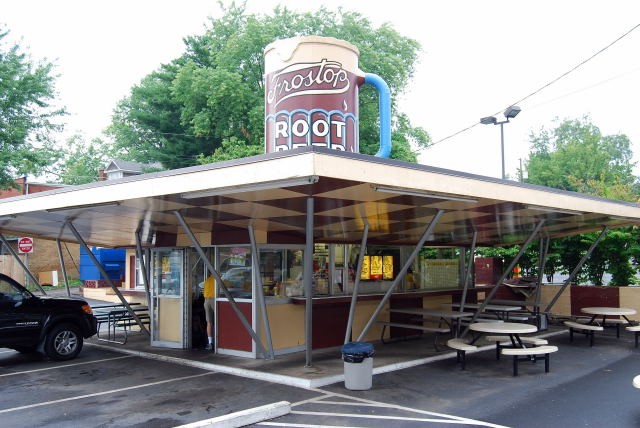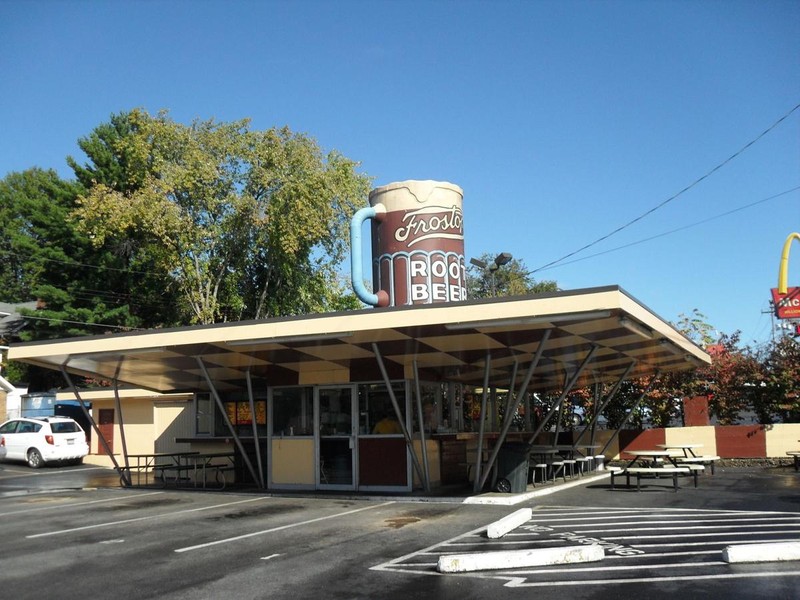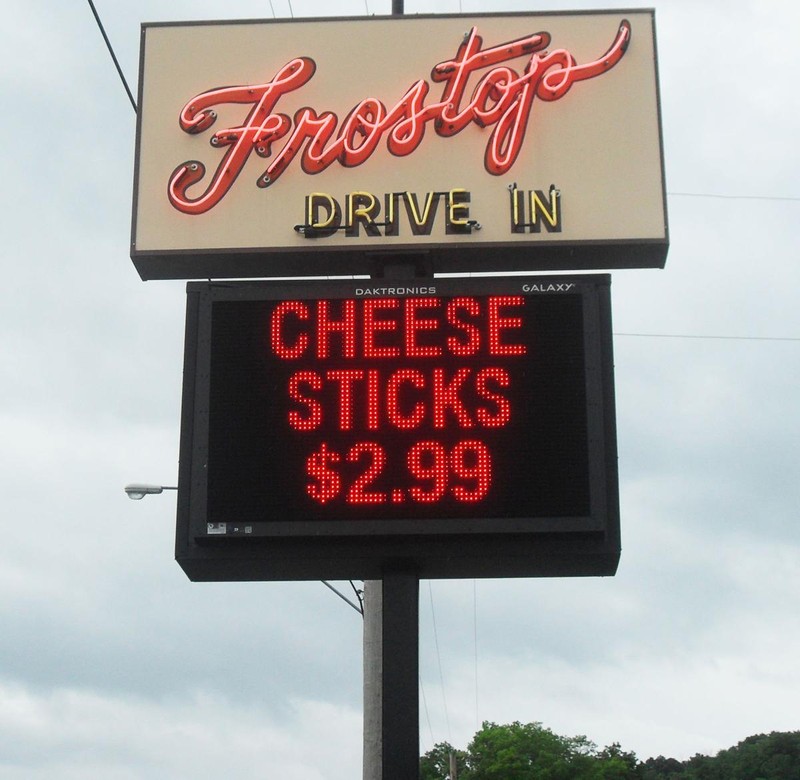 Owners Marilyn Murdock and Bing Murphy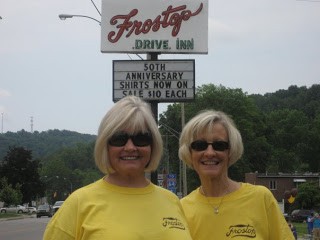 Close up of the mug on the roof

Frostop's famous root beer float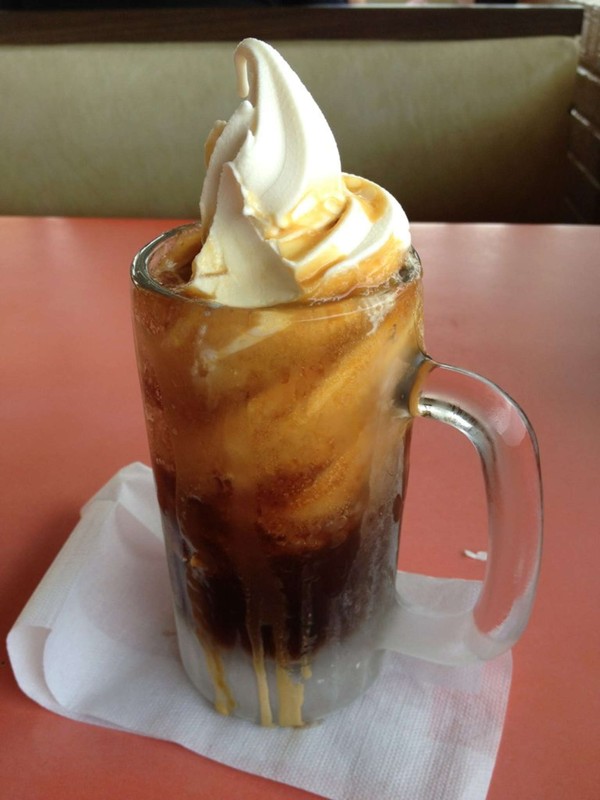 Backstory and Context
An icon of the 1950s, the first drive-in restaurants actually date back to the 1920s. The concept was popularized by a Texas chain called the Pig Stand, which first opened in Dallas in 1921. At the Pig Stand, carhops served burgers and fries on trays that clipped onto the windows of cars in the parking lot. In 1926, L.S. Harvey joined the drive-in trend by opening the first Frostop Root Beer Stand in Springfield, Ohio. Harvey's drive-in offered a classic burger-stand menu, but it set itself apart from its competitors with its original root beer recipe. The first Frostop Root Beer Stand quickly proved successful, and Harvey soon began to open franchises throughout the nation. However, expansion halted with the onset of World War II, as there were shortages of building materials and equipment, as well as rationing of the flavors and sweetening agents needed to manufacture root beer.
The end of the Second World War ushered in a dramatic rise in the popularity of drive-in restaurants, as the economy boomed and more Americans than ever could purchase their own vehicles. Drive-ins quickly became popular for their convenience and quick service, and fit perfectly into the emerging youth culture as teens could cruise from place to place to see and be seen in their cars. After the war, Harvey resumed expansion of the Frostop chain. It was during this period that T.W. Ganus opened the South's first Frostop in New Orleans in 1954. Ganus was responsible for introducing the giant rotating mug on the roof of the drive-in, a design that he patented and sold to Frostop to be used on a national scale. Frostop's signature brown and yellow stands, topped by gigantic root beer mugs, experienced tremendous growth during the postwar years. By the late 1950s, Frostop Drive-Ins dotted the American landscape and served millions of customers. The chain reached a peak of over 350 locations in the 1960's, with the largest concentration in the Midwest and the Deep South.
The Huntington Frostop opened on May 29, 1959. Brothers Rupert McGinnis and Bill Warnock wanted to invest in the community by opening a franchise and developing custom recipes for the diner's menu. At the time, Huntington already had a number of popular drive-ins, such as Stewart's Original Hot Dogs and the Midway Drive-In. Frostop served many items typically found at drive-in restaurants, such as burgers, barbecue sandwiches, french fries, onion rings, and sweet treats like soft serve ice cream, milkshakes, and malts. On the other hand, Frostop was unique for its root beer, which was made by infusing twenty-two original flavors and cold-brewing them in batches at thirty-six degrees to create a smooth, rich, and creamy flavor with a vanilla finish. Frostop's other signature item, unique to the Huntington location, was its hot dog piled with the traditional West Virginia toppings of chopped onions, mustard, chili sauce, and coleslaw. The chili sauce was created by the mother and aunt of the drive-in's current owners, who made countless batches of the sauce before they perfected the recipe. To meet the needs of the popular restaurant, an additional kitchen was added in the 1960s. 
During the 1970s, the rise of fast food restaurants with drive-thrus led to the decline of drive-ins like Frostop. The franchise went out of business in the early 1980s, leaving the remaining Frostops to operate independently. The Huntington Frostop was run by McGinnis until he passed away in 1980. McGinnis's wife then purchased Warnock's interest and ran the business until her death in 1996. At that time, McGinnis's daughters Marilyn Murdock and Bing Murphy became the new owners of the drive-in. With the help of several employees who had worked at Frostop for decades, they quickly learned how to run the drive-in. The sisters, who still operate Frostop today, have not changed much about the restaurant. While new dishes have been added over time, and the chili recipe may have been tweaked by different cooks, Murdock and Murphy have maintained Frostop's distinctive appearance and classic menu.  
Frostop Drive-In celebrated its sixtieth anniversary on Memorial Day weekend in 2019. While decades have passed since it first opened in 1959, the drive-in has remained a local favorite through the years. Its root beer is still made on site by mixing root beer syrup with sugar before taking it to be carbonated. Frostop's ice cream, hot dog sauce, barbecue, and coleslaw are also all made in house. Each year, Frostop sells its hot dogs at the West Virginia Hot Dog Festival, and even sponsors its root beer chugging contest. Although the drive-in's appearance has changed little over the years, its iconic rotating root beer mug has been repaired twice in recent years. The owners also installed a kiosk with pamphlets and a map of Huntington and state attractions in the outdoor seating area. Today, Huntington's Frostop is one of only thirteen original Frostop drive-ins that remain in business.
Sources
Browning, Lexi . Frostop Drive-In offers 21st-century WV diners a trip to the past, Charleston Gazette-Mail. July 21st 2015. Accessed May 7th 2020. https://www.wvgazettemail.com/life/frostop-drive-in-offers-21st-century-wv-diners-a-trip-to-the-past/article_ba8ed130-d6fd-53c7-ace7-baf83323b36e.html.
Frostop Drive-Ins: The Story of the Best Tasting Root Beer In America, Frostop . Accessed May 7th 2020. https://frostop.com/drive-in.
Keller, Meg. Lunchtime Legend: Frostop Drive-In, Marshall Parthenon. March 17th 2020. Accessed May 7th 2020. https://marshallparthenon.com/25229/life/lunchtime-legend-frostop-drive-in/.
Sebert, Paul. Frostop Drive-In celebrates being a Tri-State tradition, Huntington Herald-Dispatch. June 6th 2019. Accessed May 7th 2020. https://www.herald-dispatch.com/features_entertainment/dining_guide/frostop-drive-in-celebrates-being-a-tri-state-tradition/article_dd956abe-9586-5eb7-a844-f1474da15215.html.
Sebert, Paul. Frostop Drive-in tradition lives on, Huntington Herald-Dispatch. October 4th 2012. Accessed May 7th 2020. https://www.herald-dispatch.com/features_entertainment/dining_guide/frostop-drive-in-tradition-lives-on/article_6701434f-95c8-5c29-88df-e40348ee81d2.html.
Image Sources
http://laplacefrostop.blogspot.com/2010/08/frosty-facts.html

https://frostop.com/drive-in

http://laplacefrostop.blogspot.com/2010/08/frosty-facts.html

https://frostop.com/drive-in

http://laplacefrostop.blogspot.com/2009/11/frostop-history.html

http://laplacefrostop.blogspot.com/2010/08/frosty-facts.html

https://www.facebook.com/pages/category/Fast-Food-Restaurant/Frostop-Drive-In-165888996796186/

https://www.herald-dispatch.com/features_entertainment/dining_guide/frostop-drive-in-tradition-lives-on/article_6701434f-95c8-5c29-88df-e40348ee81d2.html

https://www.herald-dispatch.com/features_entertainment/dining_guide/frostop-drive-in-celebrates-being-a-tri-state-tradition/article_dd956abe-9586-5eb7-a844-f1474da15215.html

http://laplacefrostop.blogspot.com/2010/05/huntington-west-virginia-frostop.html

http://laplacefrostop.blogspot.com/2010/05/huntington-west-virginia-frostop.html

Additional Information