Ludens Candy Factory
Introduction
William H. Luden. Luden was one of Berks County's great industrialist who owned and operated the old Luden Candy Factory. He launched his business in 1879 which was then acquired by Food Industries of Philadelphia in 1928.
Images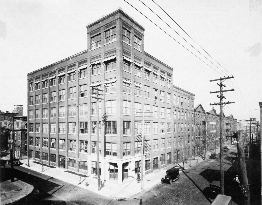 Ludens cough drops advertisment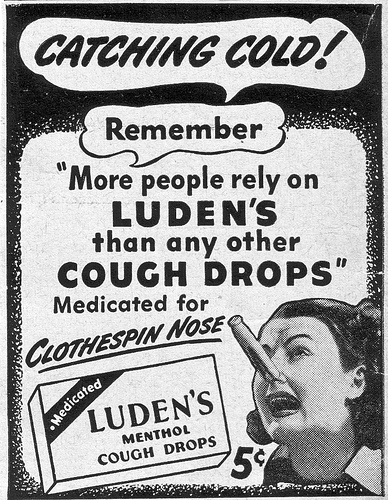 Women working in the Ludens Candy Factory sorting through cough drops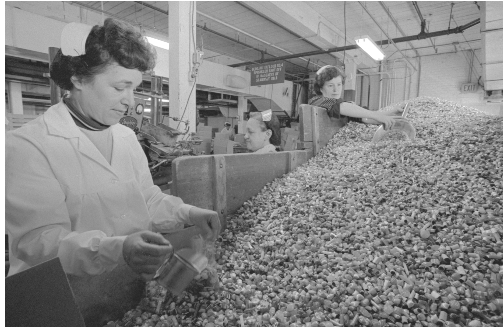 Backstory and Context
William Henry Luden was born in 1859 in the city of Reading, Pennsylvania and was one of Berks County's great industrialists. He started his candy business in the back room of his father's jewelry store in his family's kitchen located at 35-37 North 5th Street. He first started just mixing molasses and brown sugar which he would call a "moshie" which was a Pennsylvania Dutch candy.

Luden then decided to collaborate with a pharmacist to create a cough drop. In 1881 he introduced Luden's honey-licorice menthol throat drops. They were sold 5-cents a package. Menthol cough drops replaced the vials of menthol that people would carry to relieve their cold symptoms. One thing Luden did very differently than other candy makers and his competitors was that he did not sell his candy door to door. Luden asked shopkeepers to display his candy/cough drops and sell them. He also tested out his cough drops to railroad workers which helped get the word out by mouth all over the country. This helped his business skyrocket. Luden quickly rose above his local rivals while producing a large range of hard candies, chocolates, cough drops, peanut candies, and holiday novelties.

In the 1930s, Luden's products were being sold in 26 countries and he was making millions and millions of pounds of candy all in the Reading location. In 1981, Ludens celebrated its centennial, commemorating 100 years of uninterrupted success. 20 years after starting his business, Luden's relocated twice. The final resting place of the plant is in the 200th block of 8th and Walnut and was that way for more than a century. This is where the factory doubled in size. If you go to the site today where the Luden's factory was, you will not see the factory. Unfortunately the factory was knocked down and is now a fenced in parking lot.

In 1928, the Luden's company was obtained to Food Industries of Philadelphia which is a holding company owned by the Dietrich family. Since then the Luden's brand has transferred ownership several times. It now resides under Johnson & Johnson.

Luden's is in its third century of continuous production. This is a testament to its founders vision and the the local workforce that help the company get to that.
Sources
Lucia, Tony. The Luden story. Reading Eagle. August 15, 2007. Accessed February 22, 2017. http://www2.readingeagle.com/article.aspx?id=54964.