Le Musee de f.p.c. Historic House Museum
Introduction
Le Musee de f.p.c. is a historic house museum dedicated to educating visitors on the culture and history of free people of color in New Orleans. Free people of color, abbreviated f.p.c., is a term used to describe Blacks who were born free before the Civil War. New Orleans was home to the largest population of free people of color during the time. The museum is located in the historic neighborhood of Treme on Esplanade Avenue. Le Musee houses a collection of art pieces, furniture, and documents that represent the valuable history of free people of color in the city.
Images
A bride-to-be poses on the front porch of Le Musee. The picturesque house hosts numerous weddings and other special events throughout the year.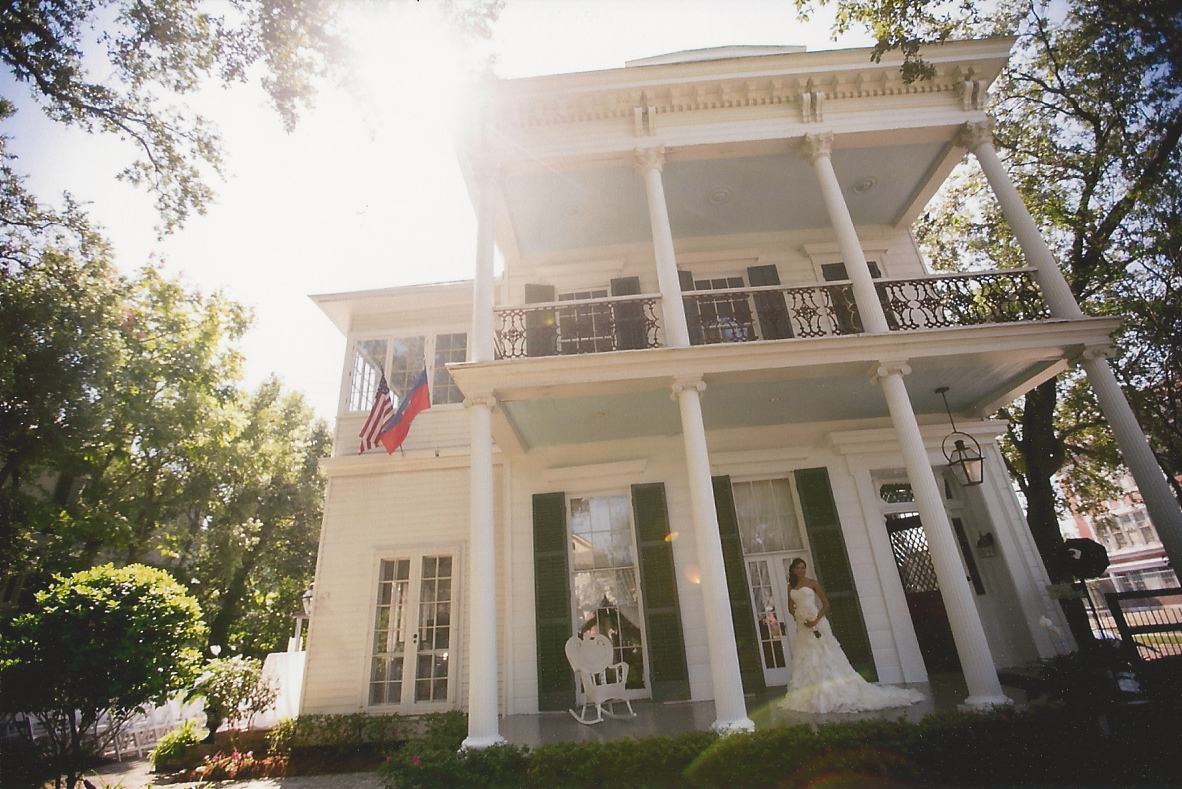 Le Musee also features landscaped grounds as seen in this photo of the rear of the house.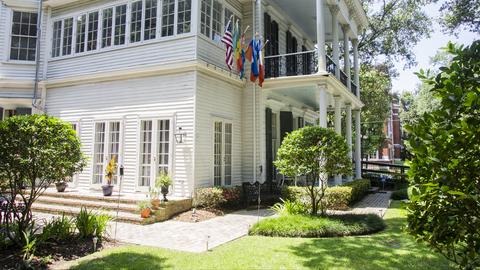 Historian Mark Roudane poses with a portrait of his Great, Great Grandfather, Dr. Louis Roudanez, founder of The New Orleans Tribune, the city's first Black daily newspaper.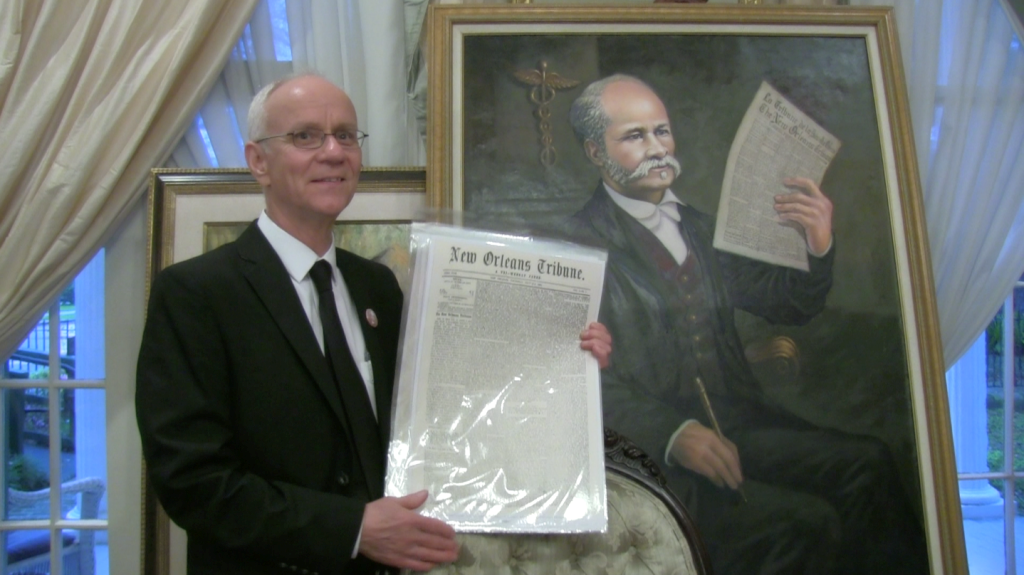 Visitors enjoy a guided tour from one of Le Musee's knowledgeable docents. Tours are offered Wed-Sun by appointment.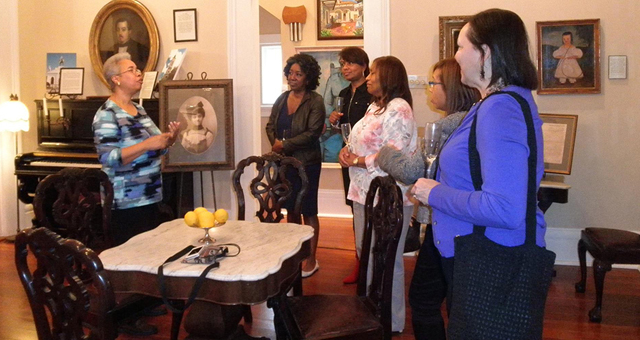 Le Musee often displays various forms of f.p.c art, such as this work by a Haitian artist.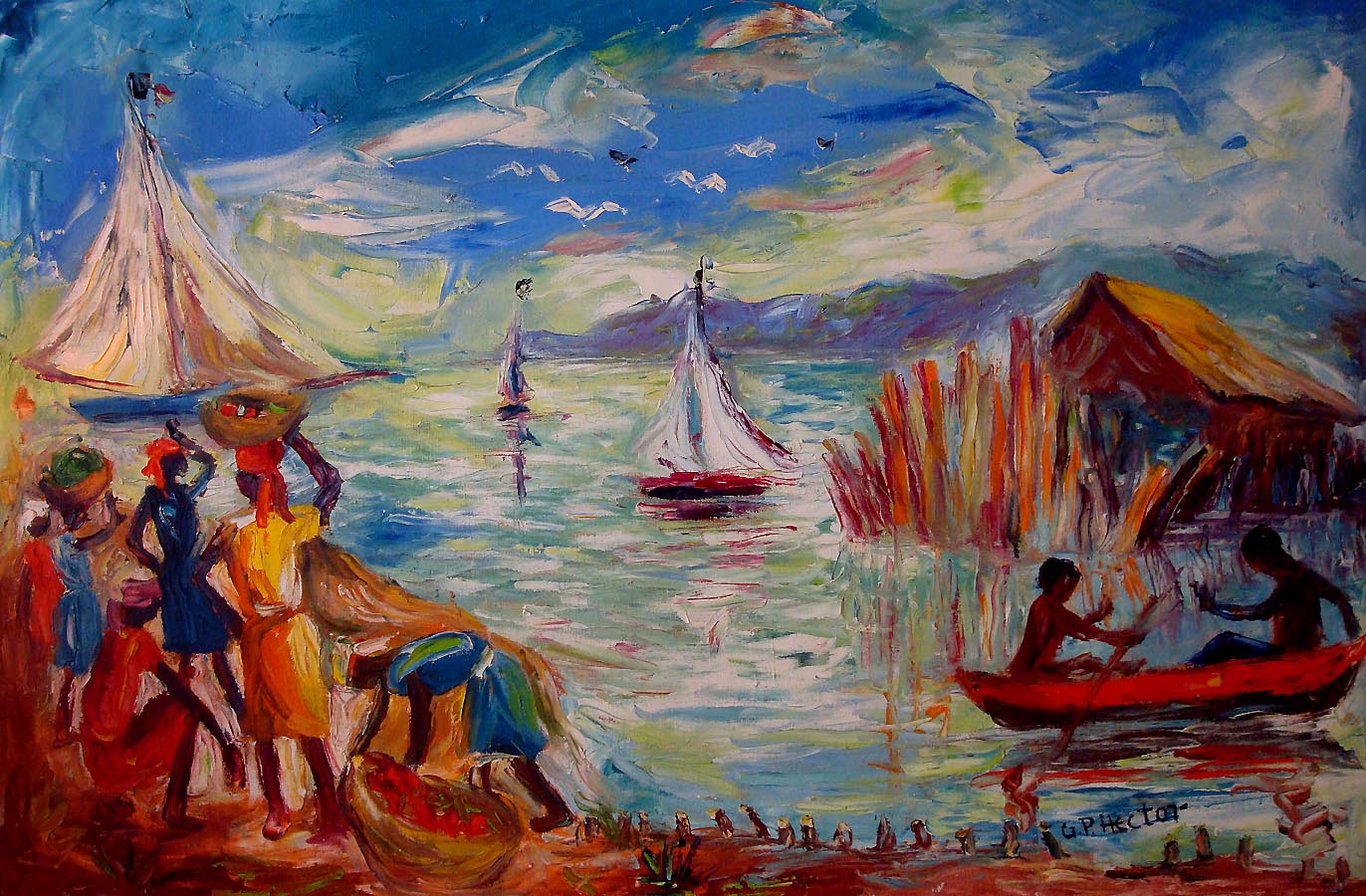 Backstory and Context
Free people of color, often abbreviated f.p.c., is the term used to refer to Blacks who were born free or manumitted prior to the Civil War. Also referred to as gens de couleur libres, their presence in New Orleans is recorded as early as 1722. Although there were enclaves of free people of color who numbered well over a quarter million residing throughout the United States during the antebellum period, New Orleans and south Louisiana were home to one of the oldest and largest populations of such. On the eve of the Civil War, in New Orleans alone, there resided 18,000 who owned and paid taxes on $15 million of property.
This remarkable community of resilient, resourceful and enterprising people produced artists, artisans, entrepreneurs, educators, physicians, journalists, and countless business owners and professionals prior to the Civil War. And in the midst of Reconstruction, the former free people of color led the entry of Blacks into politics. Perhaps most forgotten is the activists role they played in the Civil Rights Movement as early as 1862 and in the landmark Plessy v. Ferguson case of 1896.
The Residence
Le Musée, the Greek Revival residence at 2336 Esplanade Avenue, and its vicinity, centered in the area known as upper Treme, were originally part of the plantation of Domingo Fleitas. Fleitas, a Spanish colonial who had fought with Galvez in the American Revolution, had grandchildren born free people of color.
This stretch of Esplanade Avenue, mid-way between the Mississippi River and Bayou St. John, was not developed until the 1850s when Benjamin Rodriguez, a Jewish speculator who also owned the Esplanade omnibus, began acquiring lots in the area. Rodriguez first built his home at 2306 Esplanade, where the Musson family later lived for a period of time and their cousin Edgar Degas, the acclaimed French artist, visited. In 1859, Rodriguez contracted with Joseph Jouet, the same builder who constructed the famed French Hospital, to build the house at 2336.
Though this residence was never owned by persons of color until its present ones, because of their dominance in the building trades, it can be assumed that they participated in the construction.
Esplanade Avenue has always been noted for its gracious homes and abundant greenery. Little known is that free people of color owned numerous properties along the avenue and its intersecting streets in the antebellum period.
Sources
"A Story to Tell." Le Musee de f.p.c. Accessed January 17, 2017. http://www.lemuseedefpc.com/footsteps/a-story-to-tell/
LBJ. "Le Musee tells the story of free people of color." WGNO. Accessed January 17, 2017. http://wgno.com/2015/02/09/le-musee-tells-the-story-of-free-people-of-color/
Rickert, Mary. "Museum spotlights free people of color." The New Orleans Advocate. Accessed January 17, 2017. http://www.theadvocate.com/new_orleans/entertainment_life/arts/article_0c630a83-6859-55fb-aa07-8a066...
Additional Information