St. James A.M.E. Church
Introduction
Built in 1851, the church dates back to 1844 and it's association with the Free African Society dates even further, to 1787. Historic St. James is the first African Methodist church established in the Deep South and today the St. James African Methodist Episcopal Church is believed to be the oldest predominately African American denomination in the United States.
Images
By Infrogmation of New Orleans (Photo by Infrogmation (talk)) [GFDL (http://www.gnu.org/copyleft/fdl.html) or CC BY-SA 3.0 (http://creativecommons.org/licenses/by-sa/3.0)], via Wikimedia Commons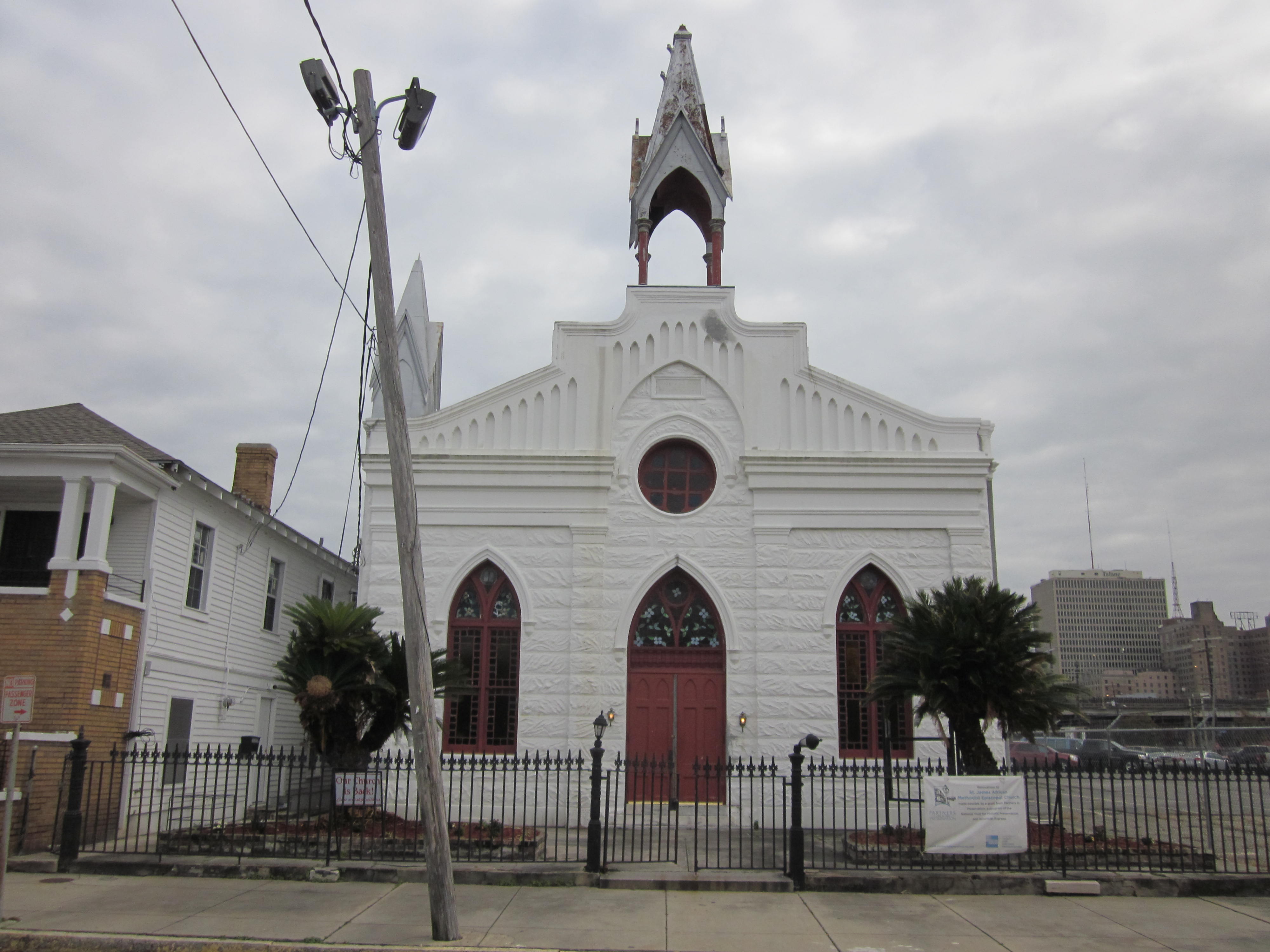 Backstory and Context
Free Blacks located in New Orleans in 1844 organized The St. James African Methodist Episcopal (AME) because they felt they were mistreated at a predominantly white church named Wesley Chapel - a white church that accepted free Black members. The new church aligned itself with the Free African Society (FAS), which dates back to 1787 in Philadelphia. With a new building completed in 1851, St. James' first pastor, Thomas Doughty, traveled to Indiana for an AME conference as an effort to gain formal recognition as an AME church, which he easily obtained.1
Although Philadelphia hosted those constructing the U.S. Constitution in 1787, it was also home to Richard Allen and Absalom Jones, two prominent Black ministers that would form the Free African Society (FAS) of Philadelphia. The FAS mission included providing mutual aid among church congregations, notably for free Blacks.2 Allen and Jones eventually split over differences on how to worship. Allen, a committed Methodist, did not enjoy the Quaker-style methods, including silent prayer; he wanted members of his church to openly express themselves. He left the FAS, but Absalom Jones remained and became the organization's president. Most of the members were former slaves and many of them went on to become active abolitionists.3
By the eve of the Civil War, at least 10,000 free Blacks resided in New Orleans, although that number is believed to be low. Some of the reason for the high numbers of free Blacks can be attributed to Haitian refugees that arrived in 1809. From that population, St. James created a strong congregation, but some of the members -- despite laws that forbade it -- were slaves. Within New Orleans, free Blacks, creoles, and other mixed races formed a more broadly themed coalition called the Free People of Color. St. James exists as one reminder of the incredible cultural heterogeneity that existed in New Orleans, even as the Civil War commenced. 4

But, it's history goes beyond the Civil War. In fact, a report by Tulane University noted:


"During the late 1800s and early 1900s, the church served as the organizational site for the Black Masons of Louisiana. In the early 1900s, the church secured the establishment of a Black elementary school, the Bienville School, later renamed the Albert Wicker School. In the second half of the 20th century, the church was involved in the organization of the Black YMCA (later named the Dryades Street YMCA) and it served as a staging site for Civil Rights protests on Canal Street. St. James owns a number of properties adjacent to the church, and part of their post-Katrina mission is to provide affordable housing to neighborhood residents in need. The church also continues to support the Albert Wicker School located a few blocks away on Bienville Street."5

The building stands as a legacy of Black culture in New Orleans, as well as numerous mixed races. And the church's history provides insight into the broader historical narrative that is New Orleans for more than two centuries.

Sources
1 Preservation Press, National Register of Historic Places: African American Historic Places, ed. Beth Savage (New York: John Wiley & Sons, Inc), 262.

2 James Henretta, "Richard Allen and African-American Identity," Early America Review 1 (Spring 1997); Julie Winch, A Gentleman of Color: The Life of James Forten (New York: Oxford University Press, 2002); and Julie Winch, Philadelphia's Black Elite: Activism, Accommodation, and the Struggle for Autonomy, 1787-1848 (Philadelphia: Temple University Press, 1988).

3. Ibid.

4 Sybil Kein, Creole: The History and Legacy of Louisiana's Free People of Color (Baton Rouge: Louisiana State University Press, 2000), 50-77

5. Michelle Van Meter, "St. James Church," Media NOLA: A Project of Tulane University, medianola.org, last updated October, 2012, http://medianola.org/discover/place/800/St.-James-Church.



Additional Information