Edmund Webb Harlow Memorial Stone
Introduction
This memorial honors Edmund Webb Harlow, an American veteran, who shares a common undeniable goal with all American veterans to protect our country's freedoms. Forever a symbol of heroism, sacrifice, loyalty and freedom. "Duty, Honor, Country" - those three hallowed words reverently dictate what you ought to be, what you can be, what you will be. They are your rallying point to build courage when courage seems to fail, to regain faith when there seems to be little cause for faith, to create hope when hope becomes forlorn." -General Douglas MacArthur
Images

West Point Military Academy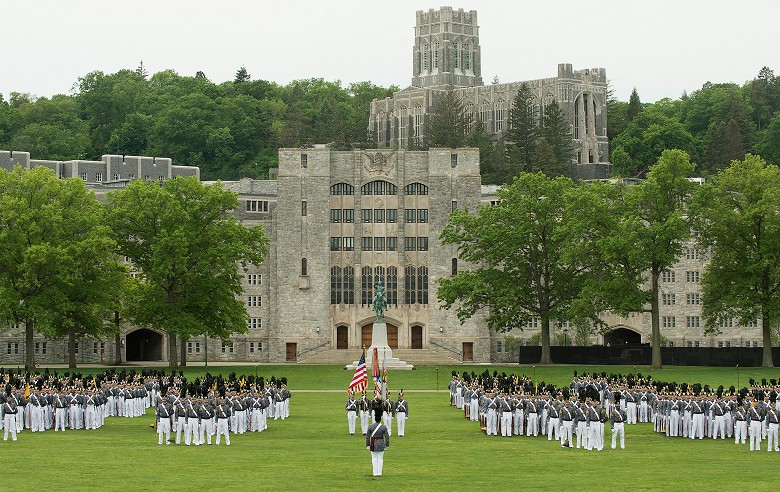 Backstory and Context
Edmund Webb Harlow was born on January 23, 1923 son of Matthew Raymond Harlow and Anna Webb Harlow. His parents were the proprietors of the Santuit House, known to be the first resort hotel on Cape Cod. Edmund graduated from Barnstable High School in 1941. It's written in his year book, "his curiosity to learn the answers has often led him into lengthy arguments". It also states he plans on enrolling at Norwich University and study mechanical engineering. He was very active in high school participating in Football, glee club, yearbook club, class operetta and dance committee.
After a year of being a student at Norwich he enlisted in the Army as a private in Fort Devens on October 4, 1943. Also in 1943 he was admitted on August 23rd as a cadet at West Point Military Academy. On September 2, 1943 an accident occurred and Cadet Harlow lost his life.
The memorial for Edmund W. Harlow is located at the entrance of Ropes Beach in Cotuit.
Sources
Accessed February 25th 2020. https://jimcotuit.wordpress.com/2012/01/21/santuit-house-at-its-peak/.
"Santuit." The Barnstable Patriot June 19th 1941. .
Barnacle Yearbook. Barnstable, MA. 1941.
Accessed February 25th 2020. https://aad.archives.gov/aad/record-detail.jsp?dt=893&mtch=1&tf=F&q=Edmund+W.+Harlow&bc=sl,sd&rpp=10&pg=1&rid=416771 .
"West Point Student Dies In Accident." The Yarmouth Register September 10th 1943.
United States Military Academy. Official Register of the Officers and Cadets. West Point, NY. United States Military Academy Printing Office, 1942.
Image Sources
http://armybases.org/fort-devens-ma-massachusetts/

https://www.westpoint.edu/military/commandant/corps-of-cadets