Lester S. and Missouri "Zue" Gordon Parker House
Introduction
One of the city's leading figures of the early 20th century, Lester S. Parker, and his wife, Missouri "Zue" Parker, bought this elegant historic home in 1905 upon its completion. Parker was a successful businessman and is known for establishing the L.S. Parker Shoe Company. He also served as the state's first superintendent of industries at the state penitentiary across the street, and was a member of the Capitol Decoration Commission in the 1920s, which was tasked with collecting artwork for the capitol building. The house is also a fine example of Classical Revival architecture. It features a full-height porch with Ionic columns and a pediment, a balconet, a fanlight and tracery surrounding main entrance, and arched window openings with keystones and circular panels. It appears to be be an apartment building today. It was added to the National Register of Historic Places in 2000.
Images
The Lester S. and Missouri "Zue" Gordon Parker House was built in 1905. Lester Parker was a successful businessman and shoe manufacturer who earned his wealth by using cheap inmate labor.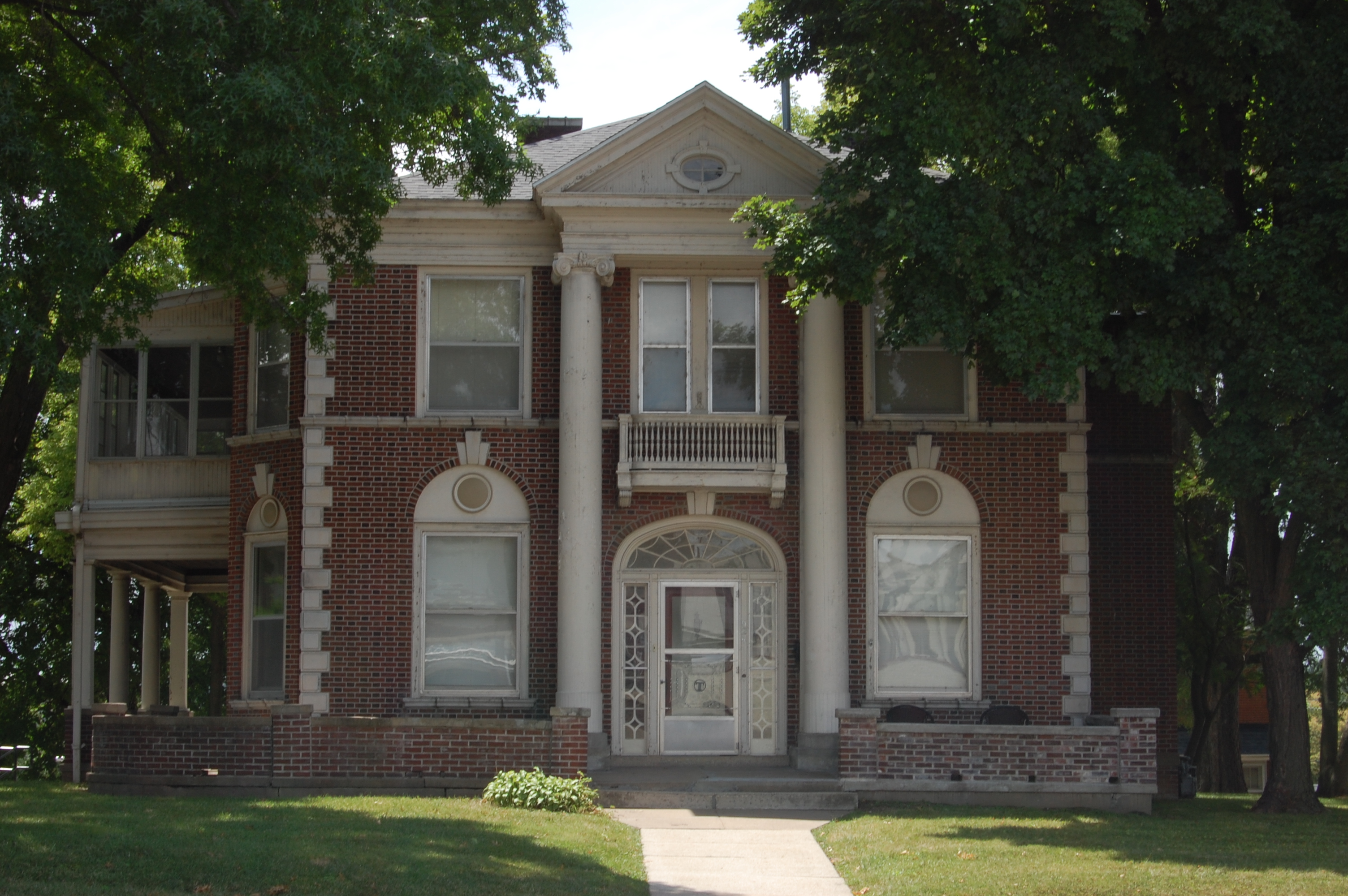 Backstory and Context
Lester Parker was born in 1860 in Chicago where his father worked at a shoe company. In 1871, their house burned down in the Great Chicago Fire that destroyed much of the city (apparently they lived next door to the house where the fire began). As a young man he studied law and graduated in 1879. He settled in Kansas where he practice law, became a teacher, and ran a farm where he raised sheep and cattle. He then moved to St. Paul, Minnesota in 1894 and got a job as a foreman in the Kellog & Johnson Shoe Company. In 1895, he organized the Jefferson Shoe Company in Jefferson City as a subsidiary for another company called C.M. Henderson & Co. However, also in 1895 Parker sold his interest in that company so he could establish the L.S. Parker Shoe Company.
Jefferson City at the time was an ideal place to operate a shoe manufacturing business. The main draw was the ability to use cheap prison labor at the penitentiary, as well as the prison buildings and grounds. As a result, the companies were very profitable. In 1873, for example, one shoe company employed 70 inmates for 40 cents a day which produced a $5,000 annual profit. Other attractive conditions included low taxes, low rental rates, and competitive freight rates. From the state's perspective, contracting with the shoe companies enabled the prison to be more self-sufficient and cheaper to run.
By 1915, this arrangement ended. The use of inmate labor became too costly as wages had risen to 75 cents per hour and inmates were no longer allowed to work for more than eight hours each day (it should be noted that while the shoe companies stopped operating at the penitentiary, shoe manufacturing in Jefferson continued and remained a large part of the local economy for many years). The state took control of the shoe manufacturing operations and the governor appointed Parker, who retired from his company in 1913, to be the first superintendent of industries at the prison. Under his leadership, the prison achieved its full potential at becoming self sufficient. Inmates made a variety of goods and by October 1919 the prison had a cash balance of $61,000.
As noted above, Parker played an important role in selecting the artwork in the capitol, which was built in 1917 to replace the previous one destroyed by a fire in 1911. He was appointed to the decoration commission because of his love for art. He was a skilled painter himself and 100 of his paintings are housed at First Baptist Church. Parker also wrote songs and poems. One of his songs, "Come Back My Honey to Missouri", was considered for the official state song.
Parker married three times. His firs wife, Katie, and mother of three children, Gracie, Clyde and Dan, died after just a few years of marriage. Sadly, Katie and Clyde died at a young age. Parker married his second wife, Sue, in 1895 and they had two children, Alice and Lester Jr. However, she also died just after a few years in 1899. He and Missouri "Zue" married in 1901 and they lived in the house for many years. Parker died in 1925. Zue and her only daughter, Rachel, died in a car accident in 1931. The house was converted into four apartments by 1939.
Sources
Beetem, Jane Rodes & Maserang, Roger. "Lester S. and Missouri "Zue" Gordon Parker House." National Park Service - National Register of Historic Places Nomination Form. June 15, 2000. https://catalog.archives.gov/OpaAPI/media/63818686/content/electronic-records/rg-079/NPS_MO/00000690.pdf.
"Lester Shepard Parker (1860-1925), Kansas, Minnesota, Missouri." Accessed April 26, 2022. http://lawlit.net/lp-2001/intro/index.html.
"The wages of prison labor." News Tribune. February 16, 2014. https://www.newstribune.com/news/2014/feb/16/wages-prison-labor.
Image Sources
Wikimedia Commons: https://commons.wikimedia.org/wiki/File:Parker_House,_Jefferson_City.JPG

Additional Information