H.E. Gensky Grocery Store Building and Capitol City Lodge No. 9 F.& A.M.
Introduction
Built in 1915, the H. E. Gensky Grocery Store Building exemplifies an early twentieth-century family-owned neighborhood grocery store will living quarters above the store for the family-operated business. The Gensky family, immigrants from Germany, owned and operated the store from 1915 to 1942. From 1942 to 1966, the grocery section on the lower level functioned first as Glover's market and then as the Cherry Street Market. During that period, in 1950, the Capitol City Lodge No. 9 F. & A. M. purchased the property; they remain the property's owner today. After buying the property, they converted upstairs into a Masonic lodge, serving the Prince Hall affiliation. Although the club exists as a predominantly African American organization, it welcomes all races.
Images
H.E. Gensky Grocery Store Building and Capitol City Lodge No. 9 F.& A.M. in Jefferson City, MO.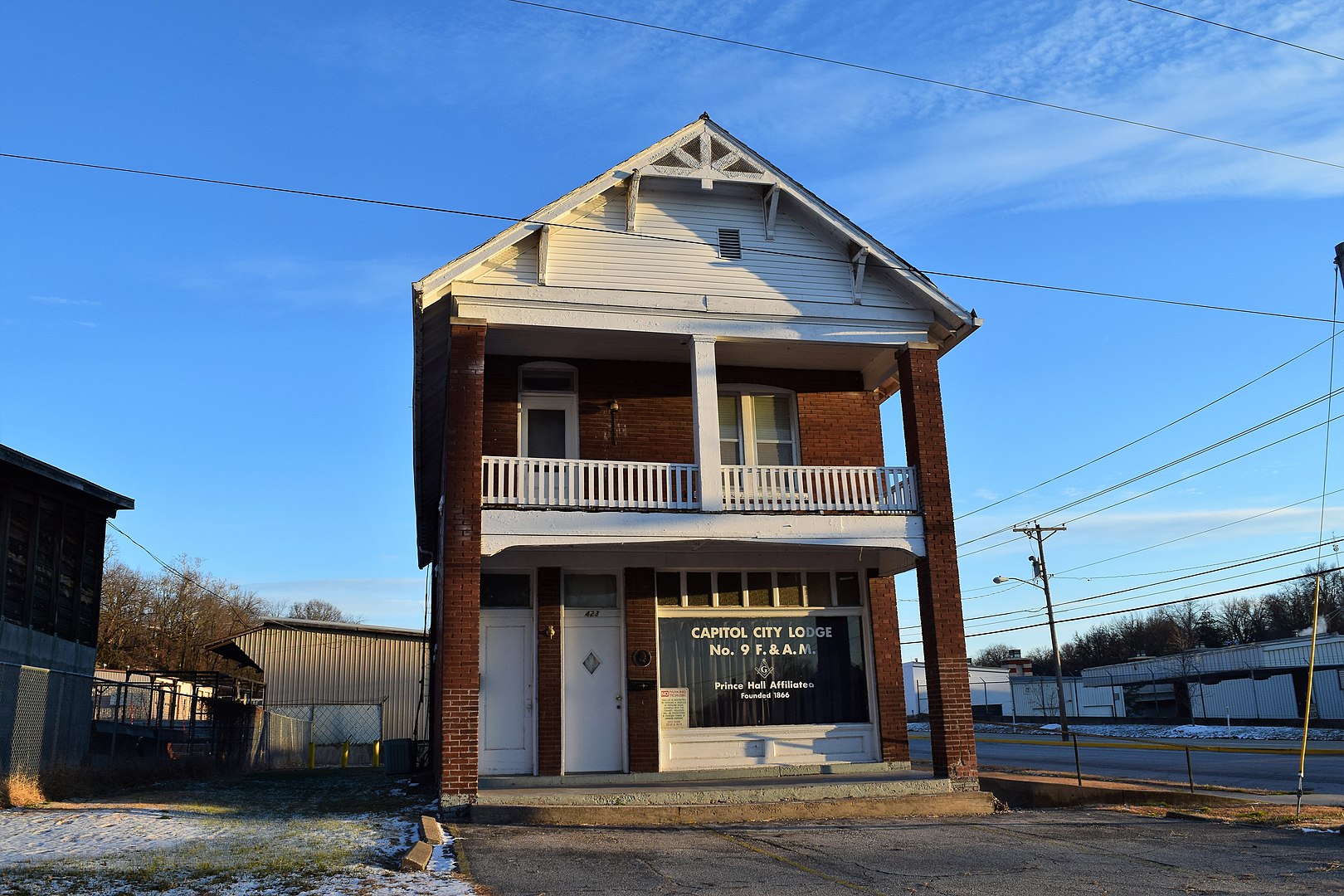 Backstory and Context
Henry Gensky Sr. immigrated from Bremen, Germany, in 1904 at the age of fourteen, arriving in Jefferson City in 1907. Eight years later, in 1915, Gensky opened his first grocery store, located below the Central Hotel. However, he had to close the store within its first year after he suffered injuries after being thrown from a horse, but the injuries proved to be fortuitous. While recuperating, he rented a room with the Schmidli family. In 1912, Joseph Schmidli, a lauded German brick mason, had been hired by Joseph Pope, one of the first entrepreneurs to capitalize on the city's expansion after the state government decided to keep the seat of state government in Jefferson City. Pope hired Schmidli to construct a two-story commercial building on what was then a vacant lot at the northwest corner of Cherry and Miller Streets. Gensky rented it from Pope upon the building's completion and subsequently opened the H.E. Gensky Grocery Store in 1916. Schmidli's daughter Stella worked as a store clerk, and in 1917, she married Gensky.
Henry and Stella enjoyed rapid success, which allowed them to purchase the property from Pope by 1921. Their two children, Ruth and Henry Jr., were born in the apartment above the grocery store. During the 1920s and into the Great Depression of the 1930s, the Gensky Store evolved into one of the largest independent grocery stores in Jefferson City. Henry Gensky, Jr. later explained that the store remained successful during the Great Depression partly because many of its patrons worked as Missouri state employees who enjoyed relatively stable incomes. 
The Grensky Store personified the "mom & pop" store, which served communities before supermarkets grew ubiquitous. The westward expansion of the railroads boosted the grocery retail trade by facilitating the mass distribution of prepackaged goods. Consumers had easy access to various processed food supplies for the first time. But, early storekeepers also appealed to their broad clientele by stocking a diversified inventory, including farm supplies and construction materials. The Grensky Store, like most early grocery stores, allowed its regular customers to buy on credit. Customers paid their bills in full every month. The Gensky Store also maintained an expansive home delivery route throughout the Jefferson City area. The store made deliveries via horse-drawn wagons until 1924, when the Genskys purchased a Model-A Ford for making deliveries. 
Unique for the period, the Gensky Store clientele included both Black and White residents. Whites (mainly German) resided in areas north and east of Miller Street, while a predominantly Black population resided South of Miller, extending west to Dunklin Street. Thus, African American residents comprised roughly half of the store's customers. Henry Gensky, Jr. stated that Black and White customers routinely mingled in the store.
In 1950, Capitol City Lodge No. 9 F. & A. M. purchased the building and remodeled the second floor as a lodge hall, allowing its connection to local African American history to continue. Jefferson City's Prince Hall-affiliated Masonic lodge, ostensibly an African American organization, occupied the second floor. Although masonry has long been a part of American culture, dating back to the early eighteenth century, the vast majority forbade Blacks to join. Prince Hall, a free, property-holding Black man, who immigrated to Boston in 1765, was denied admittance into the Boston-based St. Andrews Lodge of Massachusetts. So, Hall petitioned and was subsequently admitted into British Lodge No. 441, a traveling military lodge. After the Revolutionary War, Prince Hall maintained his relationship with the Grand Lodge of England, who granted him a warrant to form African Lodge No. 459 in 1787, with Prince Hall as Master. By 1827, the Lodge separated from the Grand Lodge of England and became the African Grand Lodge No. 1. Over time, branches took the name "Prince Hall Grand Lodge." Prince Hall Masonry in Missouri started in 1865, and in Jefferson City in 1867 with the establishment of the Capitol City Lodge No. 9 A. F. & A. M., Prince Hall affiliated (today referred to as No. 9 F. & A. M.). Much as White and Black residents shopped at the Gensky store; the historically Black lodge served all races and nationalities. 
After Henry Gensky died in 1937, his wife Stella continued to run the lower-floor grocery store until 1942, when she rented the business to her niece and nephew-in-law, who operated the store until 1946. Later that year, Mr. and Mrs. Ben Anthony reopened the business as the Cherry Street Market; it closed in 1966, the last year in which the property served the community as a grocery store.
Sources
Burnett, Robyn and Ken Luebbering. German Settlement in Missouri: New Land, Old Ways. Columbia: University of Missouri Press, 1996.
"Former grocery store offers tale of American dream." News Tribune (Jefferson City, MO), July 15, 2012. https://www.newstribune.com/news/2012/jul/15/former-grocery-store-offers-tale-american-dream/
Heritage Strategies: "Historic Preservation Plan." City of Jefferson, Missouri: Department of Planning and Protective Services. nps.gov. September 30, 2019. https://irma.nps.gov/DataStore/DownloadFile/646478
Miller, Dana and Roger Maserang. "Nomination Form: H.E. Gensky Grocery Store Building." National Register of Historic Places. mostateparks.com. 2001. https://mostateparks.com/sites/mostateparks/files/Gensky%2C%20H.E.%20Grocery%20Store%20Bldg.pdf.
Image Sources
By TheCatalyst31 - Own work, CC0, https://commons.wikimedia.org/w/index.php?curid=65129647

Additional Information