Bushy Run Battlefield
Introduction
The Bushy Run Battlefield commemorates and preserves the site of the British victory over the Native American forces during Pontiac's War. The victory prevented the capture of Fort Pitt (Pittsburgh) and restored lines of communication between the frontier and eastern settlements. The 213-acre battlefield contains self-guided trails and a visitor's center that houses interpretive displays, a small theater, a café, and a gift shop. The site was declared a National Historic Landmark in 1960.
Images
Bushy Run Battlefield monument.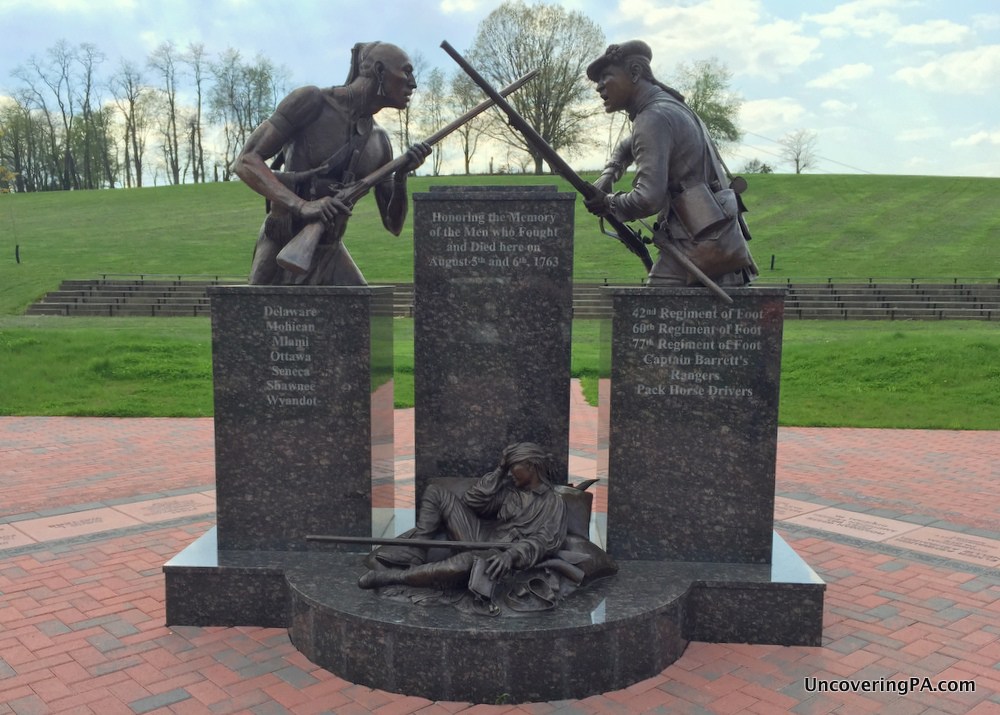 Reenactment of the battle.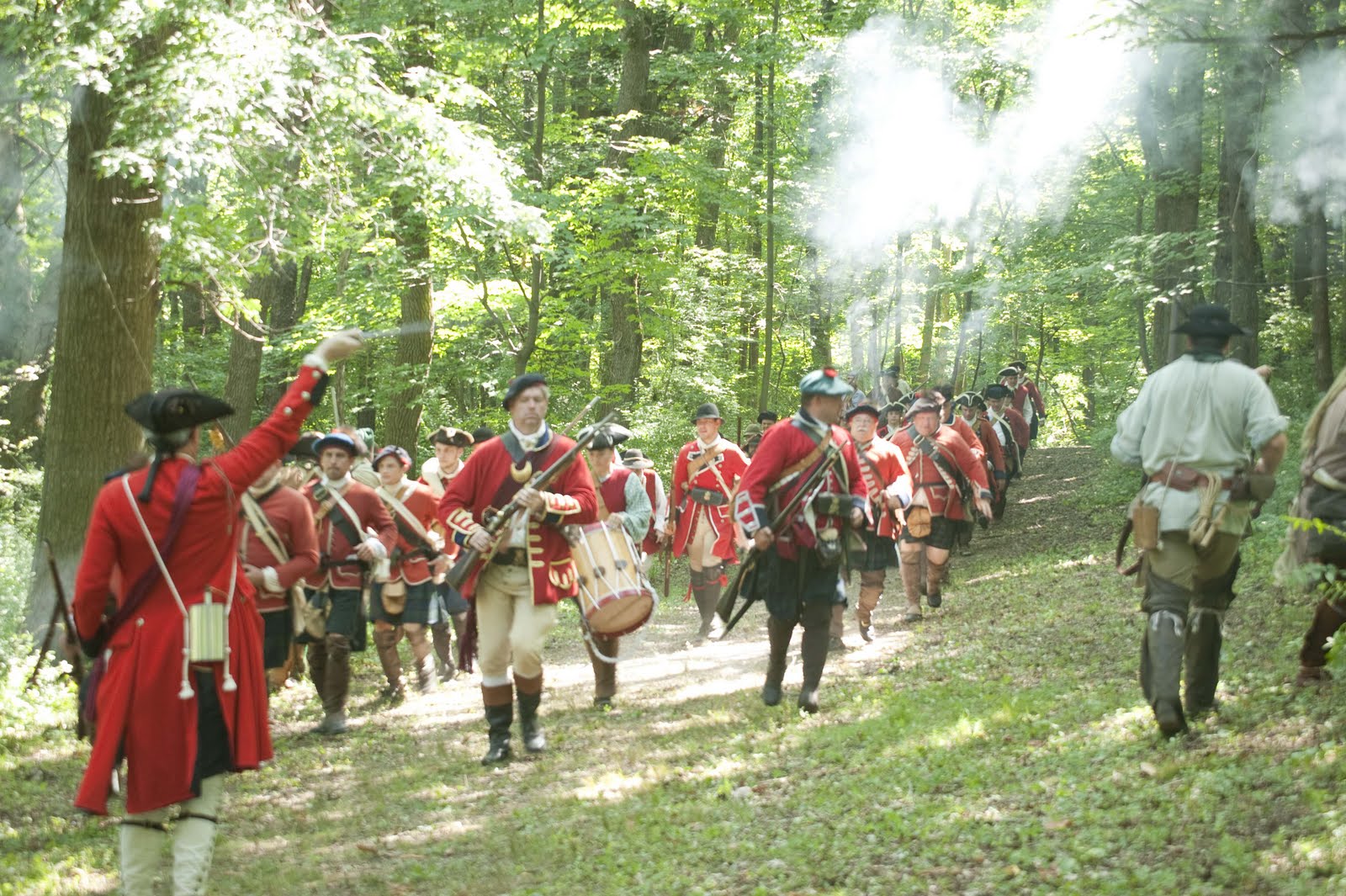 Bushy Run Battlefield Visitor's Center.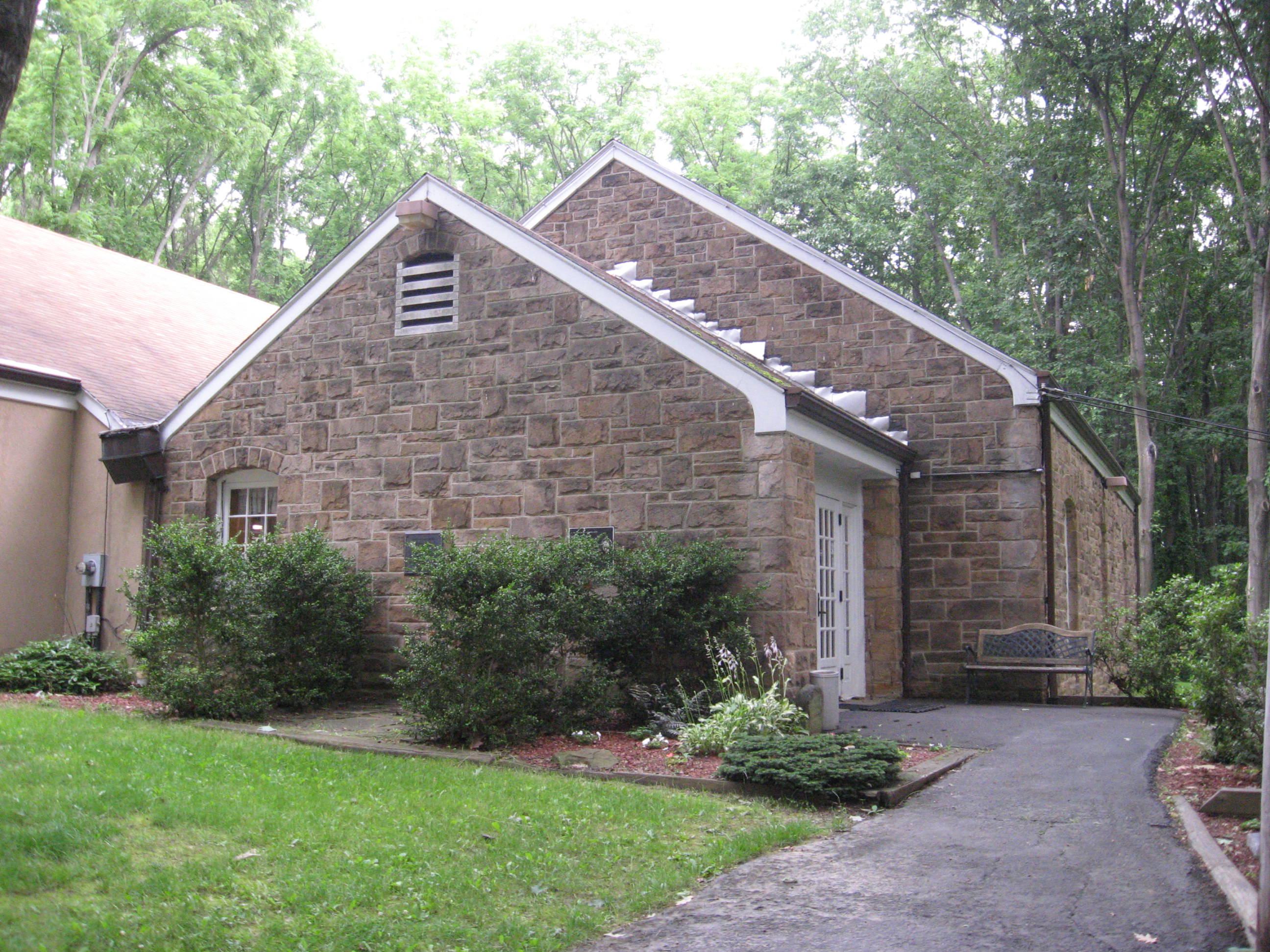 Backstory and Context
Pontiac, an Ottawa chief in the Detroit areas, retaliated against British policies and control following the collapse of New France at the close of the French and Indian War. Because of Pontiac's successful advances against the British, Indian revolts quickly spread eastward. His plans were covert until 1763 when attacks on British outposts began. By the end of July, nine British forts were captured, a tenth fort abandoned, and the great strongholds of Pitt and Detroit under seige. The geographic area affected included the present states of Pennsylvania, New York, Ohio, Indiana, Michigan, Wisconsin and parts of Maryland and West Virginia. Truly this was the greatest Indian threat to the British colonies during the 18th century.
Because the Indians so throroughly controlled the frontier, information about the war filtered slowly east to the British high command. Once the scope of the situation was realized in late June, an expedition was organized to march west to Fort Pitt and then to proceed north and west to re-estabish fallen forts. Colonel Henry Bouquet, a Swiss born professional soldier, commanded the expedition as it left Carlisle, Pennsylvania on July 18th. Indian scouts observed Bouquet's army marching west along Forbes Road and reported this to the large force of Indians surrounding Fort Pitt. The Indians decided to temporarily end their siege and attack the British expedition in the open. The attack took place one mile east of Bushy Run Station on August 5th and 6th, 1763. The engagement resulted in a victory for the British.
Sources
Ockershausen, Jane. "Broken Promises, Broken Dreams: North America's Forgotten Conflict at Bushy Run Battlefield." Pennsylvania Heritage Magazine. Summer 1997. Accessed November 17, 2016. http://www.phmc.state.pa.us/portal/communities/pa-heritage/broken-promises-broken-dreams-bushy-run-b...
Napsha, Joe. "Battle of Bushy Run Reenactment Will Benefit Heritage Society." Pittsburgh Tribune-Review. August 2, 2016. Accessed November 16, 2016. http://triblive.com/news/neighborhoods/penn-trafford/10856252-74/run-battlefield-bushy
Cheney, Jim. "Visiting Bushy Run Battlefield to Learn the Amazing History of Pontiac's Rebellion." Uncovering PA. May 15, 2012. Accessed November 17, 2016. http://uncoveringpa.com/visiting-bushy-run-battlefield
Additional Information