Ritz Building
Introduction
Author-Uploaded Audio
The Ritz Building was built by James Simpson in 1885. It was modified in 1913 so that it could house a Woolworth store. In 1946-7, the building was fully redesigned in the Streamline Moderne style by the architect Franklin T. Georgeson. The Ritz Building was designated as a Eureka Historic Landmark in 2010. A historical plaque was placed on the side of the building by Eureka Main Street and the Eureka Heritage Society.
Images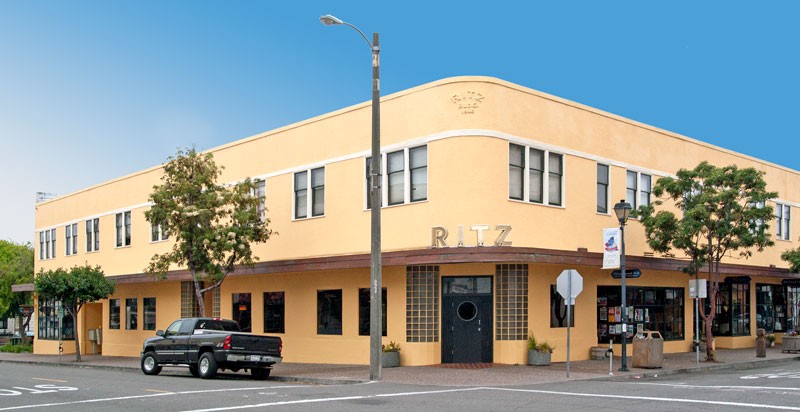 Grand Opening of a Woolworth's Store in the building (1913)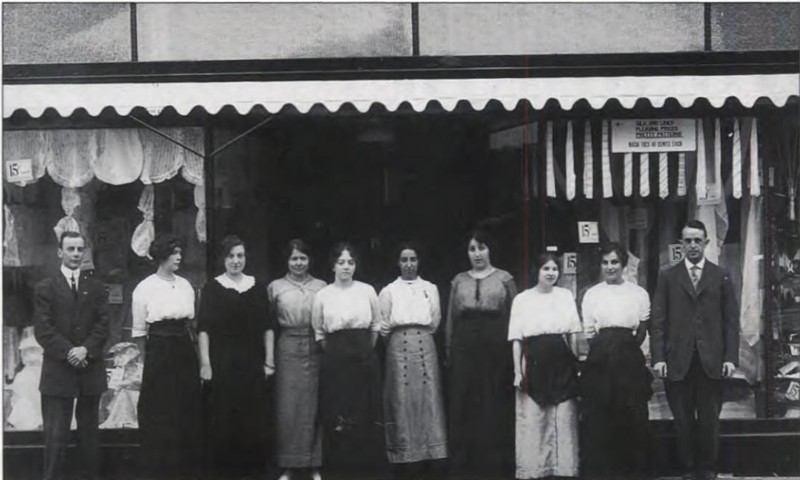 The Ritz Building after its 1947 redesign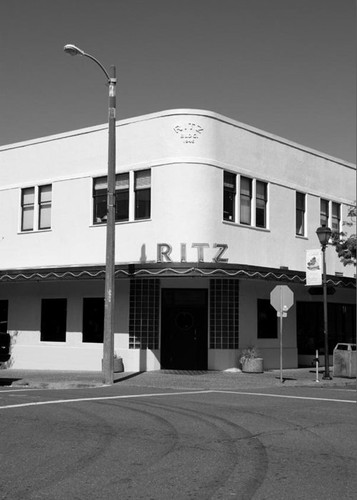 Arial view of the Ritz Building overlooking F Street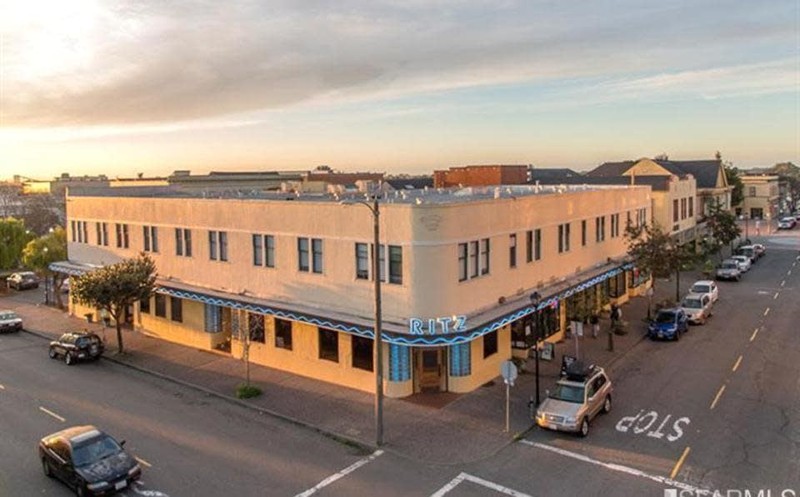 Historical Plaque placed on the Ritz Building to commemorate its redesign in the Streamline Moderne style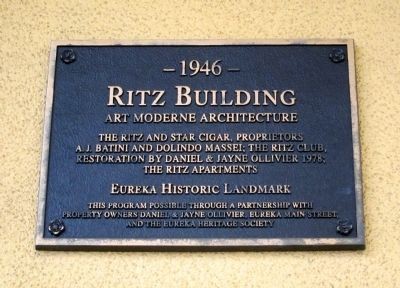 Ritz Building at night with neon lighting
Ritz Building bar area, featuring stained glass windows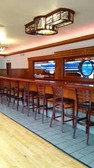 Ritz Building Signage (detailed view)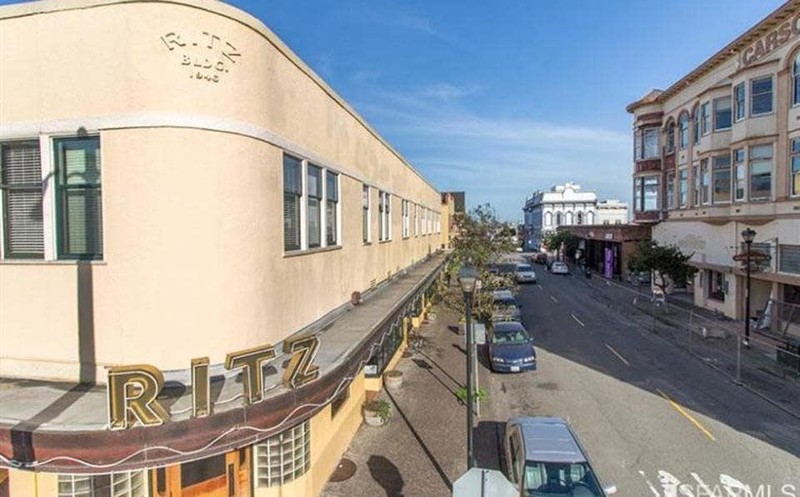 Backstory and Context
Author-Uploaded Audio
The Ritz Building stands out among the other buildings in Eureka's Old Town Historic District for its Art Moderne or Streamline Moderne style. This style was similar to and contemporaneous with the Art Deco design style. These styles were popular especially from 1925 to 1940, although they were also still used over the decades that followed, as was the case with the Ritz Building's redesign in 1947.
Unlike Art Deco, which often integrated stylized floral or fountain motifs on buildings that tended to be sharp, angular, and linear, the Art Moderne or Streamline Moderne style preferred a sleek look with curves and rounded edges. Both styles were derived from the International Exposition (Exposition Internationale des Arts Decoratifs et Industriels Modernes) hosted in Paris, France, in 1925. The goal of each style was to break free of past influences and to embrace the future, including the age of aerodynamics and speed. To achieve this effect, Streamline Moderne was known for its use of curved glass, rounded corners, ribbon or band windows, a flat roofline, a curved canopy, and smooth wall finishes. These elements can each be observed in the Ritz Building.
In the case of the Ritz Building, this also meant moving on from the earlier era when Woolworth's first came to Eureka in 1913. Woolworth's was a popular American chain of variety stores, or general stores, which also included a soda counter and cafe. Originally founded in 1879 in the eastern U.S., the popular chain made its way to California, setting up storefronts in major American towns and cities along the way. Images of the grand opening of the Woolworth Store in Eureka in 1913 show a building with a canvas awning, an element that would have been greatly out of character with the later redesign of the property in 1946-7 in the Streamline Moderne style. However, as it turns out, Woolworth stores in California are frequently remembered in the popular imagination as being synonymous with Art Moderne and Art Deco style storefronts.
Following the major redesign of the property in 1946-7 by the architect Franklin T. Georgeson, the Ritz Building borrows its name from the "Ritz and Star Cigar Shop" owned by A.J. Batini and Dolindo Massei, as well as the Ritz nightclub that once operated on this property. In 1978, a restoration of the building was undertaken by Daniel and Jayne Olliver, and in the years that followed, the Ritz Building was converted into an apartment complex called the Ritz Apartments. Currently, the street-level storefront houses a bar featuring Art Moderne interior decor and styling. The property is a Eureka Historic Landmark, and it is located within Eureka Old Town Historic District. In 2010, a historical plaque was placed at the site by the Eureka Heritage Society, in conjunction with Eureka Main Street.
Sources
"Art Moderne or Streamline Moderne (1930-1940)", Noe Hill. Accessed March 19th 2020. https://noehill.com/architects/style_art_moderne.aspx.
"Nomination Form: Eureka Old Town", NPS. Accessed March 18th 2020. https://npgallery.nps.gov/pdfhost/docs/NRHP/Text/91001523.pdf.
"Ritz Building", Noe Hill. Accessed March 18th 2020. https://noehill.com/humboldt/poi_ritz_building.asp.
Ruppenstein, Andrew. "Ritz Building", Hmdb. August 1st 2018. Accessed March 19th 2020. https://www.hmdb.org/m.asp?m=60897.
Image Sources
Noe Hill

Fine Art America

Open Listings

Andrew Ruppenstein, The Historical Marker Database

Open Listings

Open Listings

Open Listings

Additional Information