Simpson-Vance House
Introduction
Situated prominently at the corner of 9th and G Streets, the Simpson-Vance house is one of the best examples of Queen Anne architecture in Eureka. It is also significant for its association with its first owner and builder, James Simpson, and its second owner, John M. Vance, who was a prominent local businessman. The house features many decorative elements including an octagonal tower on the northeast corner, ornate woodwork, and rounded windows. Since 1980, the house has been the headquarters of the Redwood Community Action Agency, a non-profit whose purpose is to provide assistance to low to moderate-income residents.
Images
The Simpson-Vance House was built in 1892 and is a fine example of Queen Anne architecture.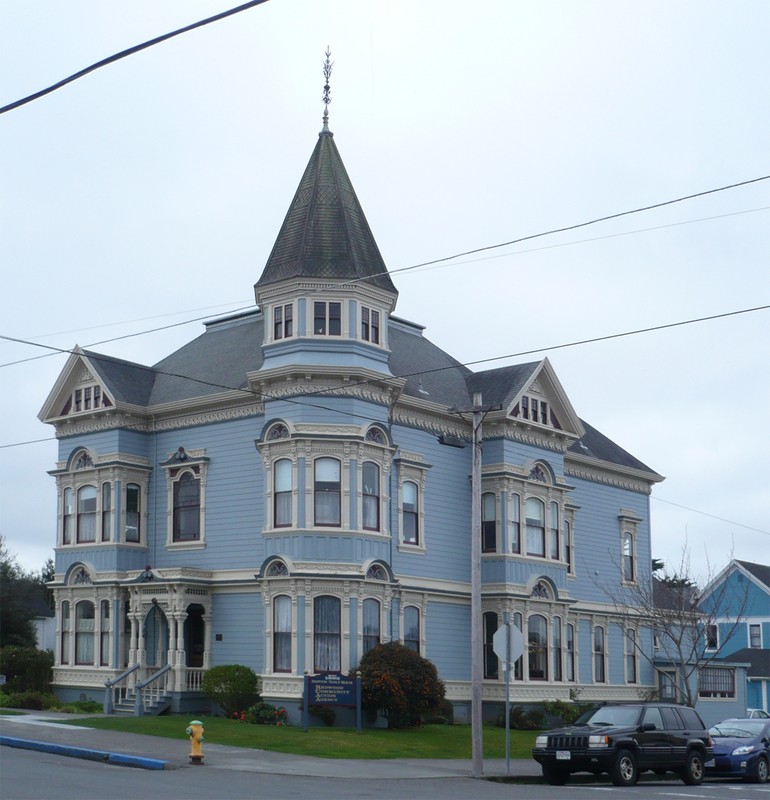 Backstory and Context
James Simpson built the house in 1892 and likely used a design he found in a book (being a skilled carpenter, he also modified it). He started working as a shipbuilder before becoming a homebuilding and remodeling contractor. He and his wife had 16 children, 12 of whom survived at the time the large house was built.
John M. Vance bought the house in 1902. He acquired his wealth from his uncle who held interests in the lumber and timber industries. After his uncle died, John inherited these interests. John, who was one of the wealthiest Eureka residents, redecorated and furnished the home into a showpiece. For example, he gave the library a Turkish makeover, and converted two upstairs bedrooms into den for one of his sons. John died in 1907 and his wife in 1933. One of their daughters lived in the house until 1943. It then became a residence for older women.
The Redwood Community Action Agency bought it in 1967 but had to sell it two years later. The home became a halfway house for a few years before the state bought it as part of a plan to built a right-of-way for a freeway. This project fell through and the house was saved from demolition. The Redwood Community Action Agency bought it once again in 1980 and has remained there ever since.
Sources
Kirk, Susie Van. "Simpson-Vance House." National Park Service - National Register of Historic Places Nomination Form. July 17, 1986. https://npgallery.nps.gov/GetAsset/7e02b26e-9b04-471d-86af-b1d43f7e17eb.
Additional Information