Sheldon Museum of Art
Introduction
The Sheldon Museum of Art houses both the Sheldon Art Association collection founded in 1888, and the University of Nebraska collection, initiated in 1929. Together they comprise more than 12,000 works of art in all media. This comprehensive collection of American art includes prominent holdings of 19th-century landscape and still life, American Impressionism, early Modernism, geometric abstraction, Abstract Expressionism, pop, minimalism and contemporary art. In the Sculpture Garden, more than 30 monumental sculptures are exhibited year-round and include major works by Gaston Lachaise, Jacques Lipchitz, Claes Oldenburg and Coosje van Bruggen, David Smith, William Tucker, Bryan Hunt, Mark di Suvero, Michael Heizer and Richard Serra.
Images
The Sheldon Museum of Art features more than 12,000 works of art.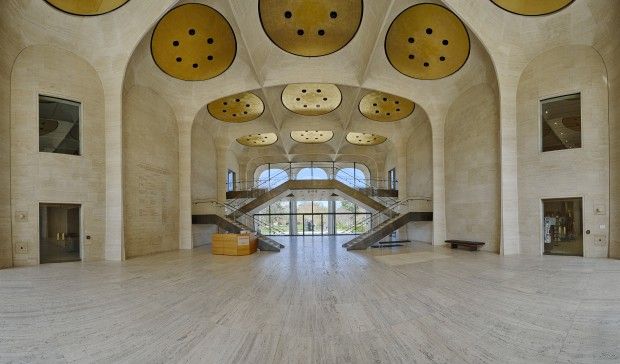 Backstory and Context
The Sheldon's exhibition program comprises approximately 20 exhibitions per year and focuses on American art in all media. The curatorial staff organizes exhibitions drawn from the permanent collection, many of which circulate nationally. The program also includes exhibitions organized by peer institutions throughout the United States. Educational programs such as symposia, lectures, children's workshops and tours are organized in conjunction with each exhibition.
The Sheldon Museum of Art in Lincoln, Nebraska, includes a strong collection of African American art by some of the most famous Black artists of the twentieth and twenty-first century, including Robert Seldon Duncanson, Aaron Douglas, James VanDerZee, and Hank Willis Thomas. In recent years, The Sheldon has made a series of important additions to its collection of African American art.

African American Art at the Sheldon:
The Sheldon's permanent collection also features works by many influential African American artists such as James VanDerZee, Aaron Douglas, and many others. Many of these artists and pieces, despite making significant contributions to American art, have been largely ignored by much of history. The work that The Sheldon has done to expand its collection of African American art is an important step in finally giving due recognition to the artistic achievements of African Americans.
One of the most notable artists, whose work is included in the museum's permanent collection, is Robert Seldon Duncanson. Duncanson became, "the first African American artist to receive national and international recognition," in the late 1800's. His works often depicted American landscapes.
Another notable "first" can be found at the museum in a set of woodcuts by artist Aaron Douglas. In 1922, Douglas became the first African American to graduate from the University of Lincoln with a bachelor's degree in Fine Arts. Douglas was also instrumental in the Harlem Renaissance, a period of African American cultural revival and explosion during which he created some of the woodcuts now on display. Defiance, Flight, Bravado, and Surrender make up the collection of his works at The Sheldon.
The Harlem Renaissance produced a vast array of artists and works that were instrumental to the rebirth of African American culture. Aaron Douglas was one, James VanDerZee was another. VanDerZee's works often demonstrate the conflicting ideas of the period about, "Blackness," and what it meant to be African American. A few examples can be found at The Sheldon in VanDerZee's photographs depicting life in Harlem, such as Black Jews, Harlem.
Other exhibits are more notable for the subjects they depict, such as Louisiana. This woodcut by African American artist Margo Humphrey was inspired by the news coverage about Hurricane Katrina, which had a disproportionately devastating effect on African Americans.
Aside from the various works on permanent display users may be able to find temporary, featured exhibitions such as Black Fire: A Constant State of Revolution. This exhibition drew inspiration from African American jazz pianist Andrew Hill who released his album Black Fire in 1964 at the height of the Civil Rights Movement. One of the works displayed, Priceless #1 by African American artist Hank Willis Thomas, offered up a personal reflection on continued violence within and against the African American community.
Sources
"About." Sheldon Art Museum. Accessed November 30, 2016. http://www.sheldonartmuseum.org/about.

Siedel, Daniel. "Black Image and Identity African American Art from the Permanent Collection" (2000). Sheldon Museum of Art Catalogues and Publications, 14. http://digitalcommons.unl.edu/cgi/viewcontent.cgi?article=1013&context=sheldonpubs
Additional Information