Jackie Robinson Freedom National Bank
Introduction
Upon retiring from Major League baseball in 1957, Jackie Robinson became committed to the civil rights movement and the advancement of African-Americans. Jackie Robinson, the former Brooklyn Dodger baseball star, and William R. Hudgins, president of a small business investment company started a bank. These two were the chairman and president of the Freedom National Bank. This bank was established in the 1960's and helped lower income people out. This bank was crucial to African Americans and Jackie advocated Black Power when doing this.
Images
Freedom National Bank. Jackie established this bank in 1964.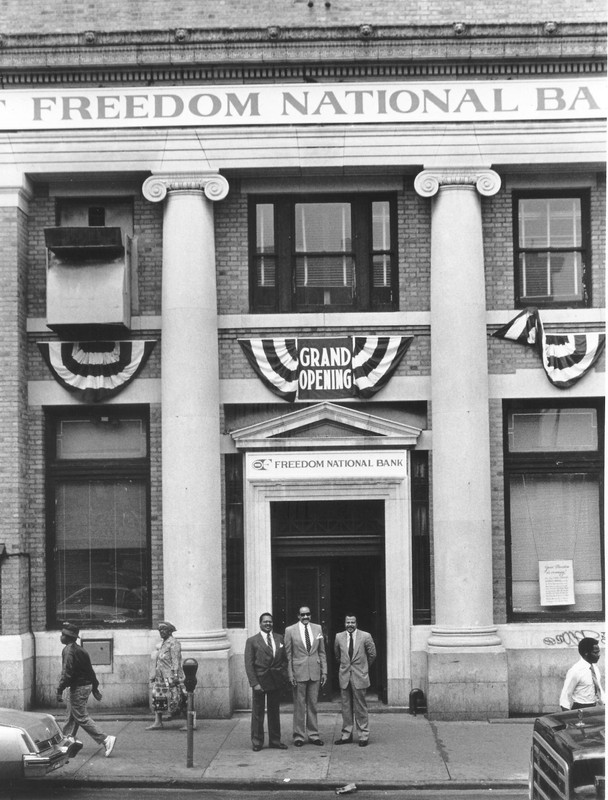 Jackie Robinson, with Robert Preston in front of the Freedom National Bank in Harlem, 1965 -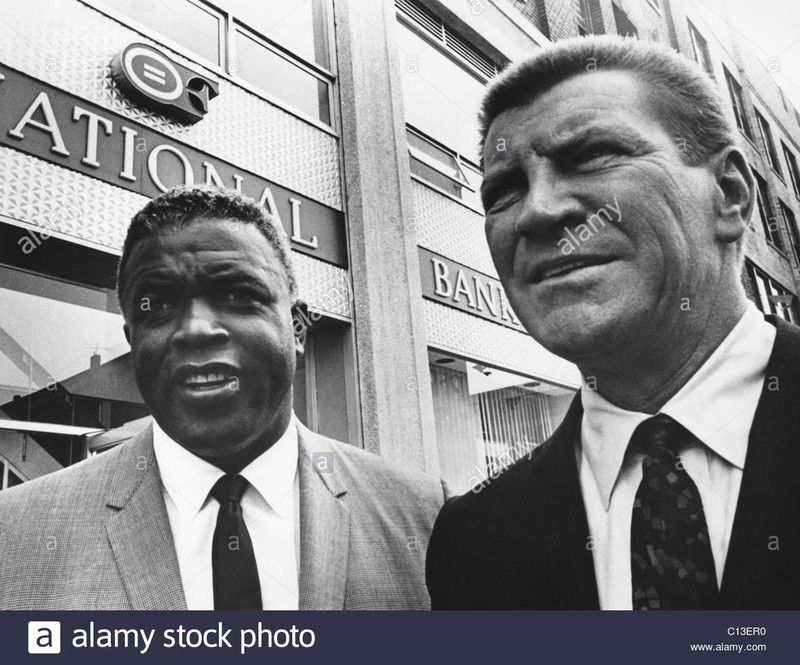 Backstory and Context
When Jackie Robinson left the sports world, he used his status as a public figure to move into the political and corporate arena. In 1958 he became a spokesman and fundraiser for the NAACP. Robinson protested with Martin Luther King in Birmingham, Alabama . He was also present at King's famous march on Washington in 1963. Jackie then open up a bank called the Freedom Bank. This stimulated Harlem's economy by offering generous loans for local homes and businesses. It is located on 275 W 125th Street in Harlem, New York. This bank ended up closing down in 1990.
Robinson established the Freedom National Bank in 1964 which illustrated his efforts to advocate Black Power as Black Capitalism. The formation of the bank was in response to the riots that broke out in New York and elsewhere in the summer of 1964. The aim of this predominantly Black owned bank, with its multiracial staff, was to provide the sort of economic boost not offered by other banks or by the government to low-income people. Robinson's role as the bank's chairman was primarily that of a figurehead, utilizing his reputation as a means of establishing respectability. 
By doing this, Robinson became the first African American to establish a bank in Harlem, in 1964, when he and a group of investors founded Freedom National Bank. This bank aimed for financing "the economic aspirations of the nation's pre-eminent Black neighborhood." Jackie Robinson excelled as a bank owner and this came at a time when the odds were stacked against him. Robinson's fame and popularity didn't just make an impact on the sports world. He spent his life speaking up and reaching out to make sure future generations of African Americans wouldn't have to struggle as he did for the basic opportunities and freedom that should be the birth right of all people. He created this bank to help out the people in the struggle and he changed this by helping people out with loans to businesses and homes.
Sources
Lomax, Michael E. . "I Never Had It Made" Revisited; The Political, Economic, and Social Ideology of Jackie Robinson, January 31st 1999. Accessed March 3rd 2020. https://search.proquest.com/docview/200941945?pq-origsite=summon.
Times, New York. Jackie Robinson Elected Freedom Bank Chairman, April 20th 1964. Accessed March 4th 2020. https://www.nytimes.com/1964/04/20/archives/jackie-robinson-elected-freedom-bank-chairman.html.
Image Sources
https://www.umass.edu/pubaffs/jackie/citizen3.html

https://www.alamy.com/stock-photo-jackie-robinson-with-robert-preston-in-front-of-the-freedom-national-35112868.html