Hotel Leo
Introduction
Hotel Leo is a historic hotel located in the heart of downtown Bellingham. It has been at this location since 1899 and originally called the Byron Hotel after the man who built it—Captain Josiah B. Byron. The hotel consists of a building was constructed in 1929 as an addition to the original building, and a modern addition erected in 1967. By the time the 1929 addition was built, the hotel was called the Leopold Hotel, after a brew master named Leopold Schmidt bought it in 1910. In terms of architecture, the hotel was designed in the Mission style and, besides some ornamental brickwork, features little decoration. For many years the Leopold was a bustling social center and considered the best hotel in the city, hosting many famous people including President William Howard Taft, politician and skilled orator William Jennings Bryan, and actor Clark Gable. Today, Hotel Leo offers guests updated rooms and modern amenities. It was added to the National Register of Historic Places in 1982.
Images
The 1929 addition of the Leopold Hotel, now known as Hotel Leo, was listed on the National Register of Historic Places in 1982.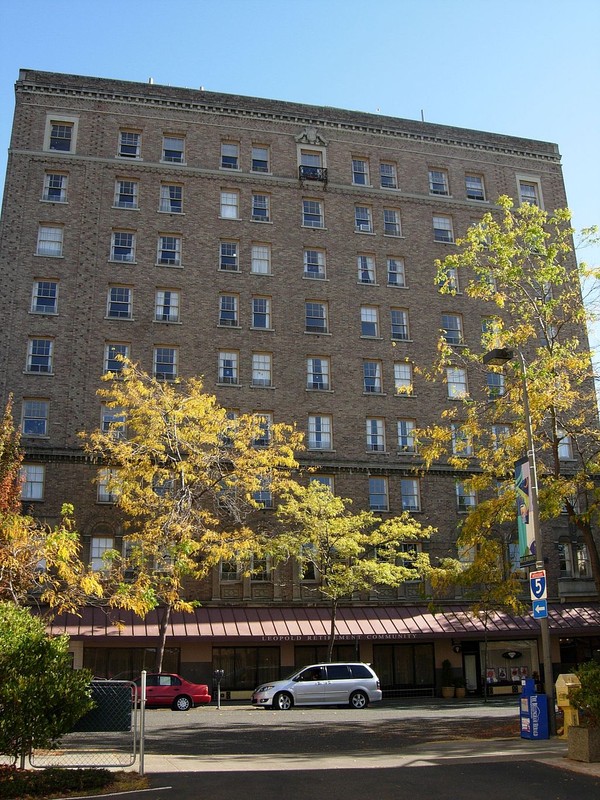 Backstory and Context
When the Byron Hotel opened, the area was experiencing rapid growth thanks to the thriving lumber, fishing, and coal industries. Tourism also growing as well. In order to accommodate businessmen and wealthy tourists (and unmarried professionals), Captain Byron decided to build the hotel to give them a place to stay and socialize. With its luxurious accommodations, the hotel was the most popular hotel in the city for decades. It also hosted a variety of events including weddings, banquets, conventions, and high school proms.
Byron, who passed away in 1908, was a prominent figure in the city in the early 1900s. He served two terms as councilman and played a key role in the funding of sidewalks in the downtown area. Leopold Schmidt arrived in Washington in the early 1890s and built a brewery near Olympia in 1894. While in Bellingham to establish a brewery here, he decided to buy the hotel. He lived there until he passed away in 1914.
Subsequent owners expanded the hotel in the 1920s and again in 1968 with the construction of a four-story modern wing—where the original 1899 hotel building was once located—that still stands today. The hotel became a retirement home in 1985 and remained so for 33 years before declining occupancy and rising costs forced its closure. Hotel Leo opened in the fall of 2019.
Sources
Gallagher, Dave. "A new hotel is expected to bring even more evening activity into downtown Bellingham." October 14, 2019. https://www.bellinghamherald.com/news/business/article236018858.html.
Relyea, Kie & Rasbach, David. "After 33 years, The Leopold in Bellingham will no longer be a retirement community." The Bellingham Herald. December 18, 2018. https://www.bellinghamherald.com/news/local/article223256855.html.
Sullivan, Michael. "Leopold Hotel." National Park Service - National Register of Historic Places Nomination Form. February 19, 1982. https://npgallery.nps.gov/NRHP/GetAsset/NRHP/82004306_text.
"Welcome to Hotel Leo." Hotel Leo. Accessed February 3, 2020. https://www.bellingham.org/insider-blogs/downtown-bellingham-welcomes-historic-hotel-leo.
Image Sources
Wikimedia Commons: https://commons.wikimedia.org/wiki/File:Leopold_Hotel.JPG

Additional Information