J.J. Donovan House
Introduction
Added to the National Register of Historic Places in 1983, this historic home was once the residence of prominent local civic leader, industrialist, lumberman, and railroad engineer and executive J.J. Donovan. Donovan was instrumental in developing Bellingham in the late 18th and early 20th centuries. The house, which is located prominently on a hill overlooking Bellingham Bay, was originally built by its first owner, Edward Fischer, in 1890. In terms or architecture, Fischer designed it in the Stick/Eastlake style but Donovan expanded the home and changed its design to the Tudor Revival style. For many years, the house was a women's dormitory for Western Washington University.
Images
The J.J. Donovan House was originally built in 1890 and is named after one of the key figures in the city's early history.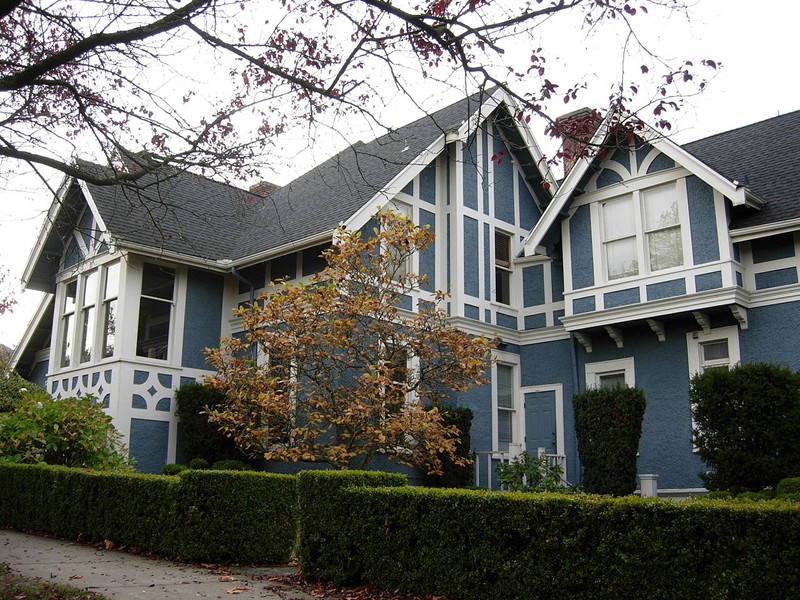 Backstory and Context
John Joseph Donovan was born on September 8, 1858 in New Hampshire. His parents, Patrick and Julia, were Irish immigrants. They moved to the town of Plymouth where Donovan grew up. He attended the New Hampshire State Normal School and worked as a teacher for three years before studying civil engineering at Worcester Polytechnic Institute. He graduated first in his class in 1882 and was hired immediately by the Northern Pacific Railway Company, which tasked him to survey land in Montana for the Transcontinental Railroad. He became assistant construction engineer and was at the "golden spike" ceremony in Helena where the railroad was completed. Donovan then worked on building track and bridges for a railroad that reached the Puget Sound in 1887.
Next, a railroad contractor named Nelson Bennet, who founded the newly established Fairhaven and Southern Railroad, hired Donovan to build a line from Seattle to Bellingham to encourage development there (at the time the area had a few communities, one of which was called Fairhaven; they were eventually incorporated into Bellinghman). Donovan eventually became director of the railroad. He also seized other opportunities, becoming chief of the Fairhaven Land Company and a principal in the Skagit Coal and Transportation Company. In 1890, after Fairhaven was officially established, Donovan served as a member the city's first and second councils and oversaw the construction of the sewage system. In these ways, Donovan contributed significantly to the city's growth between 1889-1892. In 1898, he co-founded a logging company, which became one of the largest in the region by 1913.
In addition to his business ventures, Donovan held political positions and was involved in philanthropic and educational pursuits. He served on the State Board of Road Commissioners and a number of local positions. He donated land for the construction of a hospital, served for several years on the Board of Trustees of the Bellingham State Normal School (what is now Western Washington University), and helped establish the Washington Good Roads Association. Donovan was also a moral man. When the Ku Klux Klan asked to include a float in the 1926 Tulip Parade, he, as parade chair, denied the request (he had also previously wrote an article criticizing the klan).
He and his wife Clara (they got married in 1888) had three children, two daughters and a son. Clara passed away in 1936 and Donovan in 1937. The state bought the home in 1946 and converted it into a women's dormitory, which lasted for 25 years. After that, the first floor became a dentist's office and the upper floors apartments. The dentist's office seems to have closed. A statue commemorating Donovan is located on the corner of 11th and Harris streets.
Sources
"J.J. Donovan House (1201 N. Garden Street)." City of Bellingham. Accessed January 30, 2020. https://www.cob.org/services/planning/historic/buildings/Pages/jj-donovan-house.aspx.
"John Joseph (J.J.) Donovan." Fairhaven History. Accessed January 30, 2020. https://www.fairhavenhistory.com/content/characters/jj_donovan.
Sullivan, Michael. "J.J. Donovan House." National Park Service - National Register of Historic Places Nomination Form. January 27, 1983. https://npgallery.nps.gov/NRHP/GetAsset/NRHP/83003356_text.
Image Sources
Wikimedia Commons: https://en.wikipedia.org/wiki/J._J._Donovan_House#/media/File:J.J._Donovan_House.JPG

Additional Information