All Together Now by Jonathan Corson-Rikert
Introduction
"My sculptures reference human scale as experienced through architecture and public parks, inviting exploration through bold color, playful alternation of symmetry and asymmetry, and figure-ground tensions." Jonathan Corson-Rikert
Images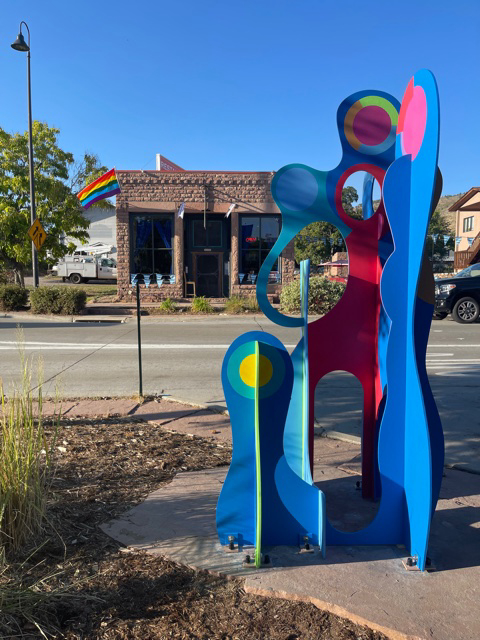 Backstory and Context
All Together Now invites exploration in the round as forms appear and change shape when viewed from different angles and through varied openings. Jonathan Corson-Rikert's first addition to the heARTS of LYONS program was placed in September of 2021. It is located in Lyons downtown district in front of St. Vrain Market, a longstanding business in the Lyons community. All Together Now was partially sponsored by St. Vrain Market. The outdoor seating area is the perfect spot to view the sculpture as the sunlight moves across it throughout the day.
Lyons, like towns and cities throughout the world, shut down during 2020 and 2021. Placing All Together Now in Lyons downtown enlivened Lyons downtown and brought a renewed sense of vibrancy to the community.
Jonathan Corson-Rikert was an active member of the art community in Madison, Wisconsin. He served on the board of a cooperative gallery, exhibited his work in several galleries, and competed successfully for public art projects. Jonathan Corson-Rikert's sculptures were chosen for the 1980 Wisconsin Biennale and the permanent collection of the Madison Art Center, now the Madison Museum of Contemporary Art.
To see his portfolio and learn more about his process, visit his website at https://art.corsonrikert.com/home
Partially sponsored by the St. Vrain Market
Sources
https://art.corsonrikert.com/home
https://www.stvrainmarket.com/
Additional Information