Elyria by Tree Sky EcoArt
Introduction
"We build uniquely stunning and functional furniture with upcycled urban wood for environmentally conscious customers.
Our mission is to inspire every person to do their part in eliminating deforestation, which can save old-growth forests, the rainforests, and the planet."
Elyria was sourced and made in Boulder, CO from Plains Cottonwood and populous deltoids.
Images
Elyria by Tree Sky EcoArt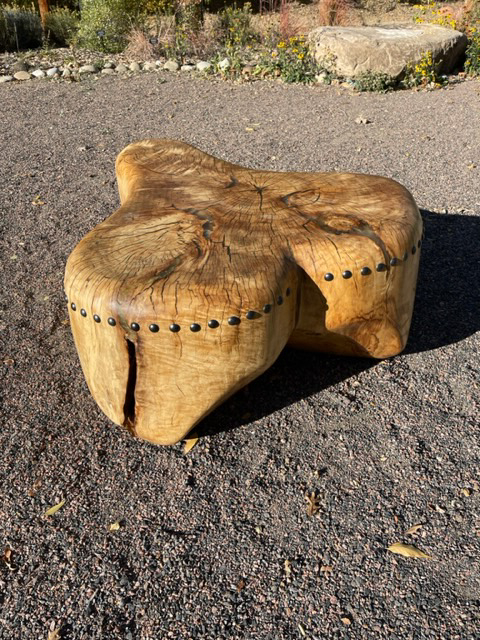 Elyria by Tree Sky EcoArt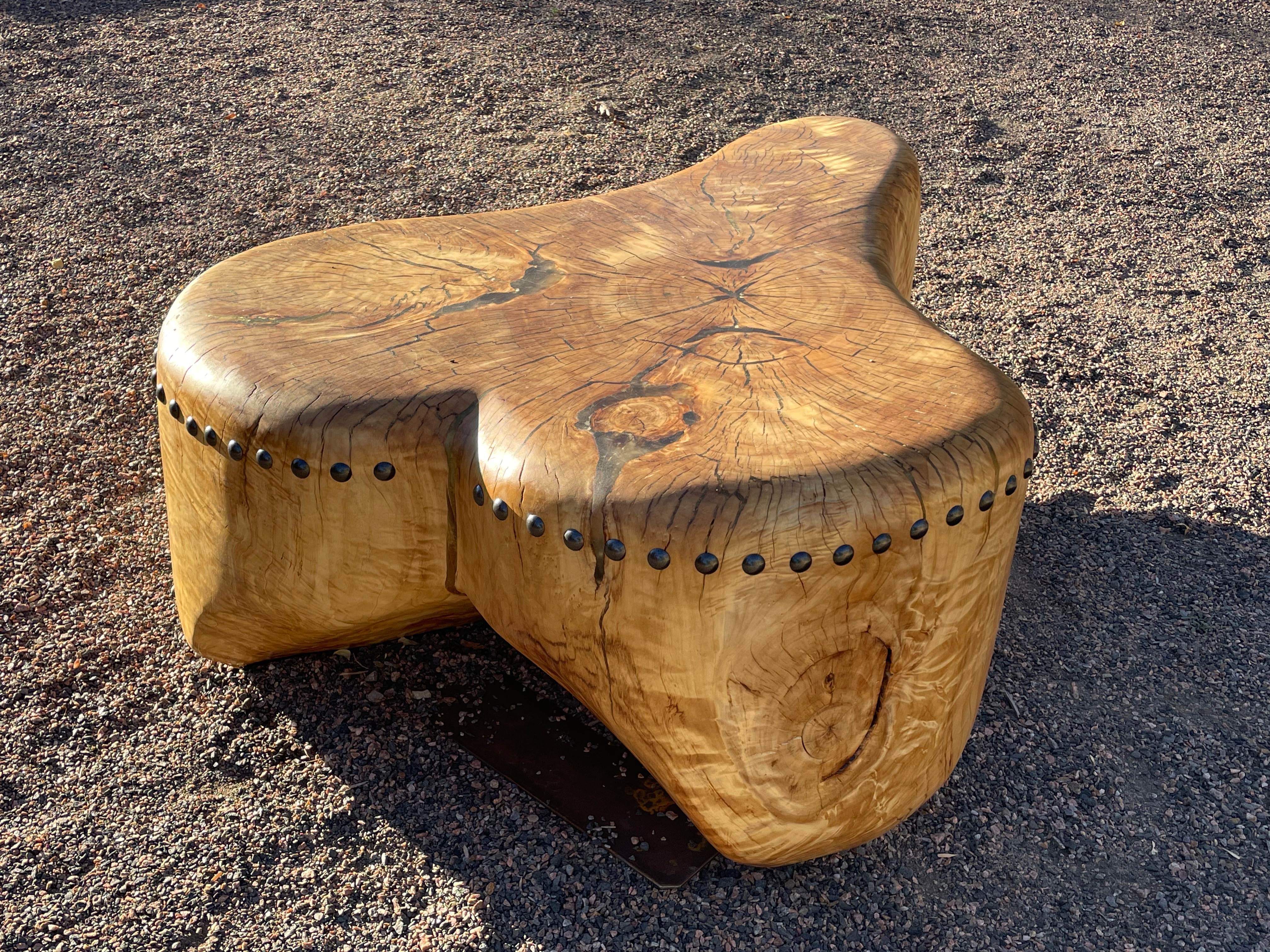 Elyria by Tree Sky EcoArt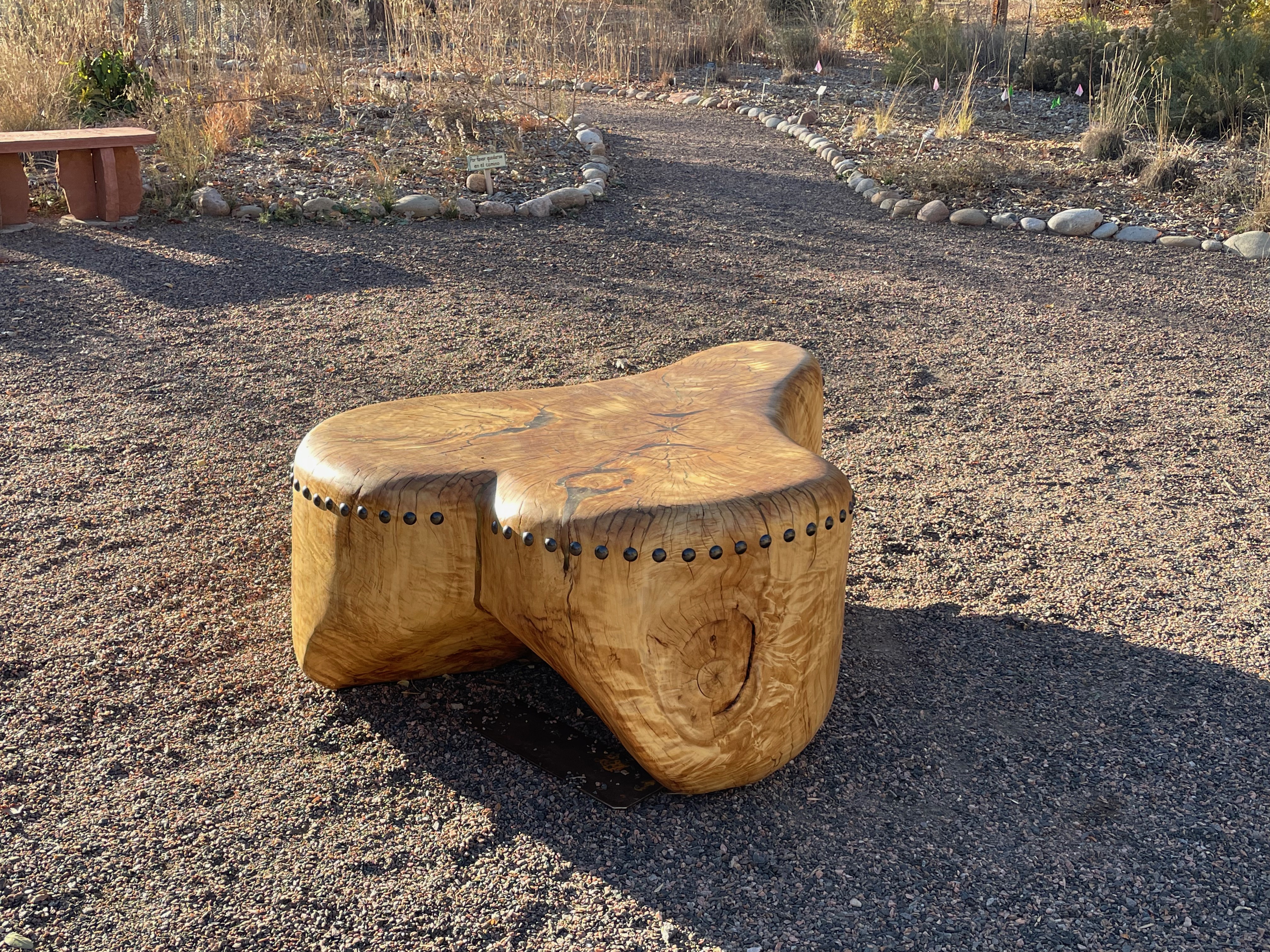 Backstory and Context
Elyria is a sculptural bench with a shape that is reminiscent of a bicycle seat. The Lyons Arts and Humanities Commission (LAHC) selected this piece to add to the heARTS of LYONS program because it captures the community's love of the outdoors and represents the importance of preserving the nature that surrounds the Lyons.
Elyria was placed in the Rocky Mountain Botanic Gardens near Bohn Park. Rocky Mountain Botanic Gardens is a non-profit organization that was formed "to foster an understanding and an appreciation of our Rocky Mountain native plants and wildlife, and to create a place where Lyons locals and all visitors to the garden of all ages can learn, and enjoy the peace and beauty of the natural world." The LAHC and the Rocky Mountain Botanic Gardens felt that Elyria fit perfectly with their mission and created a relaxing space for people to enjoy both sculpture and nature.
Tree Sky EcoArt was created by environmental artists Renata and Vit Hromadkova. Renata is a self-taught artist with a background in interior design and industrial woodworking. Renata works with her husband Vit, an arborist, to save trees destined for the landfill and repurpose them into sculptural furniture.
"Why import wood, which supports the destruction of rainforests and clearing old growth trees, when you can have quality, locally sourced urban wood? Every decision about materials matters. There is a human and environmental cost in the widespread destruction and transportation of trees from deforested communities." Renata Hromadkova
Tree Sky EcoArt combines the creation of art with ecological and environmental sustainability. See Tree Sky EcoArt's website to learn more about their creations!
This work is part of the heARTS of LYONS - An Outdoor Art Collection All Over Town program
To learn more go to: www.treeskyboulder.com
Sources
Image Sources
Photo by Melinda Wunder

Photo by Brianna Hoyt

Photo by Brianna Hoyt

Additional Information