Auspicious Fortune by Charlotte and Ben Zink
Introduction
"Collaborating on sculpture designs, layouts, finishing, and installation has taught us both so very much about the art process and ourselves. We're proud to have created an extensive body of work these many years; both small and large scale pieces in private and public collections worldwide." Charlotte Zink
Images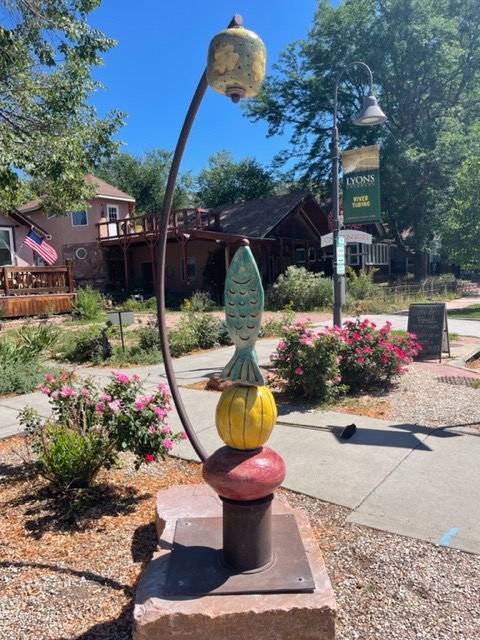 Backstory and Context
Charlotte and Ben Zink are the founders of Zink Metal Art in Berthoud, Colorado. They have been creating an extensive portfolio and contributing to the heARTS of LYONS program for several years. Their work is featured in towns throughout Colorado.
Auspicious Fortune was placed on Lyons Main Street. The Lyons Arts and Humanities Commission felt that the fish represented an important aspect of Lyons' local ecology. The 2013 flood devastated the area and the ecologies that are dependent on the St. Vrain River. The trout population was decimated after the flood and the town worked hard to rebuild it. The local Lyons Elementary School created a trout hatchery program to help rebuild the local trout population. In April of 2021, a gasoline tanker crashed on US-36 spilling into the St. Vrain River killing a significant portion of the trout that has been raised and released into the river.
Zink Metal Art's Auspicious Fortune was curated and placed to symbolize the importance of our local ecology and to bring fortune to the redevelopment and preservation of nature and wildlife in the area.
This sculpture is a part of the heARTS of LYONS program.
Sources
www.zinkmetalart.com
https://www.9news.com/article/news/local/lyons-tanker-spill-us-36/73-3f9576fa-4d75-4deb-9d8b-3678c45352ee
https://coloradoencyclopedia.org/article/september-2013-floods
Additional Information