Inside Out by Anne Shutan
Introduction
"For me, warm wood sculptures are a welcome relief from the frantic qualities of today's world. I invite you to touch them as they touch you." Anne Shutan
Images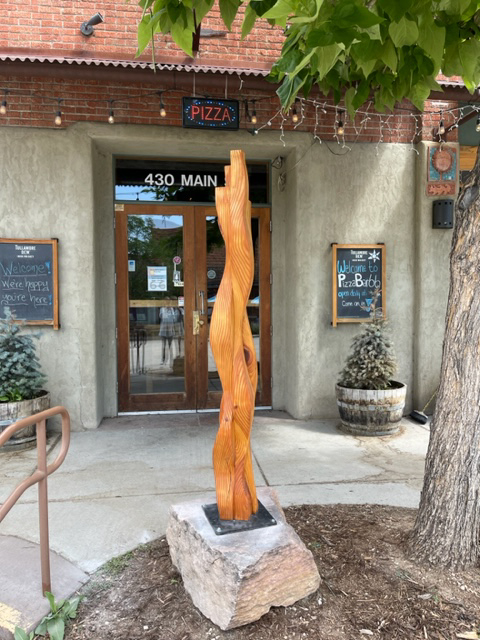 Backstory and Context
Inside Out is located in Lyons' historic downtown district. The fluidity and warmth of the sculpture complement the historic sandstone buildings and the vibrant nature that surrounds the community.
Anne Shutan creates one-of-a-kind pieces of sculpture and furniture, affirming the sensuous nature of wood. Shutan's work is sought by collectors around the country who know they are buying treasures that will be around for generations. Anne enlivens each piece with her extraordinary wit and craftsmanship. After studying the fundamentals of her craft for several years, Shutan opened her own studio.
Ann Shutan lives and works in Colorado and continues to expand her skills in creating unique works of art in wood that are exhibited in fine galleries and homes around the country. Visit her website to see how she works with the nature of wood to create flowing sculptures and to learn about the custom sculptural doors she creates. http://www.customdoormaven.com/sculpture/.
This work is part of the heARTS of Lyons - An Art Collection All Over Town program.
Sources
http://www.customdoormaven.com/anne/
Additional Information