Palmetto Building
Introduction
Reaching a height of 215 feet (15 stories), the Palmetto Building was the tallest building in the Columbia when it was built in 1913. Erected by the Palmetto National Bank, its Gothic Revival architecture was and still is striking. Its exterior features an elaborate limestone and terra cotta facade whose main decorative element is the palmetto tree motif. Other notable features include foliated pilasters and entablatures, large windows on the 13th and 14 floors with Italian Gothic arches, decorative Tudor arches with palmetto trees, and an ornate cornice at the top of the building. The Palmetto became the most distinguished office building in the city's business district. It is now a Sheraton hotel.
Images
The Palmetto Building was constructed in 1913 and was the tallest building the city at the time. It remains one of Columbia's most attractive landmarks.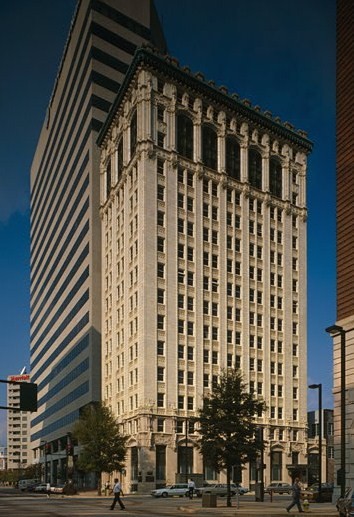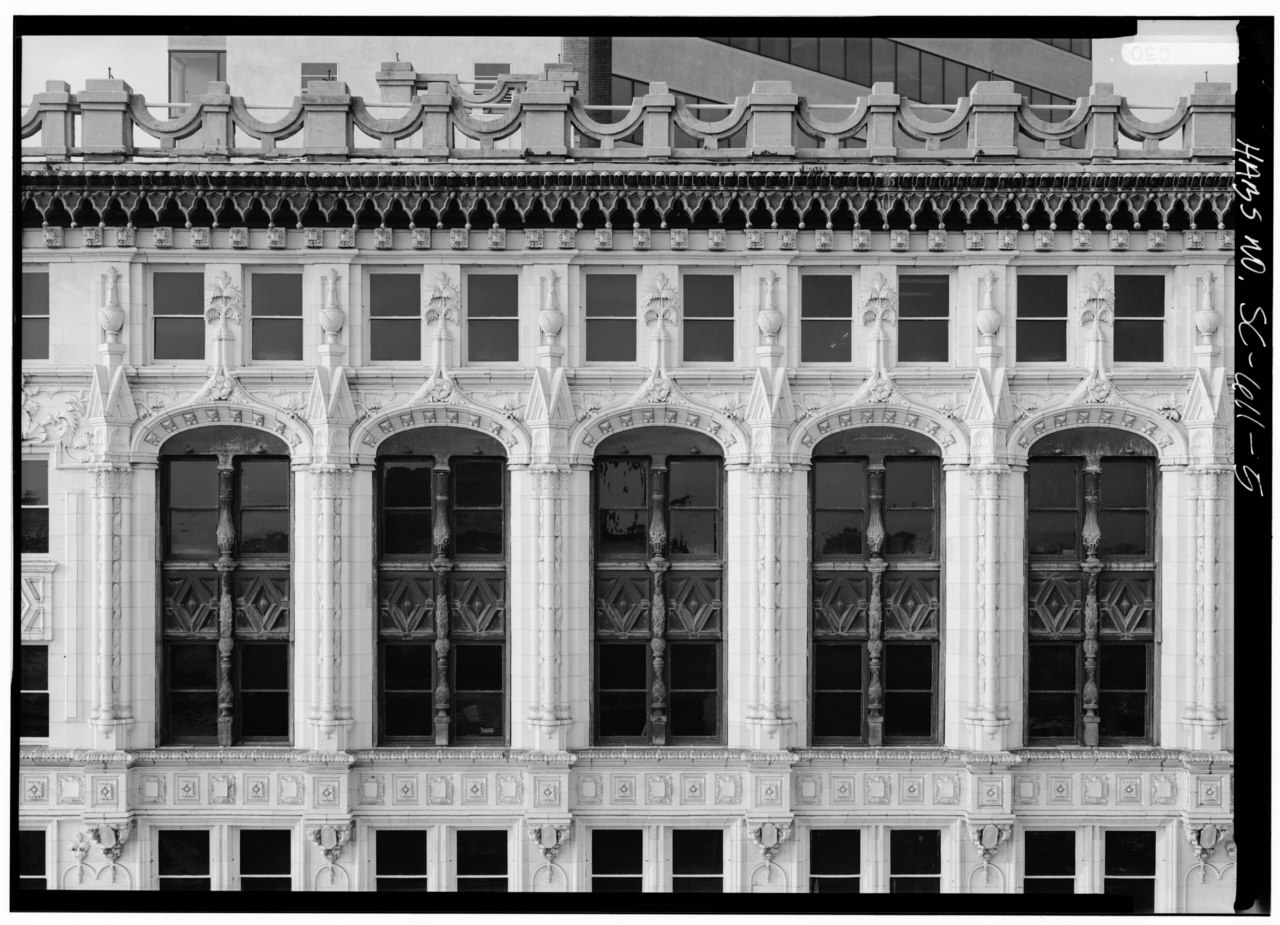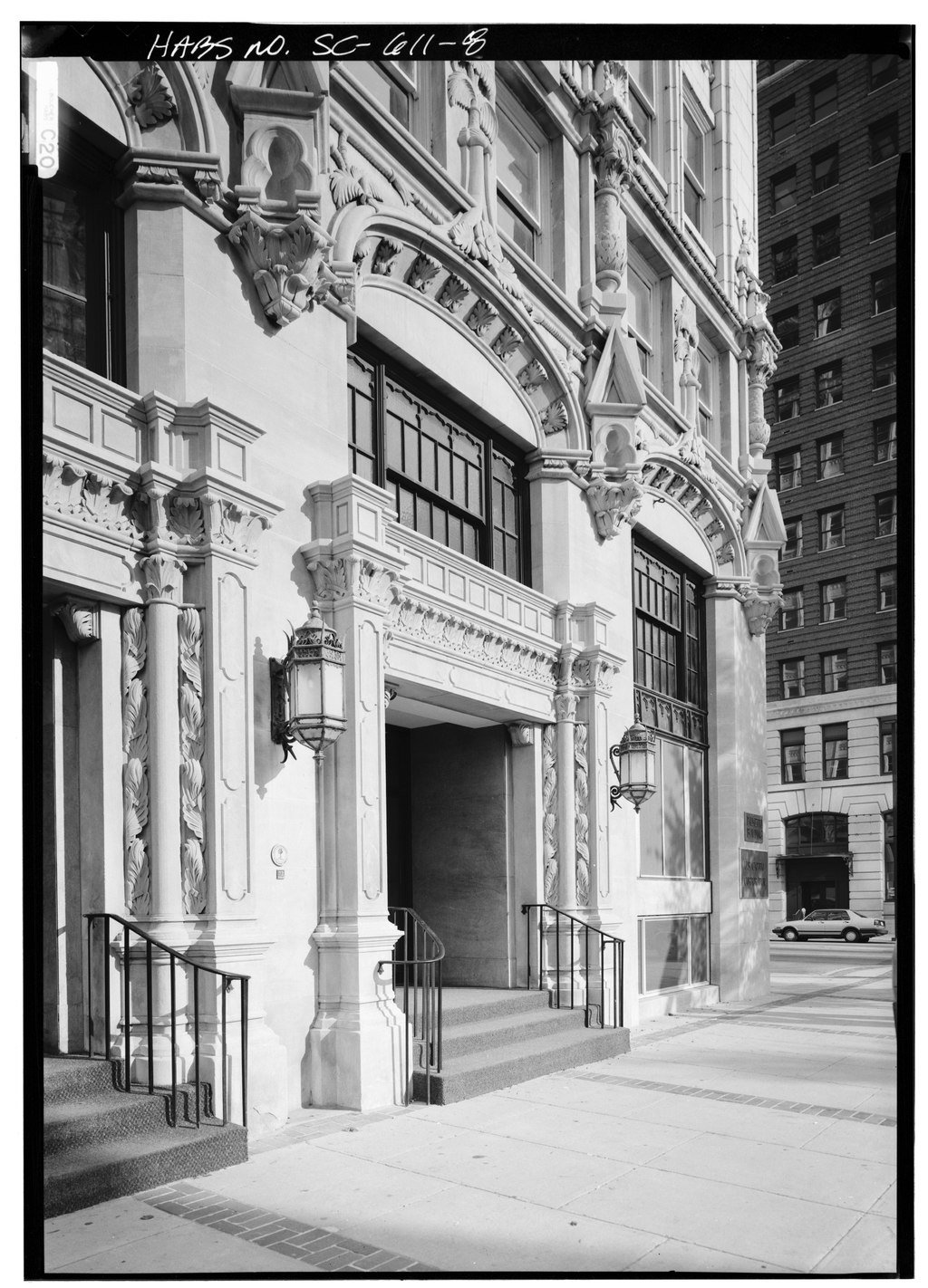 Backstory and Context
Architect Julius Harder designed the Palmetto, which was constructed between 1912 and 1913. Harder was a partner of the architecture firm Israels and Harder, which was located in New York. A local contractor, John J. Cain, was selected to build the Palmetto. The exterior limestone and terra cotta facade covers a substructure of steel and concrete. With these materials, the building was designed to be fireproof. The building also boasted three fast elevators that, contrary to today's fire safety rules, were also touted as life-saving features. The Palmetto Building was added to the National Register of Historic Places in 1980 for its architecture. It was saved from demolition around that time.
Sources
"Palmetto Building." Historic Columbia. Accessed April26, 2021. https://www.historiccolumbia.org/online-tours/main-street/1400-main-street.
"Palmetto Building." National Park Service - National Register of Historic Places Nomination Form. November 25, 1980. http://www.nationalregister.sc.gov/richland/S10817740063/S10817740063.pdf.
Vivian, Daniel. "Palmetto Building." South Carolina Encyclopedia. Accessed April 26, 2021. https://www.scencyclopedia.org/sce/entries/palmetto-building.
Image Sources
All images via Wikimedia Commons: https://commons.wikimedia.org/wiki/Category:Sheraton_Columbia_Downtown_Hotel

Additional Information