Thacher Building
Introduction
The Thacher Building is a three-story Richardson Romanesque commercial building in downtown Topeka. Built in 1888 at a cost of about $40,000, the stone structure is a two-part commercial block form. The stone balustrade capping the building contains a nameplate inscribed "THACHER." The Thacher Building was constructed for Timothy Dwight Thacher, a local businessman, using cottonwood limestone. Thacher settled in Topeka in the 1850s and helped establish the Kansas Republican Party in 1859. The original architectural plans for the Thacher Building by John Gideon Haskell survive; Haskell also designed the Kansas Statehouse. Not many other commercial buildings downtown from the Topeka building boom era survive so intact. The building was listed on its own in the National Register in 1975 and as a contributing building in the South Kansas Avenue Commercial Historic District in 2015.
Images
Thacher Building in 2011 photograph by Finch (KSHS)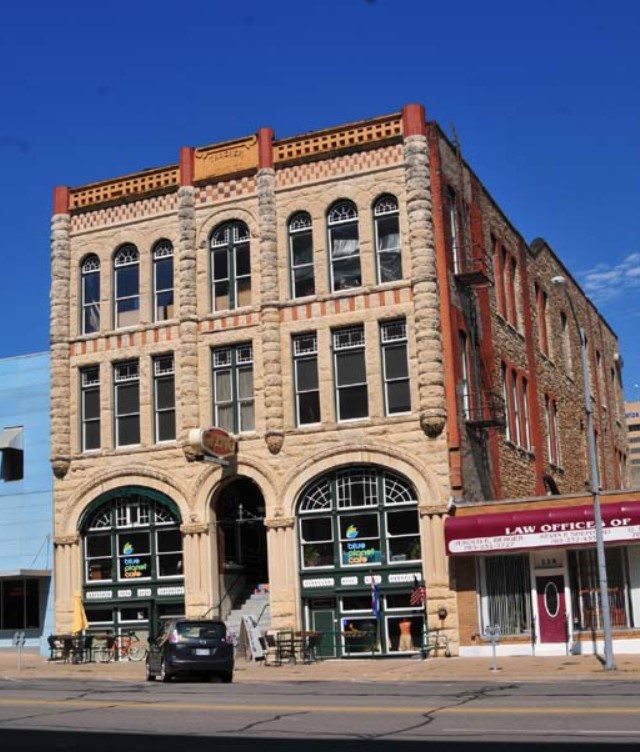 Undated ca. 1920s photograph of Thacher Building (KSHS Archives)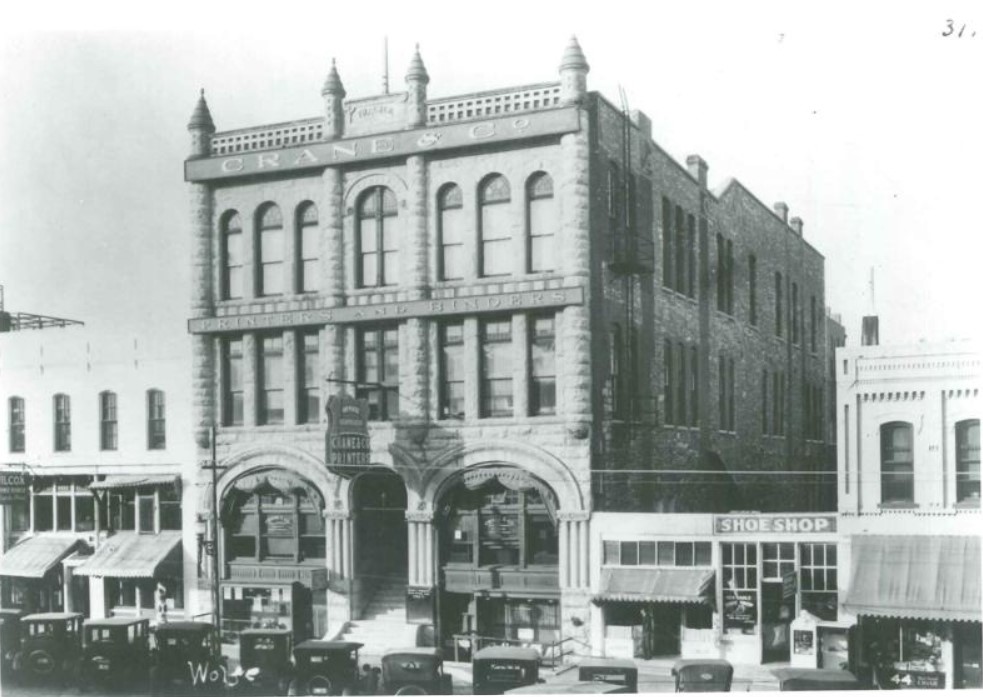 Undated photo of Thacher Building during Hall and O'Donald occupancy (KSHS)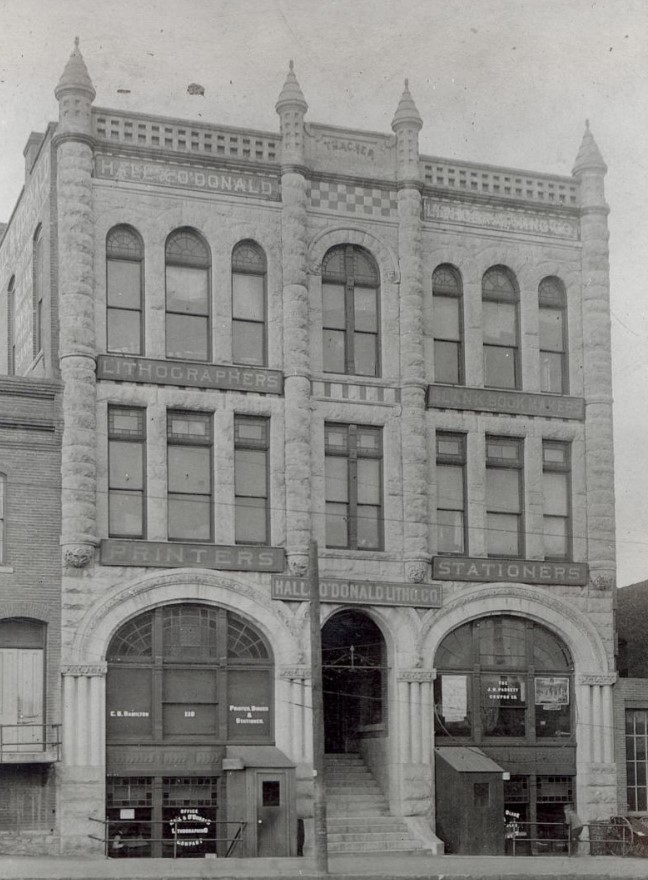 Thacher Bldg. (blue) at 110-112 Eighth Ave. on 1896 Sanborn Map p. 12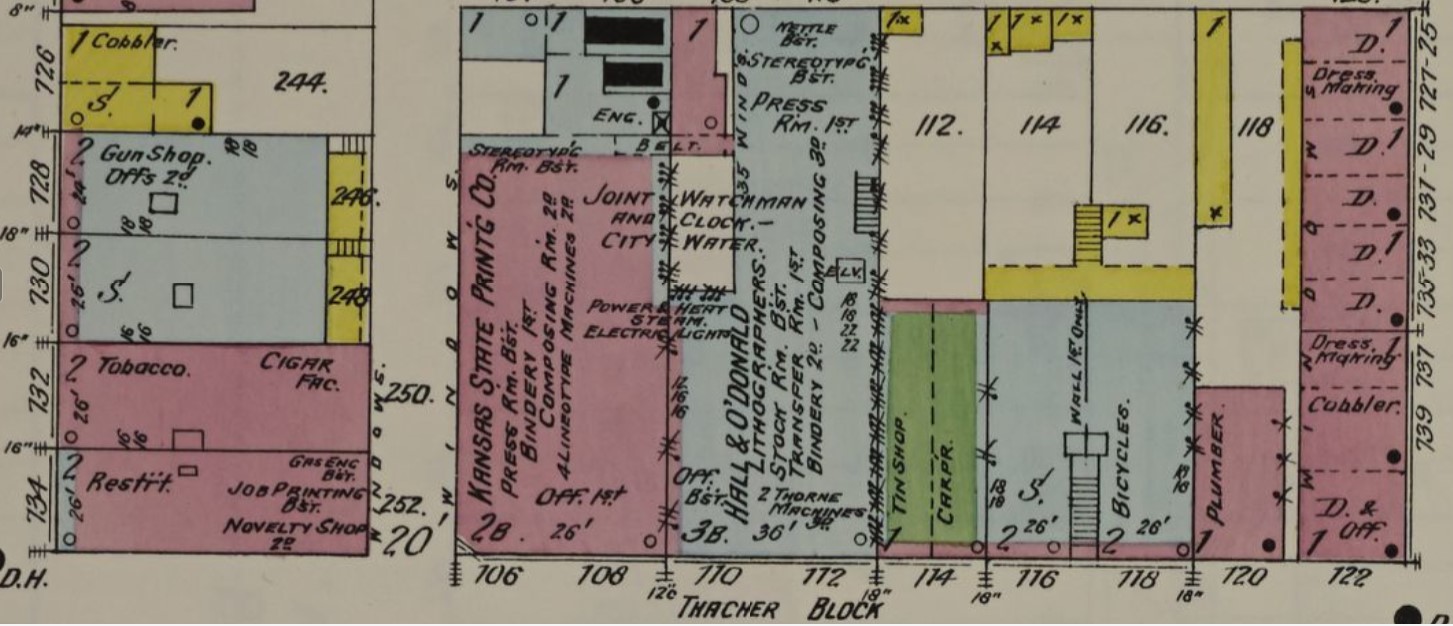 Backstory and Context
The Thacher Building first contained the O'Donald Lithographic Company. A Topeka company named Hall and O'Donald Lithographing incorporated in 1890; the charter was filed with the Kansas Secretary of State on March14th. The new corporation had capital stock of $100,000. The firm was among a list of local newspapers and printers that hired union laborers, according to a Topeka newspaper notice in 1897; the ad urged patrons to place their work with these firms. The 1890s was a decade of increasing tension between laborers and management over working conditions across the country. The firm opened branch offices in Minneapolis, Minnesota and Salt Lake City, Utah by the early 1890s. The company letterhead featured a lithograph of the Thacher Building and the tagline "County, Bank, and Office Outfitters." The east side of the building featured the advertising: "HALL & O'DONALD LITHOGRAPHING/ LITHOGRAPHERS PRINTERS/ BLANK BOOK MAKERS." The company did not charge extra for the stone upon which the engraving was done, but the stone did not become the property of the buyer. A rival printer, the Kansas State Printing Company, was located next door in a brick building, by the mid-1890s. The uppermost floor contained a hall that was used for local lodge meetings.
In 1899, the Thacher Building became the location of George W. Crane and Company, a printer and publisher, when Crane bought the building. George W. Crane was born in 1843 in Pennsylvania. His father moved to Topeka in 1855 to help make Kansas a free state; George followed ten years later, after the death of his mother and his move to Canada to live with an aunt. He began a bookbinding and blank book business in 1868 in the Ritchie Block and became one of the owners of the Daily Commonwealth newspaper. After a fire in the Ritchie Block in 1869 destroyed the publishing business, Crane moved to the Commonwealth Building. In 1873, another fire damaged the business once again. He moved to the Keith Block and established a successful business only to have it destroyed by fire in 1889. By 1893, Crane recovered from debts due to inadequate insurance, and briefly relocated to Kansas City. He returned to Topeka and established the company again as Crane and Company. He occupied only part of the Thacher building at first. George W. Crane passed away in January 1913 after a year of declining health. He was memorialized at a meeting of the Topeka Typographical Union in May 1913 as being broad-minded and tolerant. His business was praised as being the first one established in Topeka to become well known abroad; the company's plant was likened to a home with the workers being its household. George W. Crane was survived by his wife, Fannie K. Crane. Crane and Company evolved into an office supply business and expanded to fill the entire Thacher Building by 1926. The company closed in the 1980s.
The Thacher building was purchased by Gizmo Pictures Inc., a video production company, in 2009 for $350,000. The firm expected to spend around $1 million to renovate the structure and to set up a cafe on the first floor. The buyers were impressed by the building's nine-foot-tall arched windows, ornate decoration, and high ceilings. They painstakingly restored the stained glass windows that were caked in many decades of dirt. Juli's Coffee and Bistro occupies the first floor, offering breakfast and lunch.
Sources
Anonymous. "New Corporations." Wichita Eagle (Wichita, KS) March 15th 1890, 1-1.
Anonymous. "None; notice re: firms with union employees." Topeka State Journal (Topeka, KS) January 30th 1897. , 7-7.
Anonymous. "George W. Crane: A Brief Biography of the Veteran Publisher." Topeka State Journal (Topeka, KS) February 4th 1913, 5-5.
Anonymous. "Printers' Memorial." Topeka State Journal (Topeka, KS) May 26th 1913. Evening ed, 7-7.
Biggert, Robert. Hall & O'Donald Lithographing Company Letter, Biggert Collection of Architectural Vignettes on Commercial Stationery, Columbia U.. October 8th 1892. Accessed August 11th 2020. https://dlc.library.columbia.edu/catalog/ldpd:395579.
Deines, Angela. New life in old Thacher Building, cjonline. September 18th 2010. Accessed August 11th 2020. https://www.cjonline.com/article/20100918/LIFESTYLE/309189864.
Haskell, John Gideon. Thacher Building in Topeka, Kansas, Kansas Memory. Accessed August 10th 2020. https://www.kansasmemory.org/item/display.php?item_id=221207&f=00203998.
Loughlin, Amanda. 177-5400-0138 Thacher Building, 112 SE 8th Ave., Kansas Historic Resources Inventory. Accessed August 7th 2020. https://khri.kansasgis.org/index.cfm?in=177-5400-00138.
Pankratz, Richard D.. NRHP Nomination of Thacher Building. National Register. Washington, DC. National Park Service, 1975.
Image Sources
https://khri.kansasgis.org/index.cfm?in=177-5400-00138

https://khri.kansasgis.org/index.cfm?in=177-5400-00138

https://khri.kansasgis.org/index.cfm?in=177-5400-00138

https://www.loc.gov/item/sanborn03094_004/

Additional Information