Thomas Bulla Farmhouse
Introduction
Thomas Bulla was a schoolteacher who moved from Richmond, Indiana in the year 1832. He was one of the first settlers in the St Joseph County's Clay Township. He bought 160 acres of land and in 1833 built the township's first log cabin. Part of this land now makes up the University of Notre Dame Campus and Bulla's cabin sat where Flanner Hall stands today. The Bulla Farmhouse was built in 1920 in tribute to the Bulla family.
Images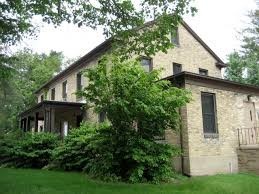 Backstory and Context
Thomas Bulla was born in Dayton, Ohio in 1802, but grew up in Richmond, Indiana alongside many influential Quakers including Levi Coffin. The Bullas were Quakers from Guilford County, North Carolina, the same county from which Levi Coffin migrated to Indiana, and the county adjacent to Asa Bales, Simon Moon, and Jacob Pfaff (other influential "stationmasters" of the Underground Railroad). Bulla's father, William, was notably abolitionist, one account tells of him engaging in a physical altercation with a slave-hunter in 1823 to help a fugitive slave on his journey to freedom. This altercation cost William a $1000 fine, sending the Bulla's into deep debt.
Bulla moved to St. Joseph County in 1832 where he bought 160 acres. He continued teaching there in a small log cabin. He became a very influential person in the community and became good friends with Father Edward F. Sorin (founder of the University of Notre Dame). Bulla was for a time one of the only abolitionists in Clay township, and was a significant figure in the anti-slavery community of St Joseph County. Bulla's situation near the Michigan Road allowed him to serve a role of providing food and clothes to passing fugitives and other Underground Railroad operators alike. An account from Thomas H. Bulla (Bulla's Son) in 1856 tells of a man knocking the Bulla cabin door asking for food for two fugitive men hidden in his wagon and an abundance of food was gathered by Mr. Bulla and placed in the wagon.