Cradle of basketball
Introduction
After Crawfordsville won the first state championship in 1911, they dominated basketball for the next decade. eight of the next 10 championships came from within 30 miles. As popularity grew more schools become part of the tournament and the champions would spread further throughout the state. Basketball was an easy sport to sell to the schools, cheap just a ball and a hoop, and required 5 members to be on a team and no equipment. The sport was also perfect for the winter. So many high schools realized this and quickly joined the tournament.
Images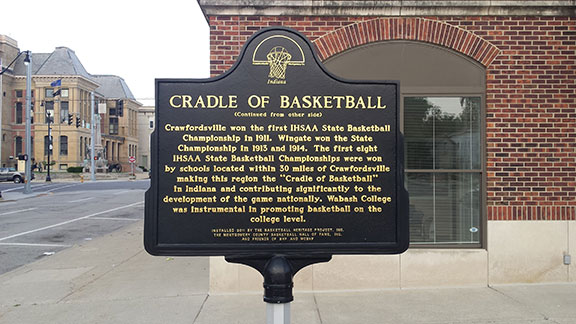 Backstory and Context
This is a history marker that is on the street of crawfordsville and explains the significance of basketball history in that area. The plaque celebrates the rich history of basketball in that area and says that in 1911 Crawfordsville won the championship and then the next 8 championships were won by schools within a 30 mile radius ultimately dubbing this area "the cradle of basketball" in Indiana. The sport of basketball was too big and to exciting to solely be in the high school level. Although Indiana University was the first University to have records of playing basketball, Wabash College played a more integral roll in spreading its popularity. Wabash college, which is conveniently in Crawfordsville, played a huge roll in promoting the sport at a college level. In 1922 the first intercollegiate basketball tournament was held, and Wabash college won the championship game. It is important that Wabash College was in the cradle because it meant that it had an effect early and caught the hysteria of basketball early on. With Wabash winning the championship, and being from the cradle, this solidified even more the legitimacy of this region being the birthplace of basketball In Indiana.
Sources
Cradle of Basketball Historical Marker. (2016, June 16). Retrieved May 04, 2020, from https://www.hmdb.org/m.asp?m=41945
Keefer, Z. (2018, March 16). History of our Hysteria: How Indiana fell in love with basketball. Retrieved May 04, 2020, from https://www.indystar.com/story/sports/basketball/2014/03/14/how-indiana-fell-in-love-with-basketball/6415971/