New Order Amish Meeting House
Introduction
Author-Uploaded Audio
This is the only Amish Meeting House in Indiana. Although most Amish meet in the living rooms of their member's houses (like in the Stahly-Nissley-Kuhns Farmhouse), the variant of New Order Amish who live in the Rosebud area south of Salem, Indiana instead chose to construct a Meeting House, which took on the functions of both a church and town hall.
Images
New Order Amish Meeting House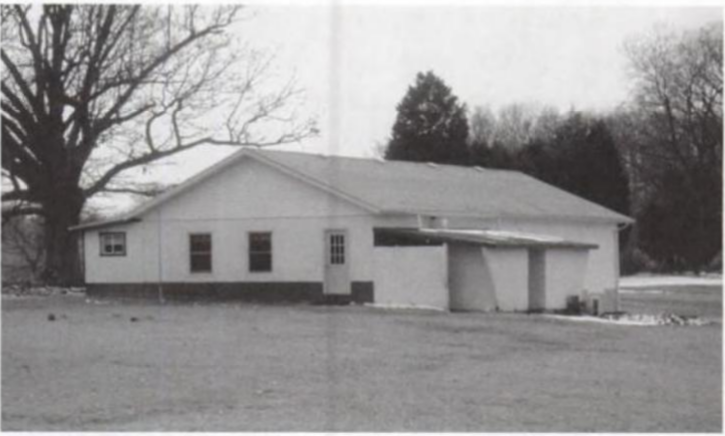 Backstory and Context
Author-Uploaded Audio
Occasionally referred to as the "Amish Brotherhood", New Order Amish communities are accepting of more modern communications and travel technology, allowing their members to keep landline telephones in their homes if they choose and travel by airplane if desired (though horse and buggy is still the predominant way to travel over land). The New Order movement originated in Ohio during the 1960's in a split with the "Old Order" Amish church on the appropriateness of drug use and a courtship practice known as "bundling". New Order Amish have eliminated the use of tobacco and alcohol products and placed a ban on "bundling", which involved having two courting Amish youth spend a night together in the same room without engaging in any sexual conduct. Many New Order Amish also have stronger evangelical practices than their Old Order kin, organizing Sunday School and church outreach programs to their neighboring communities
The New Order Amish movement is not nearly as uniform as the Old Order, many of them still meet in their member's homes on a rotating basis for example, although clearly the Rosebud community chose differently. Time will tell if more deviations from the practices of the Anabaptist faith will arise within the Amish community.
Sources
Meyers, Thomas J. Nolt, Steven M. An Amish Patchwork: Indiana's Old Orders in the Modern World. Quarry Books, 2004.
Nolt, Steven M. Plain Diversity: Amish Cultures and Identities. Johns Hopkins University Press, 2007.
Differences Between New Order and Old Order Amish, Amish America. Accessed May 4th 2020. https://amishamerica.com/whats-the-difference-between-new-order-and-old-order-amish/.
Image Sources
An Amish Patchwork: Indiana's Old Orders in the Modern World by Meyers and Nolt pg 18