assembly hall
Introduction
I chose assembly hall as a pillar within Indiana athletics because this school is the center of Indiana basketball. Every kid grows up wanting to put on the candy stripes. Starting in the driveway shooting in small towns as a kid. These kids would aspire to one day walk into assembly hall one of the greatest venues for basketball. One of the greatest basketball programs in the nation. Assembly hall is the most recognizable court within the whole Hoosier states. Countless legends would go on to play there as well as coaches that will forever live within the basketball college hall of fame. Names like Isaiah Thomas, bobby knight are just a few.
Images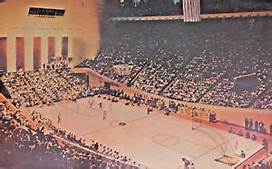 Backstory and Context
The team has won 5 national championships in its history. Boby knight is the most famous coach of the Hoosiers he would later be fired for player abuse. The coach would make his historical return in the year 2020. It would be over 10 years since the coach would make his way back to blooming-ton. The state of Indiana has always been home to some of the nations best basketball players. A huge part of Indiana basketball culture would be having home grown Hoosiers. The Hoosiers have made the NCAA tournament 66 times making them tied for 6xth national for title appearances .When looking at the origins of basketball at IU the first known documentations of organized basketball was played in a barn. The original assembly hall was made in 1891 though this would not be the current location of where the Hoosiers play today. This would be the birth place of Hoosier hysteria this would be from 1896 to 1917. Assembly hall is a place that is near and dear to all of Hoosier nation. Students come to school to each the team play. athletes dream of playing in front of 15,000 storng in the hopes of adding a new banner.
Sources
Accessed April 17th 2020. https://indianahq.com/indiana-basketball-history/.
https://www.thedailyhoosier.com/retracing-glory-the-originial-assembly-hall/