Conn-Selmer Instrument Factory
Introduction
This tour begins with what can be argued as the beginning of large-scale musical innovation in Indiana. The ideas of musical instrument-maker Charles Gerard (C.G.) Conn since 1873 have not only highly influenced the way the musical instrument industry in the United States has developed, but also helped give Elkhart, IN the name of the "Band Instrument Capital of the World." Musical instruments produced in Elkhart have been used and revered all over the world, and the improvements to instruments that were made in Conn's factories led to more sophisticated music and sounds in concert and marching bands.
Images
Conn-Selmer Factory c. 1950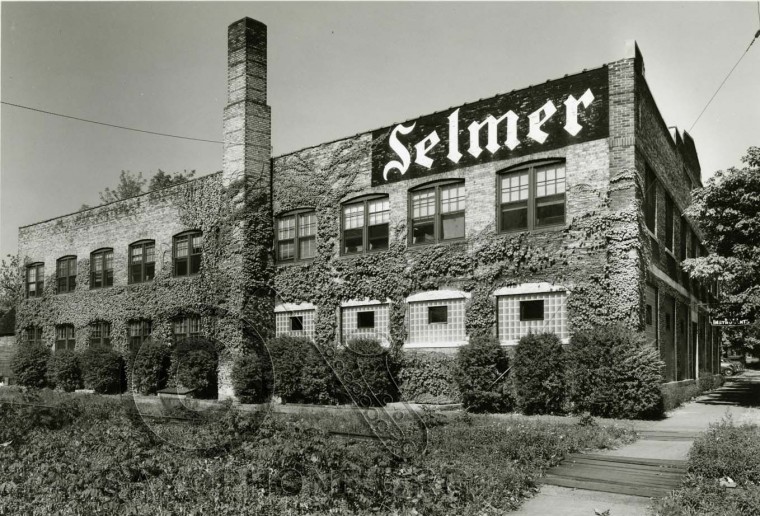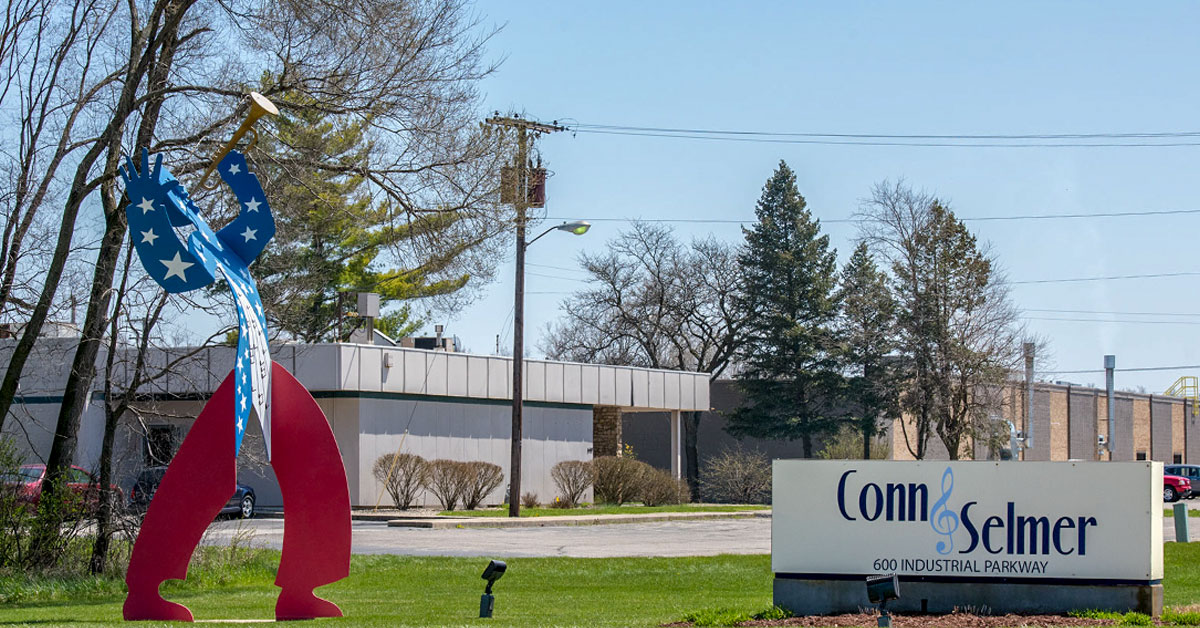 Herman B Wells Missing Instrument Case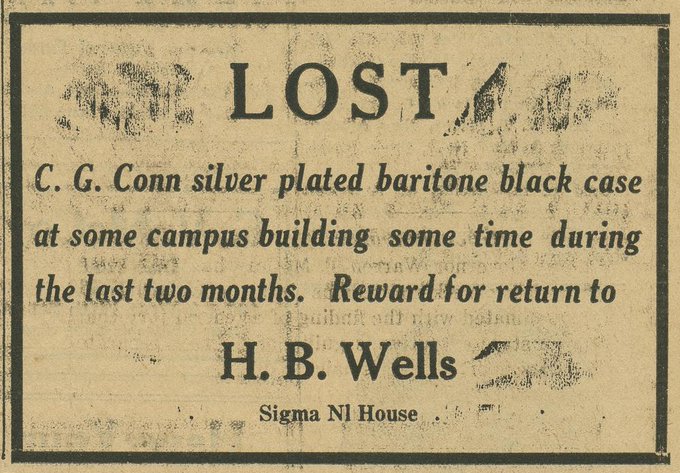 Backstory and Context
In 1873, Charles Gerard (C.G.) Conn invented a brass mouthpiece for a cornet that featured a rubber rim, which he began manufacturing for sale in the same year. The success from these sales led him to begin manufacturing whole instruments by the year of 1875. By 1876, he had joined forces with a French instrument maker to introduce a distinct cornet, and he opened a factory in Elkhart, IN that would slowly begin manufacturing a variety of instruments. Conn's instruments were endorsed by several leading musicians and directors, and he became internationally known for inventing many improvements to instruments, many of which earned him patents. By the year of 1905, Conn owned the world's largest musical instrument factory, leading Elkhart to be given the name of the "Band Instrument Capital of the World." The popularity of Conn's instruments led to the attraction of musicians and performers on an international level, which led to the creation of institutions such as the Conn Conservatory of Music at Elkhart (1896-1903) and The Elkhart Municipal Band (1938-present). The Conn company also promoted school band programs and one of the very first research labs for musical instruments. Conn, because of his work in the musical instrument industry, became known as one of the most modern and entrepreneurial of the instrument manufacturers in the United States, and his significant and influential inventions regarding wind, strong, and percussion instruments gave Elkhart the lasting reputation of being a powerhouse for band instrument manufacturing. At one point, Elkhart was home to 60 instrument manufacturers, which produced roughly 40% of band instruments worldwide. While only a few major companies remain there today, including the current Conn-Selmer company, Elkhart still maintains a rich history of musical innovation and development.
The Conn Instrument factory of Elkhart, IN seems to be a fitting beginning of this tour, particularly because it is an early example of Hoosier industrial work, and has led to many important and highly influential developments in the world of musical instruments. Selmer-Conn instruments became very popular for use by music students in the state of Indiana, one example being Herman B. Wells of Indiana University. In an IDS News notice from 1924, Wells indicates that he lost the case for his Conn-made baritone in the Bloomington campus, which is an interesting anecdote that connects the Conn factories with IU. In addition, this shows that after a few decades of production, Conn instruments had become popular among students engaged in the musical arts, and this popularity only increased the quality of musical performances, marching-style or otherwise.
Sources
Herbert, Trevor. "Selling Brass Instruments: The Commercial Imaging of Brass Instruments (1830-1930) and Its Cultural Messages." Music in Art 29, no. 1/2 (2004): 213-26. Accessed April 2, 2020. www.jstor.org/stable/41818763.
Hash, Phillip M. "The Conn Conservatory of Music at Elkhart, Indiana: 1896-1903." Journal of Historical Research in Music Education 38, no. 1 (2016): 25-44. Accessed April 2, 2020. doi:10.2307/26376917.
Quigley, Barbara. "Marching and Concert Bands Photographs, CA. 1860s-1945." Indiana Historical Society (17 January 2018). 
Image Sources
https://www.saxophone.org/uploads/museum/75/12375_761_516.jpg

https://www.conn-selmer.com/application/files/5115/2511/8159/about-us.jpg

https://twitter.com/IUBArchives/status/1255865296860123138/photo/1