Mackey Arena
Introduction
Having outgrown Lambert Fieldhouse, it was decided to construct a new stadium for basketball on the campus of Purdue University, next door to the classic gym. This gym, however, would be one for the modern age: a circular dome with an aluminum roof to amplify the 14,000-strong crowd and further intimidate the competition.
Images
Mackey Arena in its original form, prior to the extensive renovations.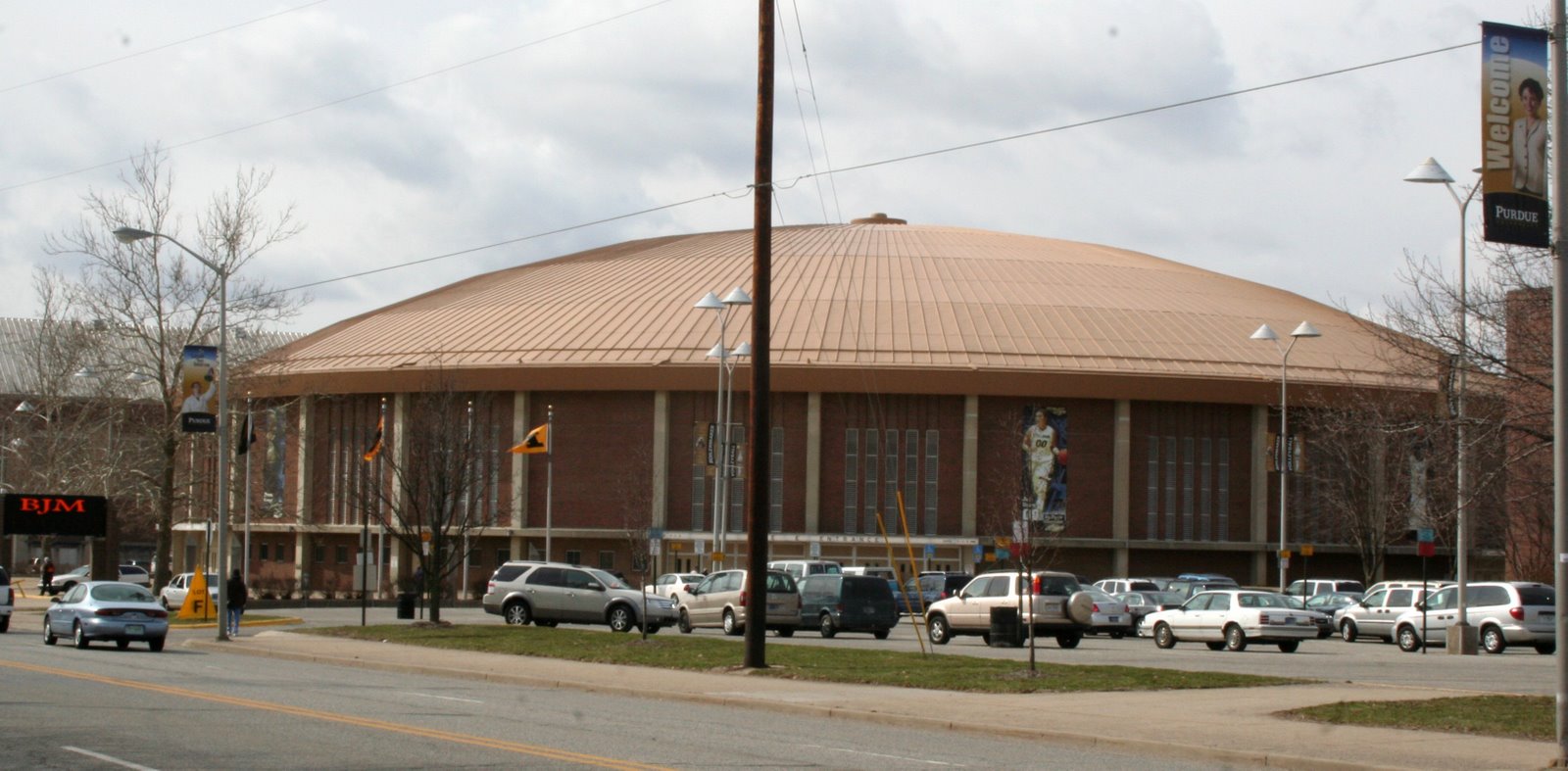 Backstory and Context
Having served as Purdue's home court for over fifty years, through renovations and expansions, Mackey remains a beloved icon to the Boilermaker-faithful. Arguably home to the greatest memories of Purdue basketball, both of their Final Four team played here, with the 1969 team led by Rick Mount advancing all the way to the national title game before falling, and the 1979-80 Boilers, led by Lee Rose, fell to UCLA after proving themselves as one of the best four teams in the nation[2]. The next year, the most iconic coach in Purdue history, Gene Keady, would take over, having countless memorable battles with IU legend Bob Knight through his twenty-four years as head man at Purdue.
With Keady at the helm, the Boilermakers would win six Big Ten titles, and Keady would be honored by having the court renamed after him[3].
Mackey Arena has regularly been a house of horrors for Indiana, as wins here have been very rare since the facility opened more than fifty years ago. The only double-overtime game in the rivalry's history took place here, in 2005. The Boilermakers, led by star Carl Landry, expected an easy win against a rebuilding Hoosiers team, but Indiana managed to win 75-73 in double-overtime, spoiling Coach Keady's final home game against the Hoosiers[1].
Sources
[1] "Hoosiers avoid another last-second heartbreaker," ESPN, 15 January 2005.
[2] Thompson, Ken. "50 Memorable Mackey Arena Games: March 8, 1969 vs. Indiana," Lafayette Journal & Courier, 15 October 2017.
[3] Hall, Erik. "See former Purdue coach Gene Keady applaud Bobby Knight return to Indiana basketball game," Lafayette Journal & Courier, 8 February 2020. https://www.jconline.com/story/sports/2020/02/08/see-purdue-coach-gene-keady-bob-knight-return-iu-basketball/4701801002/
Image Sources
https://confessionsofasportsjunkie.files.wordpress.com/2008/04/img_1211c.jpg

Additional Information