Stuart Field (1892-1939)
Introduction
A tradition nearly as old as the school itself is Purdue's football rivalry with Indiana University. While other rivalries for the school have come and gone, this one has remained constant. One of its early sites was Stuart Field, home of Purdue Boilermakers football from 1892 until 1923, long-since torn down but far from forgotten.
Images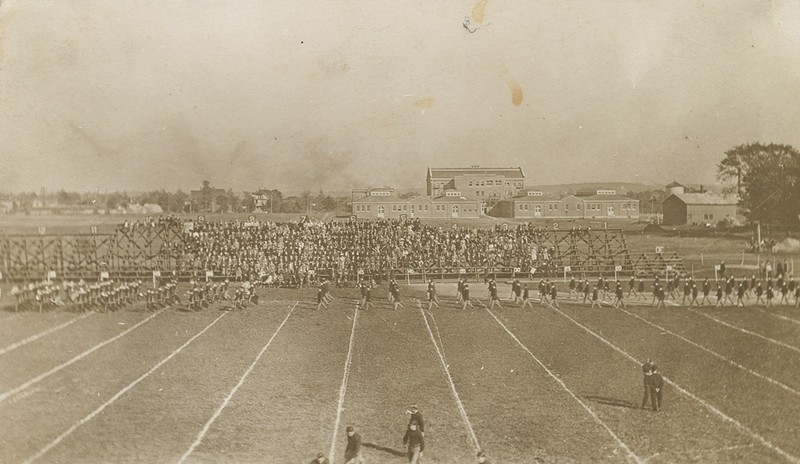 Backstory and Context
A tradition of excellence is continued today at the site, as the field of Stuart Field is today the site of the Elliot Hall of Music, one of the top concert venues in the nation [1]. The stadium played host to some of the earliest on-field encounters of the Purdue and IU teams, including the largest win by margin of victory ever by one of the schools over the other. In the 1892 match-up, the first year of the stadium's existence and the first time it played host to the Hoosiers, they welcomed them to town with a 68-0 victory. In fact, the first three games played were dominated by Purdue, all played here, with the Boilermakers scoring a combined 192 points to IU's 0[1]. Purdue was dominant for much of the rivalry's early history, and much of it took place in this stadium. Stuart Field would lose the football team in 1924 when the Boilermakers moved to Ross-Ade Stadium, their current home. Stuart Field would continue to play host to the Purdue baseball team until 1939, and was leveled once they too had moved out. To get a sense of what the stadium may have looked like, I strongly recommend looking up Elliot Hall of Music from Google Maps and obtaining an aerial view. The "horseshoe" appearance of the original stadium is clearly very visible, showing that Purdue did not attempt to erase the history of its existence entirely.
Sources
[1] Purdue University. "From the Archives revealed: Baseball on Stuart Field," Purdue Today, 30 March 2018. https://www.purdue.edu/newsroom/purduetoday/releases/2018/Q1/from-the-archives-revealed-baseball-on-stuart-field.html
http://collections.lib.purdue.edu/bucket/stadium.php
Image Sources
Purdue Libraries - https://i0.wp.com/blogs.lib.purdue.edu/news/files/2018/03/PPBUC02261.jpg?w=1200