Bragg Memorial Stadium Florida A&M University
Introduction
Bragg Memorial Stadium opened in 1957 and is home to the Florida A&M Rattlers Football team. The stadium is named after the school's father and son duo of Jubie and Eugene Bragg. Jubie was one of the school's first athletic directors and his son Eugene, a former All-American at FAMU was the head coach in 1934-1935. The stadium seats 25,000 and has undergone numerous renovations and upgrades.
Images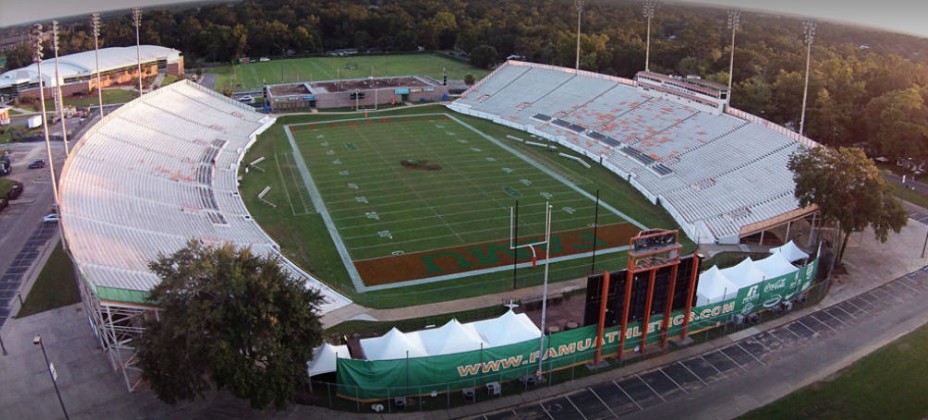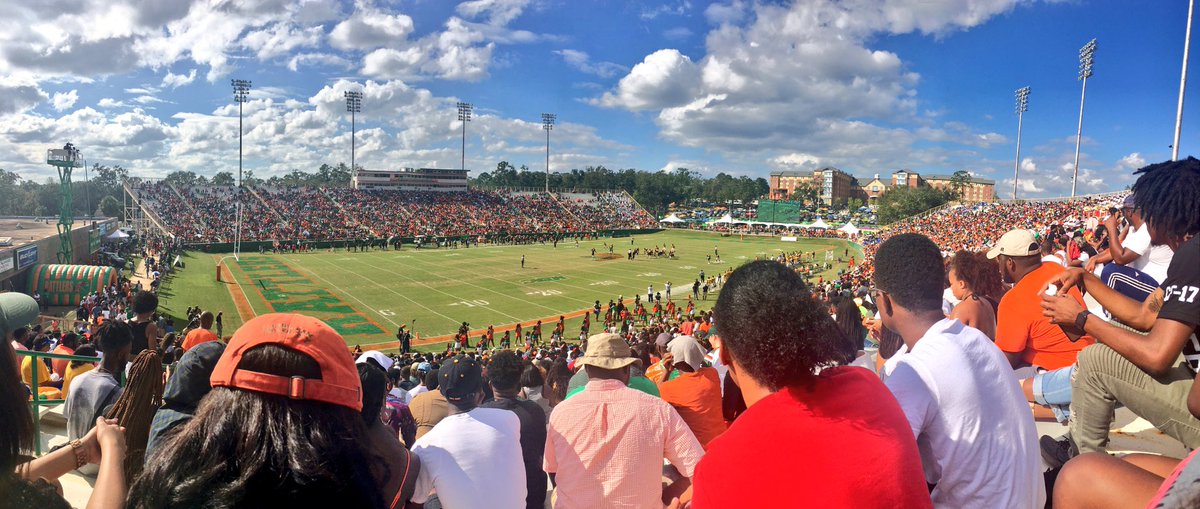 Backstory and Context
Before 1947, the Rattlers first football field was located on a cow pasture on the south side of campus. The games where then moved to a grass field located behind a hill behind the current Gaither Gymnasium. The field was originally moved to that location so fan could use bathroom facilities at nearby dormitories. In the late 1950s, the Florida Legislature approved funding for a new stadium. The original Bragg Stadium opened in 1947 the team competed there from 1947 to 1956. In 1957 the new 10,500 seat stadium was completed, later bleachers were added which brought the total capacity to 13,200.
In the 1980's the stadium was too small for the FAMU football program and on top of that it was condemned by State of Florida engineers. The school's administration lobbied the State Legislature to provide more funding to the university's capital improvement efforts. Their efforts paid off and the University was appropriated over a half million dollars for the stadium's renovation and expansion. The improvements began in 1981.
By 1982, the renovation and expansion had made the stadium a 25,500-seat facility with press box elevator, a $125,000 scoreboard with message center, a built-in sprinkler and drainage system, improved restroom, concessions,ticket booths and paved parking areas. The projects were completed by 1983.
Since then Bragg Memorial Stadium has undergone more minor renovations. FAMU sit atop HBCU rankings in overall attendance.
Sources
HBCU Sports Rankings: Who has the best athletic facilities?, Sistabrutha. February 22nd 2018. Accessed April 11th 2020. https://sistabrutha.com/hbcu-sports-rankings-who-has-the-best-athletic-facilities/.
Bragg Memorial Stadium, FAMU Athletics. Accessed April 11th 2020. HBCU Sports Rankings: Who has the best athletic facilities?. https://famuathletics.com/sports/football
Wikipedia contributors. (2019, November 23). Bragg Memorial Stadium. In Wikipedia, The Free Encyclopedia. Retrieved 14:23, April 14, 2020, from https://en.wikipedia.org/w/index.php?title=Bragg_Memorial_Stadium&oldid=927614491