Drake Stadium
Introduction
University of California Los Angeles is a premier division 1 school due to the legacy various athletes have left. One of the branches for UCLA Bruin Athletics program is the Track & Field/ Cross Country team who train and compete at Drake Stadium on campus. Drake Stadium was founded in 1969 and later dedicated to Coach Elvin C. "Ducky" Drake for his accomplishments while at UCLA from 1923 to 1972. As the University of California Los Angeles continues to expand Drake Stadium for its T&F and Soccer programs, it is important to note the people whose careers flourished by attending this college. Drake Stadium is important to various athletes including the late Florence Griffith Joyner, who once competed at California State University Northridge. Attending UCLA and following the direction of her coaches at Drake Stadium shows Florence's perseverance and dedication to develop her skills and become a well-versed student athlete.
Images
WISPPMEDIA captures UCLA Drake Stadium from a sky level view, as it sits behind campus housing.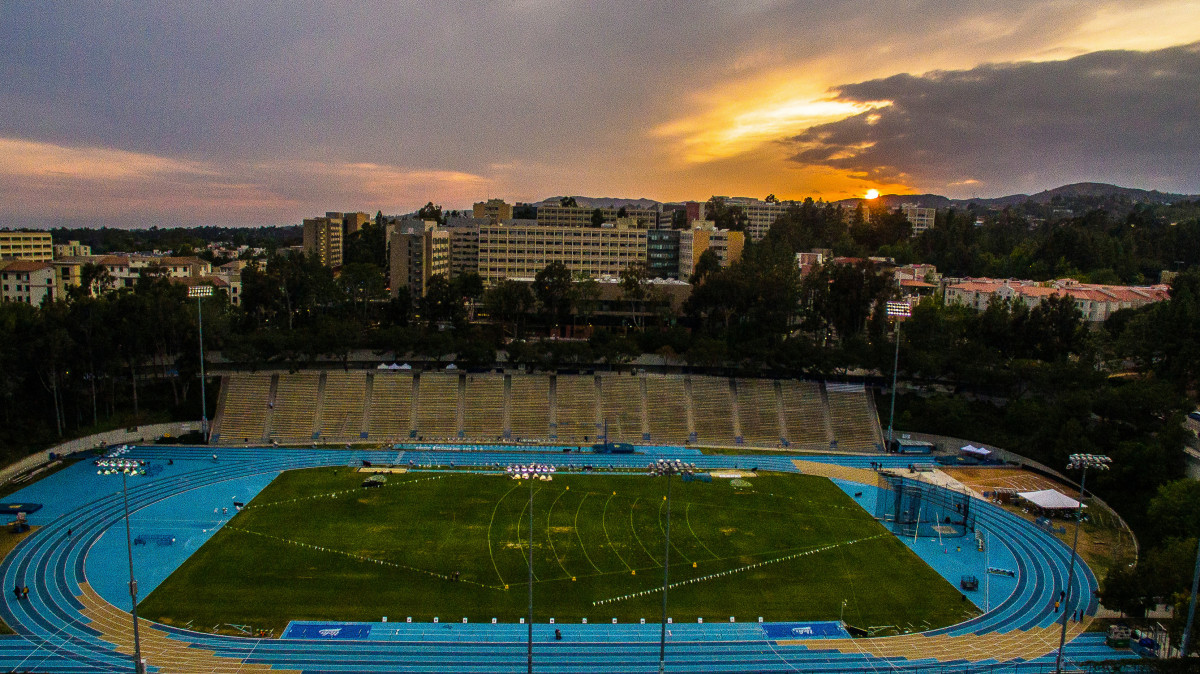 UCLA Athletics captures the new Drake Soccer and Track & Field Stadium post 1996 revitalization in "Facilities- Drake Stadium".

Drake Stadium is named after UCLA Track Coach Elvin C. "Ducky" Drake, UCLA Library University Archives captures Drake during his title as Athletic trainer for UCLA in 1947, with a football athlete.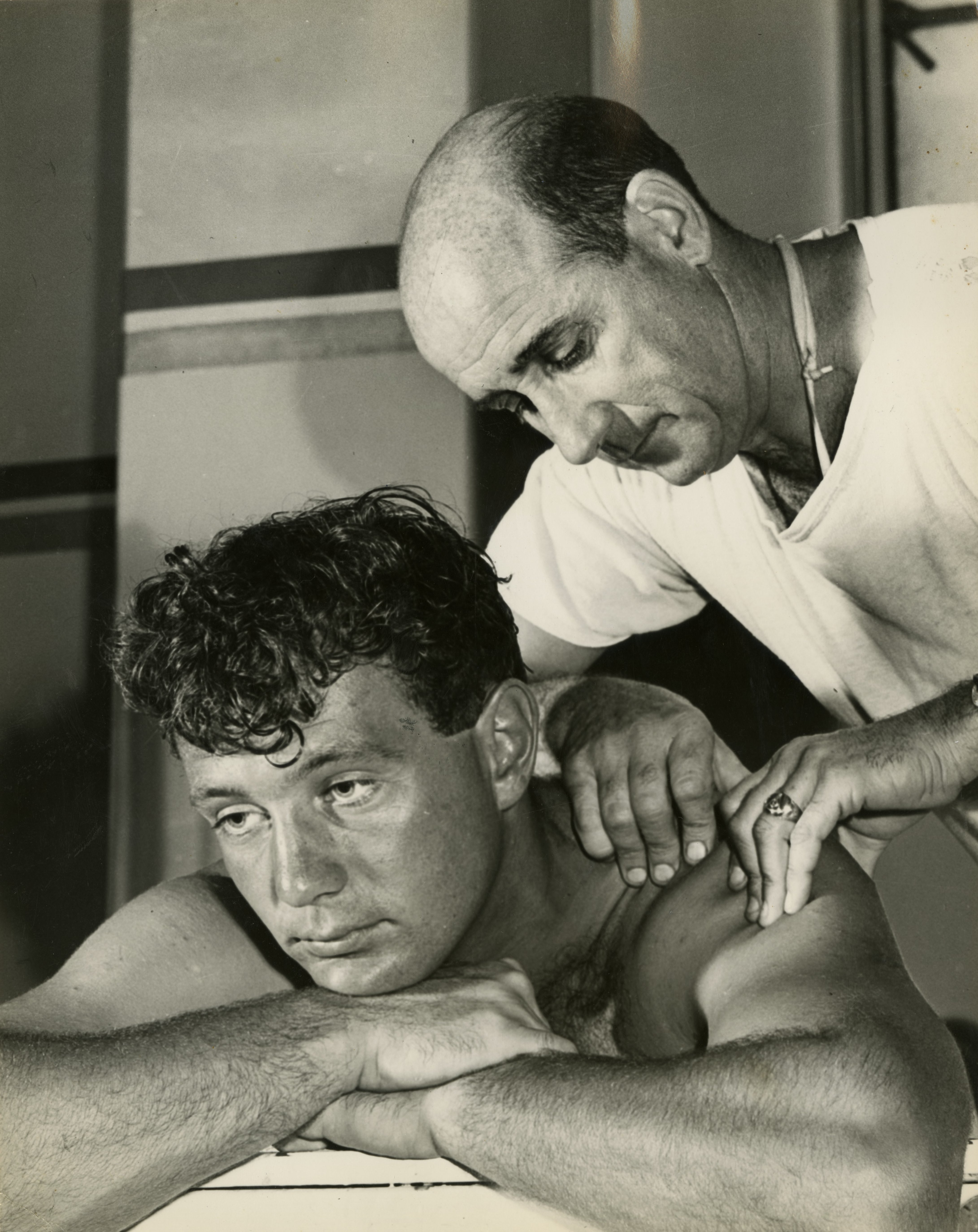 UCLA Library University Archives captures the original model for Drake Stadium before remodeling project in 1996.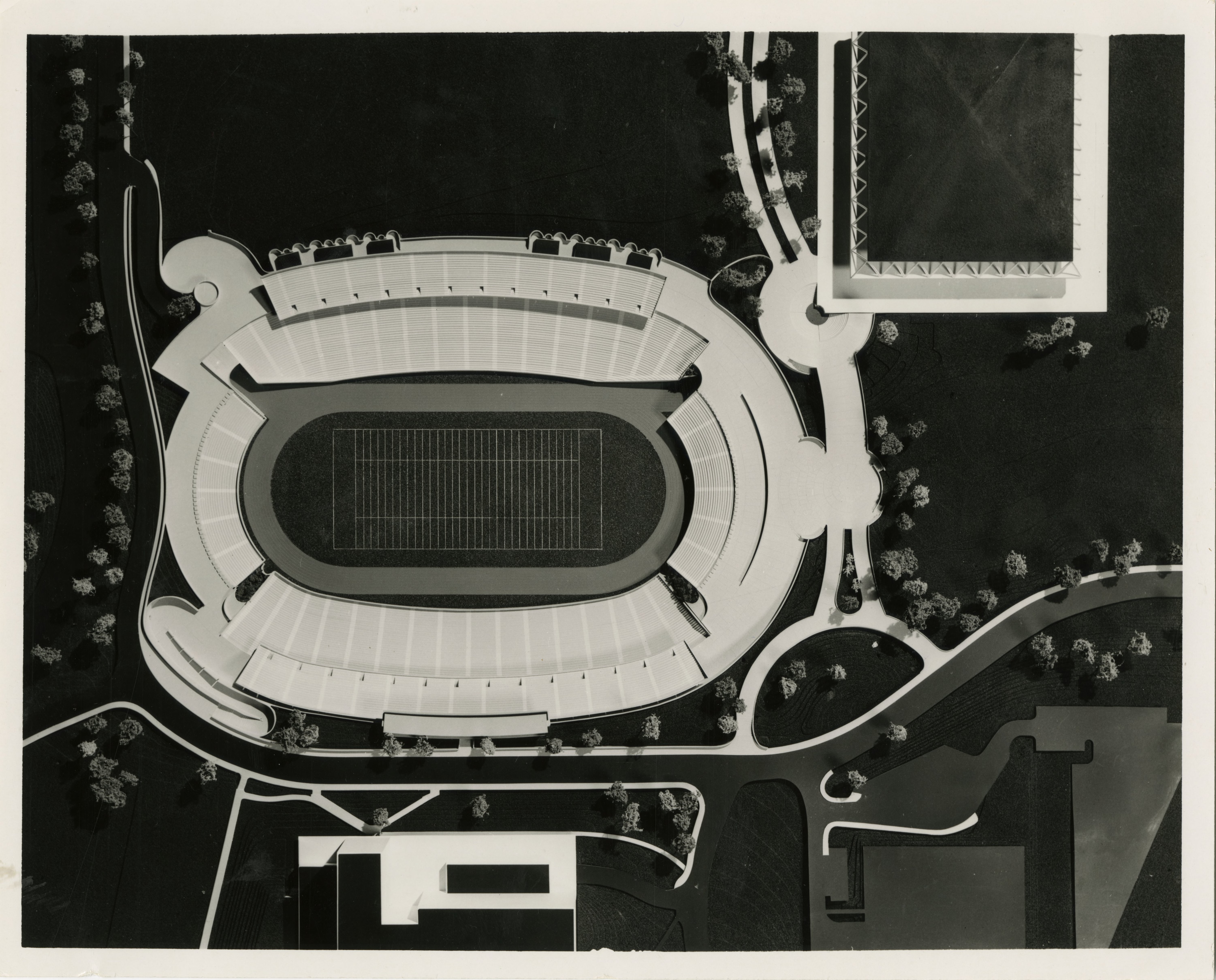 UCLA Library University archives captures Track and Field after NCAA championship in 1983, this team includes Senior Florence Griffith ( second from right first row) who by this time established her own personal best collegiate record in 400 meter dash.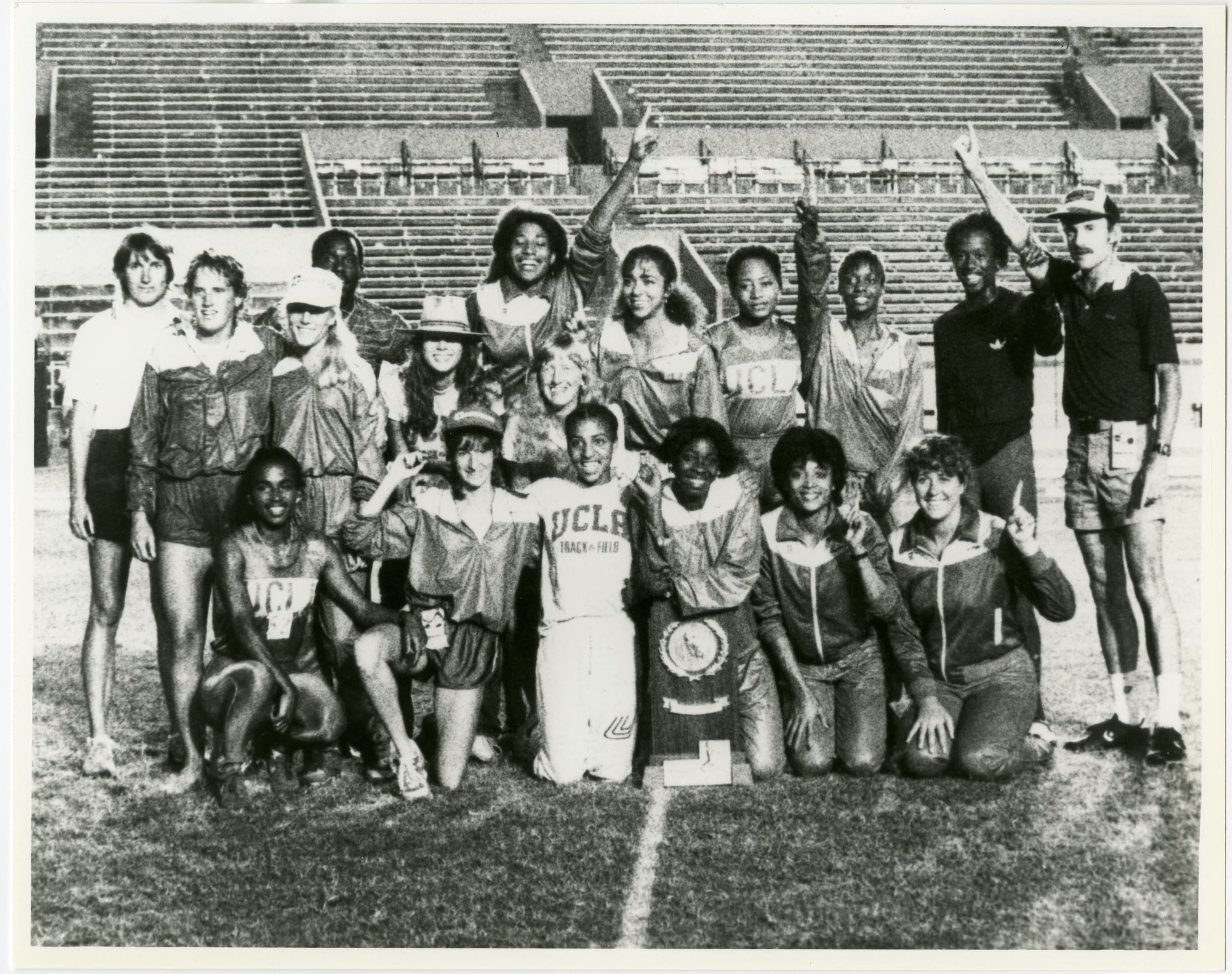 Backstory and Context
University of California Los Angeles is home to several professional Track and Field Athletes that had the opportunity to compete on Bruins T&F team. Drake Stadium was built in1969 and during 1973 it was dedicated to UCLA's alumni Elvin C. "Ducky" Drake. Drake's contribution to UCLA expanded far beyond his academics, he competed on UCLA Bruins Track and Field and Cross-Country Team. Shortly after graduation he elevated to assistant coach over the running program, athletic trainer, and eventually became head coach for T&F program. Mr. Drake's dedication to sports in general helped create a blueprint for any college-athlete that attends UCLA.  
After Drake stadium opened its doors on February 22, 1969 it became a household name for Los Angeles and contributes to the Track and Field sport overall. Along with hosting championships Drake Stadium continues to contribute to championships. Since Drake Stadium's opening day, it has added several upgrades to make it a multipurpose field. In 1996, the field was converted into a Soccer and running field to accommodate soccer and T&F teams (1) and currently sits 11,700 spectators comfortably(2). According to Bruin Athletics, it was the homesite for several American Amateur League Championships, and other California based national championships for both high school and collegiate teams. Within the 1970 era some of the California based national championships include Pacific C- 8, Pacific C-10, National T&F championships (1).  
"Since its inaugural meet on Feb. 22, 1969, the stadium has been the site of numerous championship meets, including the National AAU in 1976-77-78, the Pacifi c-8 Championships in 1970 and 1977 and the California CIF High School meet in 1969-71-77. On May 21-22, 1988, Drake Stadium hosted the Pacifi c-10 Track and Field Championships, and on April 30-May 1, 1994, the facility hosted the fi rst-ever California-Nevada Championships." (1) 
Drake Stadium continues to transform what is considered Track and Field royalty, as some of the top performing athletes has attended UCLA and joined their running program. There are numerous people I could name, but I want to include one person who transformed their career by joining UCLA: Florence Griffith Joyner. It was here at Drake Stadium where Florence learned the fundamentals and skills to become a 200-meter runner during the 1981-1983 seasons. She is listed in UCLA's Hall of Fame class of 1998 for Track and Field and is recognized for some of the records she holds at UCLA.  Florence as of 2017 is listed in UCLA's All-Time Top Ten places for the 100m and 200m dash (5).  
Collegiate UCLA ALL TIME TOP 10 Chart Records held by Florence Griffith  
1st in 200-meter dash: 22.23 seconds . 
2nd in 100-meter dash: 11.06 seconds. 
2nd in 400- meter dash: 50.94 seconds. 
Sources
Bruin Athletic (2000, June 22). Drake Stadium- Home of Bruin Track and Field/ Soccer. UCLA. Retrieved April 10, 2020 https://uclabruins.com/news/2000/6/22/207863278.aspx  
UCLA (n.d.) Drake Stadium. UCLA Bruins. Retrieved April 13, 2020 https://uclabruins.com/facilities/drake-stadium/4
Bruin Athletics (2013, July 03) UCLA Athletics Hall of Fame. UCLA. Retrieved April 10, 2020 https://uclabruins.com/news/2013/7/3/208580962.aspx 
Bruin Athletics (2013, January 24). Nine Bruins Inducted into LA City Section Hall of Fame.  Retrieved April 10, 2020  https://uclabruins.com/news/2013/1/24/207901165.aspx 
Cherwa, J (1988, December 25). Ducky Drake, Father of UCLA Athletics Dies. Los Angeles Times. Retrieved April 10, 2020 https://www.latimes.com/archives/la-xpm-1988-12-25-sp-1384-story.html 
UCLA Athletics (January 26, 2017) 2017 UCLA Track & Field. ISSUU Retrieved April 10, 2020  https://issuu.com/uclabruins/docs/2017_ucla_track_media_guide Page 66 
Image Sources
http://www.dronestagr.am/ucla-drake-stadium-university-of-california-los-angeles/

https://uclabruins.com/sports/2013/4/17/208271493.aspx

https://picturingucla.library.ucla.edu/photos/universityarchives:28318

https://picturingucla.library.ucla.edu/photos/universityarchives:27771

https://picturingucla.library.ucla.edu/photos/universityarchives:32507

Additional Information