Private Albert C. Cox
Introduction
Private Albert C. Cox; Born 20 Apr 1896 – Huntington, WV; Died 17 Oct 1918 – France; 1st Co., Ordnance Replacement Battalion, 3rd Regiment, Ordnance Department– US Army
Images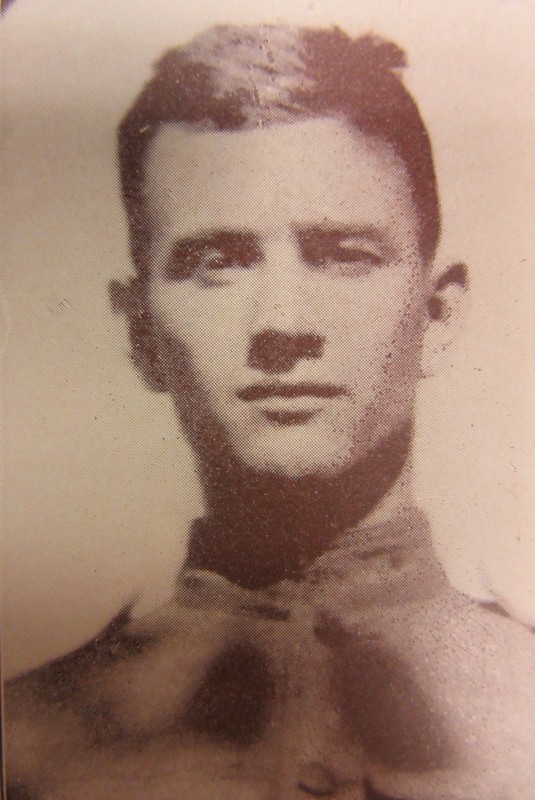 Albert C. Cox - June 14th, 1918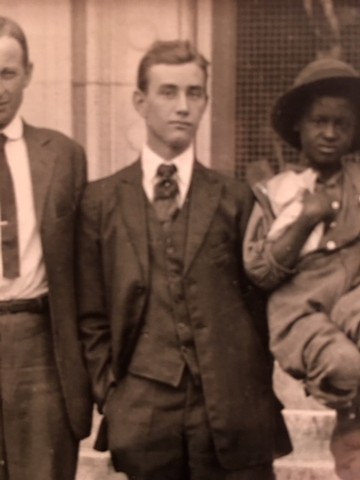 Headstone at Spring Hill Cemetery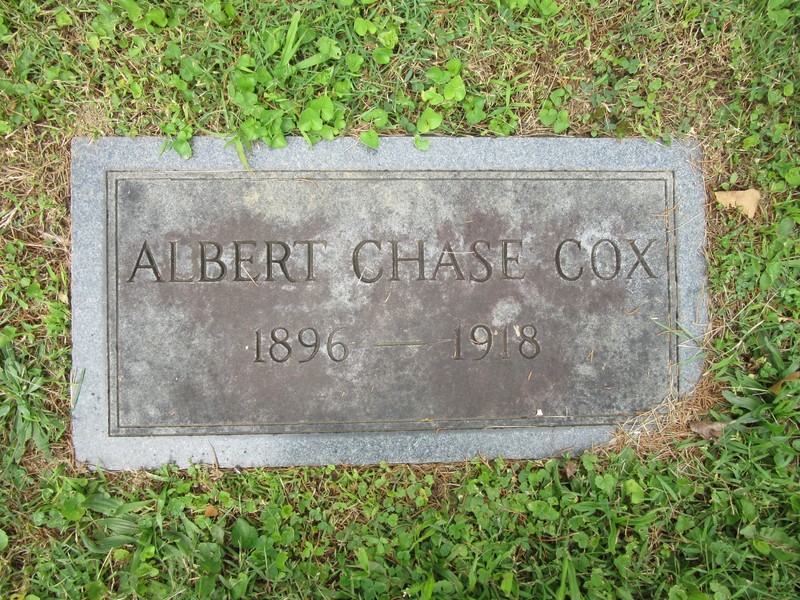 Backstory and Context
Albert Chase Cox was born on April 20th, 1896, in Huntington to Albert E. and Cora Emily Cox. He attended Huntington High School, lived at 1502 15th Street in Huntington, and worked as a grocery clerk. He was inducted into service on June 14th, 1918, as part of Draft Call 594 and was sent to the mechanical training camp at Morgantown, West Virginia. He trained to be an automobile mechanic and, upon completion of his training, was sent to Camp Hancock, Georgia, where he was assigned to the 2nd Cas. Company of the 2nd Provisional Regiment, OTC. He was sent to Camp Upton, New York, and assigned as a Private, serial number 3439237, to a provisional ordnance unit. He sailed for France from Hoboken, New Jersey, on the SIBONEY on October 5th, 1918. His family received a form card on October 17th:
The Ship on which I sailed has arrived safely overseas.
Name Albert C. Cox.
He developed pneumonia and died on October 17th, 1918, at Base Hospital No. 65 in Brest, France, only a few days after his arrival. There was some confusion among his family in regards to the location of his death:
OFFICIAL WIRE TELLS OF DEATH OF ALBERT COX
Son of Mr. and Mrs. A.E. Cox of Third Avenue Died of Pneumonia October 17
REPORTED OVERSEAS OCTOBER NINETEENTH
Inquiry Made by Mother Believed to Have Hastened Message Received Yesterday
Almost two months after the date given in the message of notification, Mr. and Ms. Albert E. Cox, Third avenue and Fifteenth street, received word yesterday afternoon at two o'clock of the death of their son, Albert Chase Cox, in France. The message was as follows:
                                                                                                                          Washington, December 13.
               Deeply regret to inform you that it is officially reported that Private Albert Chase Cox, reinforcement detachment, died of broncho pneumonia October 17.
                                                                               Harris the Adjutant General
The last word of their son received by Mr. and Mrs. Cox was on October 19, when they had a card announcing his safe arrival overseas. This was an overseas card left on this side to be mailed out on receipt of a cablegram announcing the landing of the transport on which he sailed. The fact that he died on October 17 gives rise to the belief that he may never have reached European soil, dying at sea from the dread pneumonia.
His parents had been greatly worried for several weeks, as he was always prompt to write home. A few days ago Mr. Cox wrote to Washington and this inquiry is thought to have hastened the message.
Was Well Known
Private Cox was well known in Huntington, having been born in this city, April 20, 1896, and having spent his entire life here. He was educated in the public schools, but gave up his studies at the end of his junior year at Huntington High. Thereafter he was employed for several years by the Island Creek Fuel Company. Before he left for the army he was employed in the store of his brother-in-law, Eustace Stevers, Third avenue and Eighteenth street.
He was inducted into service on June 14, voluntarily accepting service at the mechanical training school at Morgantown. He sailed about October 2.
He is survived by his parents and the following sisters and brothers: Mrs. Eustace Stevers, Huntington, Mrs. F.S. Kanode, Washington, Misses Flossie, Dorothea and Thelma Cox at home and two brothers, Ernest and Howard Cox of Dayton, O.
 – Huntington Herald-Dispatch, December 14th, 1918
He was originally buried on October 18th in AEF Cemetery 531 before his remains were sent home from Brest on the USAT ANTIGONE on July 21st, 1920. They arrived in Hoboken, New Jersey, on August 7th, 1920, and he was buried in Huntington's Spring Hill Cemetery.
As an alumnus, he was honored at Huntington High School's remembrance ceremony:
FOUR GOLD STARS APPEAR ON FLAG FOR SERVICE MEN
Cox, Anderson, Dial and Davis Honored by Sunday Afternoon Program
CLASSMATES PLACE GOLD STARS IN FLAG
Tears Flow Freely as Eloquence of Attorney D.W. Brown Stirs Gathering
Touching and inspiring to such an extent as to leave a lasting impression on the minds of those who gathered for the occasion, was the memorial service was held at the high school auditorium yesterday afternoon for four members of the Alumni who paid the supreme price of devotion to God and country during the great war. The men honored were:
Chase Cox, ev '15
Lane Anderson, ex '15
Verlin Dial, '13
Henry Winter Davis, '05
Personal tribute was paid to these fallen by members of the classes to which they belonged, and a stirring memorial address was delivered by Attorney Douglas W. Brown. There was also an impressive musical program rendered by the high school chorus under the direction of Miss Sara E. Galloway.
The opening was a piano prelude, by Miss Esther Ripley, who presided at the instrument throughout the program, followed by "The Star Spangled Banner," and the "Marseillaise," sung by the chorus.
The Scripture lesson was the Forty-sixth Psalm, read by Rev. J.W. Yoho, pastor of the Madison Avenue Church of Christ.
A tender and eloquent prayer was offered by Dr. M.L. Hood, pastor of the Fifth Avenue Baptist Church.
This was followed by the anthem "Zion Awake," by Rossini, rendered by the chorus.
As the anthem ended Eugene Barirnger, in the uniform of the naval aviation service, stepped forward to pronounce his to tribute to Chase Cox and Lane Anderson, his classmates of 1915.
He said that what they had been and what they did spoke more eloquently and ore expressively than he might hope to.
Briefly he traced the career of Lane Anderson, the young lieutenant who died in a German prison camp, and of Chase Cox, who, going forth to fight for freedom, contracted disease and died on the way overseas.
Then he walked to the other end of the platform and placed side by side on the service flag the golden stars of their immortality, at the same time quoting from one of the well known war poems, "Young Fellow Me Lad," lines expressive of the belief that though they have fallen they still live on….
…The chorus then sang "Crossing the Bar."
This was followed by the address of Mr. Brown, which is given in full in another column.
In closing the chorus sang a hymn, "It Came Upon the Midnight Clear," and a medley of war songs.
The benediction was pronounced by Rev. J.W. Yoho, and from the wings the bugle sounded taps for Davis, Dial, Anderson and Cox.
 – Huntington Herald-Dispatch, February 17th, 1919
He was also honored in their 1919 yearbook:
Huntington High will ever be proud of this lad who stepped forth at the call of duty and so willingly placed his life at the disposal of his country. Chase entered the mechanical training school at Morgantown last June. He was then sent overseas, but died of disease before he reached France. He was buried at St. Nazaire. In his school days his happy smile made him known by all and these all will not soon forget Chase Cox.
[From In the Service of Their Country - used with permission of the author]
Sources
Woodard, Benjamin. In the Service of Their Country: The Story of the Soldiers from Cabell County, West Virginia, Who Gave the Ultimate Sacrifice in the Great War. Sixth Printing. Benjamin Woodard - Lulu, 2019.
Image Sources
Honor Roll of Cabell County, W.Va. - Author's Picture (Benjamin Woodard)

Courtesy of Peggy Mynes

Author - Benjamin Woodard

Additional Information