Trinity Episcopal Church
Introduction
Trinity Episcopal Church is the second oldest church in Pocatello. It was built in 1898, a year after St. Joseph's Catholic Church (the oldest church in the city) and is an excellent example of Gothic architecture. It was constructed with rough sandstone and features a bell tower topped with a spire that rises to a height of 92 feet, red rock trim, and gothic arched windows with stained glass. All of the windows except the one above the main entrance were manufactured in Ireland; the window above the entrance was made in 1976.
Images
Erected in 1898, Trinity Episcopal Church is the second oldest church in the city after St. Joseph's Catholic Church.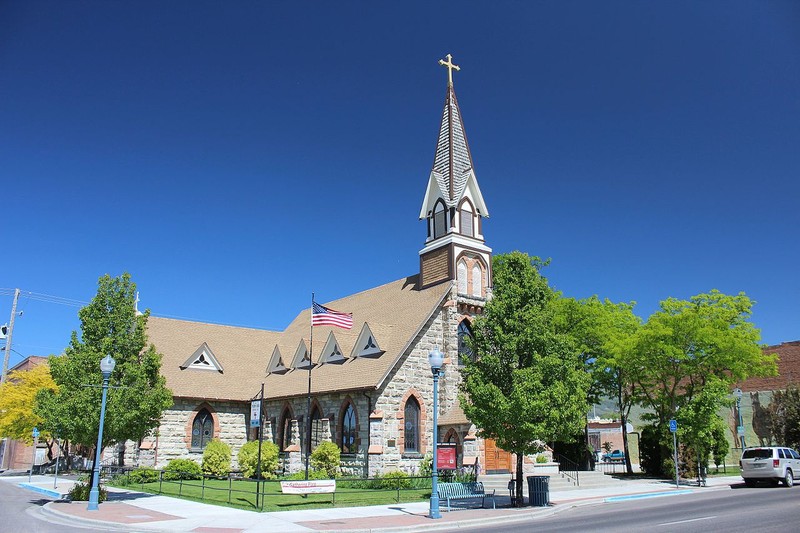 Backstory and Context
Trinity Episcopal Church was founded on September 29, 1889. At that time, Pocatello only had one street but the town would grow quickly in the coming years. The congregation initially gathered on the second floor of a building owned by a railroad but built its first church in November. This church was located at the corner of present-day North Main and West Lander Streets.
Interestingly, the church was built on a large buffalo wallow (a watering hole for wildlife including buffalo). Apparently, cows would gather next to the church in the shade and even rub their backs on its pilings. The congregation had enough of the cows and relocated to where the church is now in 1893. It was moved once again in 1897 to make room for the current church building. The old church was moved behind the new church and was used for a variety purposes including Sunday school. It was replaced in the mid-1930s when a new church hall was built.
Sources
Hibbard, Don J. "Trinity Episcopal Church." National Park Service - National Register of Historic Places Nomination Form. February 17, 1978. https://npgallery.nps.gov/NRHP/GetAsset/NRHP/78001045_text.
"When Trinity Came To Be." Trinity Episcopal Church. Accessed April 10, 2020. http://www.trinitypocatello.org/our-history.html.
Image Sources
Wikimedia Commons: https://commons.wikimedia.org/wiki/File:Trinity_Episcopal_Church_Pocatello_ID.jpg

Additional Information