Elaine Massacre of 1919
Introduction
The Elaine Massacre of 1919 is one of the deadliest events in United States history. It was only one of many race oriented conflicts during this time period and was influenced greatly by Jim Crow and white supremacy. The massacre took place on a highway in Phillips County just after World War I ended.
Images
This map shows the locations of several key events during the massacre.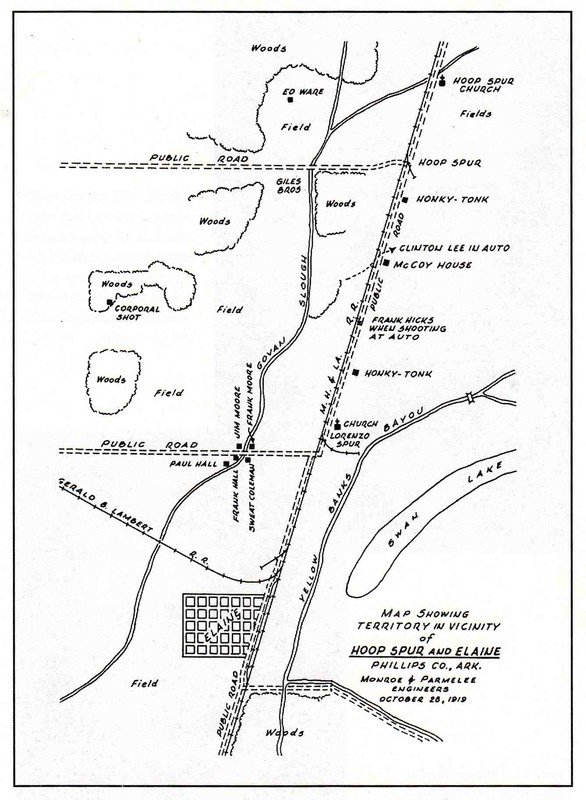 Grif Stokely, Blood in Their Eyes, The Elaine Race Massacres of 1919, University of Arkansas Press-Click the link below for more information about this book.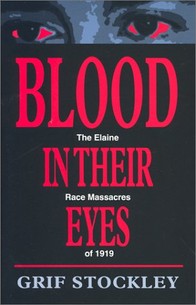 Backstory and Context
On September 30, 1919, a meeting was held at a church in Hoop Spur in Phillips County, Arkansas three miles north of Elaine. The meeting was organized by the Progressive Farmers and Household Union and was attended by 100 African American sharecroppers and the white plantation owners they sharecropped for. This meeting posed problems for the white plantation owners who were hell bent on keeping African American sharecroppers from getting fair pay for their cotton crops. The Progressive Farmers and Household Union was trying to assure that the African American sharecroppers were not cheated out of the money they had been promised for their crops because in the past they had been. The area was strongly influenced by Jim Crow and white supremacy ideas.

In the preceding months labor as well as racial problems had been going on in other states across the United States including Washington DC; Chicago, Illinois; Knoxville, Tennessee; and Indianapolis, Indiana. Unions like the Progressive Farmers and Household Union threatened Jim Crow ideas as well as capitalism throughout the United States. The effect of returning African American soldiers and their not so eager to submit to Jim Crow attitudes caused tensions to arise as well.

"Leaders of the Hoop Spur union had placed armed guards around the church to prevent disruption of their meeting and intelligence gathering by white opponents." No one could honestly say who fired the first shots in a shootout in front of the church on the night of September 30, 1919, between the armed Black guards around the church and three men whose vehicle was parked in front of the church in which the death of W. A. Adkins, "a white security officer for the Missouri-Pacific Railroad, and the wounding of Charles Pratt,Phillips County white deputy sheriff."

The next day troops were called in to convince the mob of armed white people to go home. The troops were accused of killing hundreds of people each day they were there in newspapers. Over 100 African Americans were put in stockades until they could be questioned of which twelve who are referred to as the "Elaine Twelve" were jailed and prosecuted for crimes they did not commit.
Sources
"Elaine Massacre." Accessed January 23, 2015. Encyclopedia of Arkansas. http://www.encyclopediaofarkansas.net/encyclopedia/entry-detail.aspx?entryID=1102.

Johnson, J. Chester. "Evanescence: The Elaine Race Massacre." Green Mountains Review. 2013. https://archives.qc.cuny.edu/civilrights/files/original/ccc470fe9d134d7b63718d7aae5a558f.pdf.

Additional Information